Why do you enjoy cooking, writing and building a website?
Since 2000, I've been on a journey of awakening that has taken me from a place of virtual denial of life itself to a place of vibrant appreciation for existence. While I still allow myself occasional lapses into mediocrity, I'm reaching for a higher goal and cooking, writing and building this site takes me to a place where I can live my life's purpose.

What is your life's purpose?
To encourage people to live their dreams, wherever they live in the world. Through a process of self-discovery, you can extract yourself from the mundane and reach for the miraculous. You can change lives through your writing, a love of life and a positive outlook.

How has your life changed in the past few years?

I was asleep and now I'm awake. My goal now is to maintain my equilibrium and find a balance between my responsibility to the universe and my responsibility to myself.

Where do you find the time to write so many reviews?

We don't currently have cable TV so that is a factor.




Do you read every day?

I try to read one book a day if at all possible. There are weeks when I won't read anything or won't be online as much, just to save my eyes and take a break. I try to balance my approach and review cookbooks and exercise videos/DVDs. This helps me stay more active and yet I'm still reviewing an item.
There are days where I'll plan my life around what I want to review. Like I'll use certain beauty products and take notes. Cook from certain cookbooks and make notes. Then, read books later in the day and exercise. By the next day I have a pile of notes on my desk and lots of ideas waiting to pour themselves into a review. There are times when I read a book at night and wake up the next day with a review writing itself. It is like the first sentence starts in my head and I have to run for paper.




Where do you read the most?

I love to read in bed, out on the deck or on the couch while watching a movie. I seem to read in bed more in the winter. I live in bed for days at a time, reading and reading. In the summer, my cats and I love to read out on the deck in the morning.




Where do you dislike reading?
Online. I don't like reading books on the computer.

Is there a favorite food you eat while reading?
Mostly I make myself an energy drink or a protein shake.

What have you been up to lately in the kitchen?
Reviewing Cookbooks and items at Amazon's new Gourmet Store! I am in love with so many recipes lately. For delicious cake ideas: 101Things to Do With A Cake Mix is impressive. Jerry Traunfeld had me searching for dried lavender to make his lavender cookies. The Cheese Lover's Cookbook & Guide has a wonderful recipe for Cheese Scones.
When I create new recipes they are also going in the Internet Kitchen. This has been so fun since now everyone can print off recipes from this site. I hope to be able to give them the rest of my recipes in Seasoned with Love: A collection of best-loved recipes from over 40 cultures. (There is now also an online cookbook.)

When did you decide to write Seasoned with Love?
After searching in an enormous pile of papers for a recipe, I finally decided there had to be a better way to organize recipes. I spent many hours transferring my recipes onto the computer. It was then that I realized the potential for a cookbook. The most exciting part was putting the pieces together. Along with the recipes, I have provided helpful tips, historical facts and interesting stories about the foods we love.

What is your idea of a perfect recipe?
One which teaches me something new and can be made in 30 minutes or less. Most of the recipes in my book can be made in 15 minutes to an hour. Of course there are exceptions, like when bread dough must rise. I want a recipe which teaches me the basics in easy-to-follow steps. Recipes should also be a combination of all that we know about food, kitchen lore and our personal experiences. A simple set of ingredients and instructions seems dead without a lively account or description along with hints and tips only your grandmother or best friend would take the time to tell you. I think that Seasoned With Love teaches all the basics needed to cook almost anything.

What are your thoughts about cookbooks?
They are the life energy of the author. When you hold a cookbook in your hands, there is no way to imagine how many hours went into writing it. I think a cookbook may in fact be one of the most difficult books to write.
Cookbooks can be an individual biography or a cultural biography. Food reminds us of people and places. My aunt and I had a good laugh. Most of our family pictures are at a dinner party or at a table. We kept commenting on all the food in the pictures!
I always want to know more about the author. If they include tidbits about their life, it is just so much more fascinating. A good teacher will make you feel as if you know her family or are part of the family. You wish you were in their family or perhaps a neighbor. The food usually looks homemade and delicious.
Cooks that have a passion for food show it in their books. Some cookbooks are time machines which take us back to the past and help to explain the history of cooking. Those are magical windows to the world of culinary history.

What are your favorite kitchen tools?
A citrus zester, garlic press, spice measuring spoons, whisk, my favorite mixer and a sifter which sits in its own bowl so you can measure ingredients into the sifter without flour going everywhere. See all the items I have been collecting in the Kitchen Essentials section.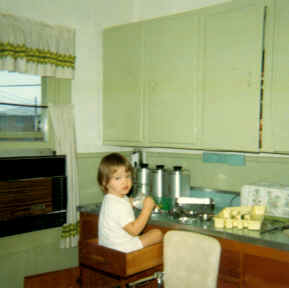 Organizing the kitchen drawer as a kid, although one
assumes it would have been more helpful
if I was not in the drawer.

What would you do if you were not busy writing a cookbook or reviewing books?
I would own a little bakery and tea room and also sell books.

Why do you believe less people cook today than they did a few years ago?
Stress and time constraints limit the time we can afford in cooking. We are all so busy living that we forget to nurture both our bodies and souls. Even I get lazy now and then and eat out or heat up a frozen meal in the microwave. It is part of living in a fast-paced world. I'm learning how to make foods just as quickly as heating them up in a microwave. My most recent discovery was a book called 20-Minute Meals. I'm also interested in Sandra Lee's cooking style and you might enjoy her book called: Semi-Homemade Cooking.
Cooking from scratch is very therapeutic and also brings friends and family together. There is a magical bond when people start to share their cooking secrets with one another. It is a magical gift when you receive a friend's favorite recipe. While fast food promises instant gratification, it can never replace the memories of a slow-cooked roast or the aroma of a freshly baked cake.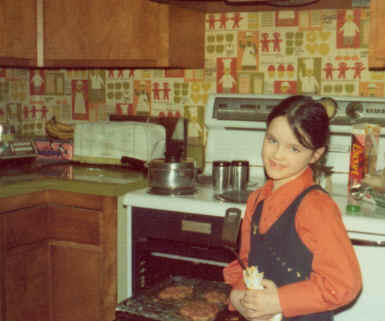 Cooking in the Kitchen as a Kid


In your book you mentioned living in Africa for part of your childhood. Could you expand on this?
Africa was one of the most beautiful, exotic places on the planet. The smell of the warm earth is intoxicating. I also learned to love some interesting foods while living there from age seven to nineteen.
We actually picked our own passionfruit from a vine growing wild in our yard. We also drank fresh milk, raised our own chickens and fought off snakes trying to steal the eggs. Part of the time I did live in the city where they have incredible restaurants which serve a wide variety of ethnic and local cuisines. I have also included unique and memorable dishes in Seasoned with Love.