Organic Produce, Herb
Cookbooks & Gardening Dreams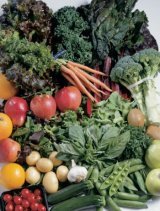 Fresh from the Garden Flavor , February 7, 2006


Receiving lettuce through the mail is one thing, but to order an entire box of produce that includes fresh seasonal selections direct from the farm seems quite another. I can easily go to my local store and buy organic foods, except the items don't seem quite as fresh and definitely have never tasted as good as the selection in this sampler box.

The lettuce and greens reminded me of my days living on a farm where we made fresh salads from greens selected on that very day. There is nothing like it, well, not until I found this company. The lettuce seems to last longer and the baby spinach is delicious. A week later and the lettuce still looks fresh. That never happens when I buy produce at the store.

Here is what you can look forward to throughout the year:

Fruit in Season: Apples (Fuji, Gala and other selections), Citrus (the Satsuma Mandarin was like orange and honey, so delicious and sweet), Pears (they await poaching but may be eaten in the next few days), Bananas, Guavas and other Exotic fruits like Kiwi and Persimmon.

Vegetables in Season: Broccoli, Yellow or Red Baby Potatoes, Medium Potatoes, Cherry Tomatoes, Garlic, Green Beans and Zucchini.

Greens: Blue, Red Russian or Green Kale. Red or Green Chard. Mesclun Salad Mix, Green Scallions, Baby Carrots, Lettuce, Baby Spinach, Bunched Spinach, Basil & Parsley.

A Cooking sheet is included and has recipes for Potato Kale Soup (which solves my question about how to cook kale), Kale Soup, Mesclun Salad with Garlic Italian Dressing, California Quiche (using Chard) and Pasta Primavera using zucchini and peas.

The information sheet for Salad greens explains how to prepare items and they are all prewashed.

I think there were some baby turnips in my box and apparently you can also cook the turnip greens. I also found some green beans and cooked the zucchini in a little olive oil. There are recipes for Bok choi, Napa Cabbage and Mizuna Mustard Greens. The herbs listed include applemint, peppermint, spearmint, basil, chives, cilantro, dill, fennel, oregano, parsley, sage, savory, sorrel, tarragon, thyme.

I've completely enjoyed the first box and look forward to the second. The fruit is sweet and delicious and the greens have new dimensions of flavor. It makes eating healthy something to look forward to. Instead of going out the back door to go pick some lettuce for a salad, the garden arrives at the front door! The salad I made from the greens in the first order were delicious just with balsamic vinegar, olive oil, salt and freshly ground pepper. I also tossed on some pumpkin seeds.

~The Rebecca Review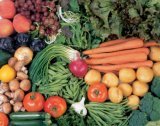 The Most Popular Vegetables, Fruits and Greens, March 8, 2006

After ordering the organics original sampler, I noticed how long the produce lasted and was willing to try the larger box of produce. This is a box of the most popular items and includes all the basics like lettuce, green beans, green onions, mushrooms, carrots, potatoes, parsley, cucumbers, avocado, onions, zucchini, apples, lemons, tomatoes and even a mango. Well, fruit and vegetables are sent when in season. Zucchini or summer squash may arrive. You may see a papaya or a Mango, Kiwi or Satsuma Mandarin. Whatever arrives, it is guaranteed to please. Each item is carefully packaged in paper and even the little tomatoes were in their own box, nicely protected. The mushrooms come in paper so they last longer.

You may notice an increase in your energy and even a more positive mood. Receiving a box of produce is much more exciting than shopping for it at the store. I am not sure why, except that such care goes into packaging this box of organic produce, that the positive energy seems to infuse your home with happiness. Plus, everything tastes better and if you happen to get one of the Satsuma Mandarins, your life will finally be complete. I cannot even explain how delicious they are and the only word to describe them would be "honey sweet."

The sheer perfection of the items you receive will make you wonder why you bought produce anywhere else. I have never seen organic produce that is so beautiful. Even the parsley is pure perfection. Not overly watered like at the grocery store, but as if you went into your garden and snipped off some parsley right before cooking.

The only item I missed in this box that was in the smaller box (Original Organic Sampler) was the Basil with the parsley. This box had more lettuce and larger items, like the potatoes were larger and the tomatoes looked vine ripened as opposed to cherry tomatoes. The onions seem of a very high quality and the bananas were especially sweet and perfectly ripe.

It is difficult to decide between the two boxes because I love them both! Next, I'll try the Gourmet sampler.

~The Rebecca Review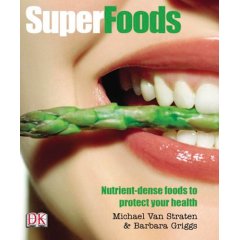 SuperFoods: Nutrient-dense foods to protect your health
A Healthier Life, November 1, 2006

"Vegetables: nature's own health insurance - no other foods provide so much protection against heart disease, skin disorders, cancer, and high blood pressure, and give the body all-around vitality." ~ pg. 198

In SuperFoods you will find information on how to lower cholesterol by eating apples, why figs can help prevent cancer and how members of the squash family can help to keep your lungs healthy.

Each Super Food is featured on its own page (sometimes two) and is shown in full-color pictures.

This cookbook is divided into three main sections:

The Superfoods
The Recipes
Protect Your Health

Some of the food featured include blueberries, mangoes, melon, kiwifruit, asparagus, onions, sweet potatoes and celery. Nuts, seeds, dairy, eggs, meat, fish, poultry, herbs, spices and miscellaneous items like chocolate, tea and coffee are discussed in detail.

Each recipe features an illness the foods help to cure. Like the Pumpkin soup helps with digestive, respiratory and skin issues. An Avocado, walnut and pear salad can help with fatigue.

A few examples of the delicious recipes include:

Banana and Almond Muffins
Green Tea Bread
Spicy Winter Bread Pudding
Red Plums with Brandy
Linden-apple Tea
Ginger Punch
Tagliatella with Artichokes
Asparagus Citronette
Spiced Peaches

"It is no longer possible to doubt that there is a direct link between diet and cancer." ~ pg. 264

In the last section, menus are given for various health conditions. You can find information regarding: cancer, circulatory problems, digestive problems, stress, fatigue, joint problems, respiratory problems, skin problems, urinary problems and weight control. This book also has some fun ideas, like reading the "Ten Commandments for the Overweight" gives you permission not to eat everything on your plate (see page 333). A good page to photocopy for relatives who insist on feeding you seconds, thirds, etc.

The first section on the specific foods is an educational and fun read. Seeing all the delicious foods in full-color pictures makes you hungry for something healthy. The recipes are uncomplicated and this book is perfect for anyone who loves to cook or wants to make excellent food choices from any menu.

~ The Rebecca Review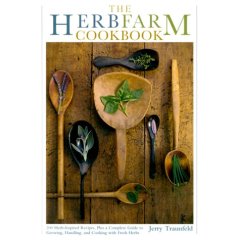 The Herbfarm Cookbook: A Guide to the...
Prose as delicious as the recipes! December 30, 2000

After visiting the Herb Farm quite a few times, I was very excited to hear that Jerry Traunfeld was writing an Herbfarm Cookbook. I waited patiently for what seemed like years, and finally the wait paid off. Jerry Traunfeld is the Executive Chef at the Herbfarm Restaurant, which has actually changed locations since the publication of this book. Jerry still relies on herb-inspired menus and has penned one of the most useful books about cooking with culinary herbs. This is the book you will turn to for inspiration and for a whole new world of fresh herb flavors.

Most of us are content to use dried herbs until we discover fresh herbs. The bonus in Jerry's new book is that he also explains the growing process. You will love the charts of Latin herb names, real-life herb names, family life cycles, heights, pruning requirements and special growing requirements. I loved the in-depth information on angelica, anise, hyssop, basil, bay, chervil, cilantro, dill, fennel, lavender, lemon balm, lemon verbena, lovage, marjoram, mint, oregano, parsley, rosemary, sage, savory, scented geraniums, sorrel, sweet cicely, tarragon and thyme.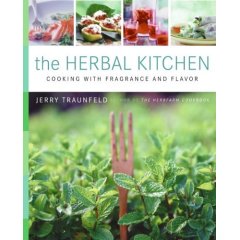 The Herbal Kitchen by Jerry Traunfeld
To find these wonderful plants, all you have to do is order seeds or plants from the sources on page 434. You will also see an address for the Herb Farm which was founded by Lola and Bill Zimmerman. Their son Ron Zimmerman and his wife Carrie first had the idea to start a world-class restaurant. Jerry Traunfeld helped to make their dream a reality.
If you do start to grow your own herbs, you might be wondering what to do with so many fresh herbs when you take them into the kitchen. With The Herbfarm Cookbook, you will find yourself enchanted by recipes for soups, salads, pastas, vegetables, poultry, fish, meats, breads, desserts, sauces, chutneys and vinegars. Information on how to make candied flowers adds a fun creative touch to an already extraordinary compilation.
The first recipe I tried was the Lavender Shortbread on page 288. The recipe is simply butter, lavender, sugar and flour. The taste...much more complex. If you love lavender half as much as I do, you will love Jerry Traunfeld's new cookbook. He makes the best lavender cookies and is also under lavender's spell as he includes many recipes using the intoxicating purple flowers.
I made the dough simply by grinding the lavender into the sugar and then creamed it with the butter. I used a wooden spoon to stir in the flour. The whole experience of grinding lavender into sugar with a mortar and pestle is seductively primal. The scent of the lavender is almost intoxicating even when using dried lavender. A heady scent of warm lavender will fill your whole kitchen as the cookies are baking. Sometimes cooking is more fun if you use just a wooden spoon and a bowl to make cookies. Making lavender cookies should be more romantic and old fashioned.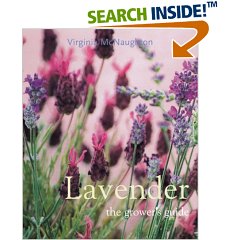 "I'm addicted to it." --Jerry Traunfeld, admitting his addiction to Lavender. He continues by saying: "I find it nearly impossible to walk by a lavender plant in full bloom without bending over to pick a stem, roll it around in my fingers, and inhale the heady scent."
The cookies may also be packaged and given as gifts. I use a round biscuit cutter with a curly edge. It gives the cookies a nice shortbread look. The dough seems suited for a cookie mold, which would be very pretty. I found the recipe is also good with chopped pecans pressed into the top of the cookies before baking them. Now, dipping them in chocolate makes them even better! You can also use the recipe without the lavender or substitute anise seeds or lemon thyme for the lavender buds.
Lavender seems to almost have a savory flavor which was in a way quite surprising, given you would expect a flower to have a more sweet flavor. I was pleased to find a recipe for "Potatoes with Lavender and Rosemary." Page 396-398 also contains information on how to grow and cook with lavender.
This cookbook is filled with 200 herb-inspired recipes. You could serve the "Coriander-Orange Scones" for breakfast. "Tomato and Fennel Soup," Pumpkin and Shrimp Bisque" and "Herbed Clam Chowder" are delicious examples of the soups in the first chapter. Green Goddess Grilled Chicken salad contains creamy avocados, garlic and a mesclun mix (young salad mix). If you are looking for a great basic "Fresh Egg Pasta" recipe, Jerry supplies one on page 99. You can then toss your freshly made pasta in the "Classic Basil Pesto." Say goodbye to boring vegetable side dishes and say Hello! to "Snap Peas with Mint and Chervil" or "Grilled Marjoram-Scented Corn."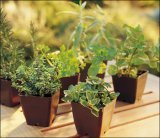 For a taste of the Northwest, there are recipes for Salmon Fillets. The one with tarragon looks especially tempting. For dinner, you might want to try the "Rosemary Gilled Chicken." Rosemary is a classic herb to pair with roast chicken. Just when you think you have made pork every way you can imagine, you will find a "Maple-and-Herb brined Pork Roast." The "Lemon Verbena Ice Cream" looks just yummy.
As I sip a cup of peppermint tea, I salute you Jerry Traunfeld. Thank you for the gift of your knowledge. I hope your cookbook will be the most sought after cookbook in the year 2001. Your book had found a permanent place of honor in my kitchen! It is not often that you find a chef whose writing is as delicious as their cooking! There are 11 beautiful color pictures in this book, but the true beauty of this cookbook is in the writing. Jerry has translated his excitement for life and cooking into delicious prose. This is a true book collectors dream cookbook. If you love to cook with fresh herbs, you will love it even more! I can't wait to try more of the tempting recipes.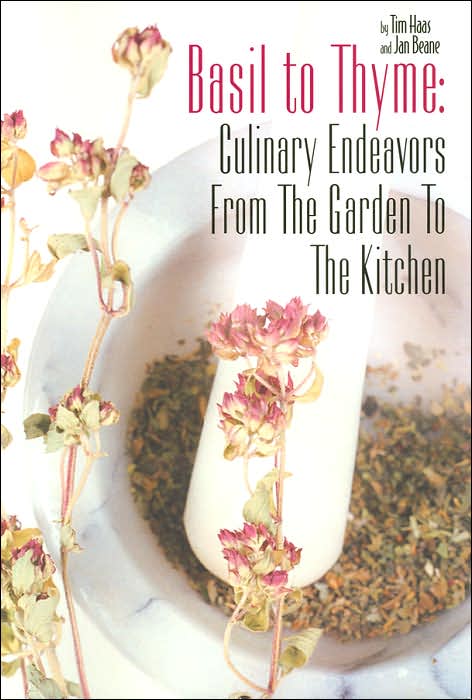 The Scent of Thyme, June 18, 2005
If you love to cook with herbs and have the desire to learn more about planting herbs and using them to create aromatic dishes, then Basil to Thyme will give you many ideas for summer meals and winter feasts. Tim and Jan have included herbal lore and historical facts. They also give excellent advice on what to plant where. After reading this book I realized I needed to plant certain herbs together for the best results.

Chapters 5-19 are dedicated to individual herbs. Each chapter begins with an introduction and planting advice. I learned about planting a border of marigolds around an herb garden to discourage pests or why you should never plant potatoes next to cucumbers. Apparently you should always plant sage and rosemary together. If you want to attract butterflies, then a very common herb can be planted.

There is a section on container gardening and my herbs are now happily growing in terra-cotta pots from Italy. Collecting your own herbs is immensely satisfying and takes the hassle out of cooking with fresh herbs. Once you have the herbs planted, you don't have to put lists of fresh herbs on your shopping list.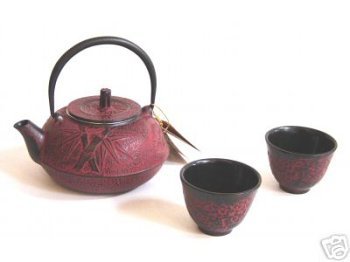 Another benefit is that the herbs are always fresh and they accessible for spontaneous cooking adventures. Instead of using dried basil, you may find yourself collecting fresh aromatic leaves from your garden. You can buy a bay tree for bay leaves.

If you love tomato soup, there are many variations in this cookbook. The recipes that looked the most interesting:

Tomato Bisque
Dill and Potato Salad
Olive Paste
Cucumber-Lime Salsa
Chive Herb Butter
Garlic Stir Fry
Ginger and Pear Muffins
Fresh Ginger Ale
Shrimp with Feta Cheese
Chicken Manicotti with Roasted Red Bell Pepper Sauce

The recipes in Basil to Thyme encourage you to cook with your own herbs, but most of the herbs used in this book are readily available in your local grocery store. Even if you only have a very small space to grow herbs, it is possible to have a beautiful little herb garden that is sure to bring you a sense of comfort. If you have cats who enjoy chewing on herbs, plant them in the top of a two-tiered planter. That was my most recent solution and my cats seem to be ignoring the herbs and focusing more on the plants in the lower section.

~The Rebecca Review