"You can learn so much about food just by listening to people from
different cultural backgrounds talk about their food memories...what you hear
is about the soul of their food, not its science." ~ Chef Craig von Foester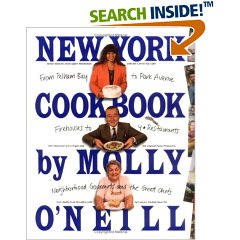 Café au Lait Cheesecake with a Mocha Crust, February 2, 2007

Molly O'Neill's New York Cookbook is a celebration of the New York Food world. She is the food columnist for The New York Times Magazine and spent five years working on this amazing book. The first recipe I tried was "Katie's Café au Lait Cheesecake with a Mocha Crust." The ingredients looked delicious with cinnamon and chocolate wafers for the crust and a rum and coffee flavored filling. I made it for Easter and everyone was very impressed.

Since the author is a food columnist I knew she would be selecting winning recipes and so I felt confident enough to make the recipe for a big occasion without even trying it out at least one time for myself. I was very pleased with the results and can recommend the recipe to you for any occasion.

Whether you are interested in trying lots of new recipes or you just enjoy reading cookbooks, the New York Cookbook has so much to offer. Page after page of delicious information mingle with the even more delicious recipes. Some of the fun recipes include:

New York Penicillin - a chicken soup made by Aunt Marie Stacey. This stock/soup is then used in a variety of recipes and is very easy to make.

Irish Soda Bread - Make two loaves of bread in no time at all.

Simple Fresh Tomato Sauce - The perfect sauce for pasta made with fresh tomatoes, onions, garlic, oregano and a little brown sugar.

Shrimp Fried Rice
Shish Kebabs
Meat Loaf
Rosemary Chicken
Chicken Paprikas
Pan-Fried Sole
Yoko's Japanese Salad Dressing
Marrakesh Carrots

Some of the sweet treats include: "Coney Island Fudge" made with cream and semisweet chocolate, "Zoe Morsette's Oatmeal Macaroons," "Aunt Olga's Cardamom Cake," and "Katharine Hepburn's Brownies." If you love ice cream, you may want to try out the recipe for Hot Fudge Sauce and Butterscotch Sauce.

A few of the highlights in this book include:

Food Walks - Wander through food markets
A Few Essential Ingredients in Italian Cooking
Manhattan Clam Chowder
In Search of New York Steak
A Trip Down Menu Lane
Festivals

The New York Cookbook is an extremely well-researched feast that will satisfy the cerebral appetite as well as please your family and friends when you try out the delicious recipes. These recipes have been created by some of the best cooks in New York and you can use them with confidence, knowing you are making something wonderful for dinner or dessert. This cookbook was a wonderful gift from a friend who loves visiting New York and I already have plans to buy copies for friends and relatives. This is a highly collectible cookbook with recipes you will look forward to making year after year.

~The Rebecca Review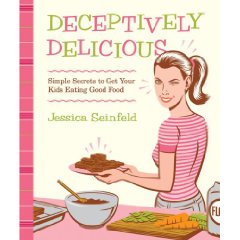 Delicious Recipes even if you Love Your Veggies

,

July 16, 2009

I purchased "Deceptively Delicious" back in January but was initially tentative about trying this cookbook due to the fact that I had to make a puree for every recipe. Once I got over that hurdle and decided to make the "Green Eggs" I was hooked. I then wanted to try other recipes because the eggs were so delicious. They are the easiest recipe in the book and basically require you to sauté baby spinach, which you then incorporate into scrambled eggs. You do need a small food processor to make the recipe but you could also use a blender.

The next recipe I tried was the "Ranch Dressing." It was good on salad but not as good as a dip. The "Greek Dip" was delicious for dipping veggies (celery was especially good) and crackers not to mention pita bread. The recipe uses chickpeas and artichoke hearts and I found I could make it in a blender. My food processor only holds about 1 cup of ingredients so for this cookbook you may want to buy a larger food processor.

The last two recipes I tried include the "Turkey Chili" and the "Oatmeal with Sweet Potato." For the turkey chili you need to puree carrots and red bell peppers. I had never steamed red bell peppers before but it worked well and at the same time I cooked the carrots in the boiling water. Less to clean up later! For the turkey chili I added an additional tablespoon of chili powder and 2 teaspoons Emeril's Original Essence because I felt the recipe needed a little more seasoning for adults but it was perfect for kids. I think the reason the recipe needed more salt is because it calls for low-sodium chicken broth. Instead of the kidney beans I used some butter beans I had in my pantry. For the turkey recipe it would have been helpful to know how many carrots and red bell peppers you would need. I found you needed about three carrots and 1 ½ bell peppers. Other than that fact the recipes are very easy to make and don't take as much time as you would expect them to. The oatmeal recipe is delicious with the addition of pumpkin pie spice and peanut butter.

All of the recipes I've tried so far have worked very well which has encouraged me to try even more. Since I have more sweet potatoes left over the "Hot Cocoa" with pumpkin pie spice sounds delicious. You may also want to try "Blueberry Cheesecake Cupcakes with Yellow Squash and Spinach," "Frozen Yogurt Pops," "Macaroni and Cheese," and "Chicken Salad with Cauliflower."

Once you make a puree and realize how easy it really is you will love this cookbook! Highly Recommended even if you love eating your veggies. I try out new recipes every week and this is one of my favorite cookbooks this year.

~The Rebecca Review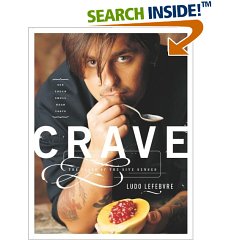 CRAVE: The Feast of the Five Senses by Ludo Lefebvre
Rare Perfection, December 4, 2006

"Spiced with sultry nigella seed (sometimes confused with black cumin) and sumac, this bread tastes like a walk in the forest on a hot summer day." ~ pg. 243, Spiced White Bread

Ludo Lefebvre's CRAVE cookbook holds within its pages the most perfect puff pastry recipe you may ever try. I made the pastry yesterday and just drizzled icing over delicately crispy apple pastries. A sprinkling of nutmeg seemed perfect and I can truly say they are the best pastries I've ever made. The puff pastry cooks perfectly unlike many store bought versions that seem to cook unevenly and it is made with pure butter. The results were spectacular!

Many of the recipes in CRAVE are infused with the scent of cinnamon and nutmeg. The Spiced Bread is the first recipe I tried. The spice mixture is made from nutmeg, ginger, pepper and cloves and since I didn't have whole nutmegs, I used a ½ tablespoon nutmeg, 1/8 teaspoon dry ginger, 1/8 teaspoon pepper and ¼ teaspoon cloves. I crushed them all together with a mortar and pestle and then made the bread recipe using hot apple cider (infused with cinnamon, green cardamom, cloves and star anise) in place of the water, muscovado sugar for the granulated sugar, 2 ½ teaspoons instant yeast and 2 teaspoons lemon juice and 1 teaspoon zest for the "ground sumac" which I need to order.

The recipe can be adapted slightly if you don't have all the ingredients needed, but the spice mix seems essential. I also ground up the "nigella" which I've used before on Indian Naan to produce the faint memory of spicy onions. This is also called Charnushka and Kalonji.

The bread recipe worked especially well in my bread machine, although I only used the dough cycle the first time and tried to make the bread look like the picture on page 33. You can use the bread in a variety of ways, including making delicious sandwiches with slices of turkey. The bread works especially well with a variety of cheeses or even for breakfast as toast with spinach chicken sausages and eggs. Just as I had imagined, cubes of bread would work well as croutons and they are featured in the Creamy Pumpkin Soup recipe.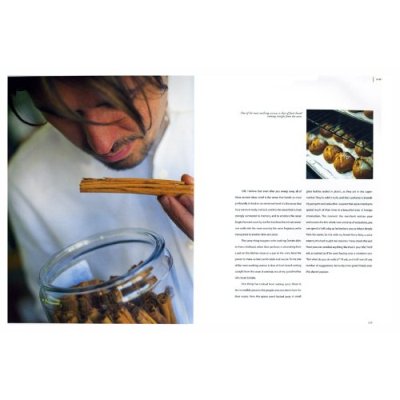 Recipes to love include:

Moussaka of Lamb with Cumin and Roasted Tomato Coulis
Caramelized Cod with Five Flavors and Baby Spinach Salad
Sweet Onion Tart with Curry and Parsley Sauce
Cinnamon and Rosemary-Infused Chicken Breast with Baby Vegetables

...and for dessert:

Napoleons of Puff Pastry with Vanilla-Whisky Cream
Lemon Sorbet with Saffron
Pain D'Epices (a spice loaf)
Qunice Jam with Nostradamus Spice
Chocolate Soufflés with Bittersweet Chocolate Sauce

Everything I've tried so far has exceeded my expectations. The pictures give a good indication of the delicious aromas that will fill your home. Fresh herbs and intoxicating spices fill the pages with sensory pleasure, cooking wishes and nostalgia. The Basic Recipes are helpful if you want to learn how to make stock, or you can improvise with stock pastes. There is a recipe for Curry Powder, Four Spices Powder and Citrus Zest Confit. These items are used in various recipes.

The recipes can be made mostly with ingredients found locally, but there are a few unique items you might want to invest in over time. Buying this cookbook along with Vanilla Beans, Saffron, Cardamom, Cinnamon, Fleur De Sel, high-quality peppercorns (Tellicherry), Star Anise, Acacia Honey, Argan Oil, Raspberry Balsamic Vinegar and Verjus (tart juice of unripened grapes) would make any cook a little heady. I felt heady just thinking about all the recipes I wanted to try.

"If you've had the now-popular Chai tea, you've tasted cardamom, a spice that combines hints of camphor, citrus, and bergamot." ~ pg. 22

The prose throughout is especially personable and makes the recipes even more enjoyable to try. Ludo Lefebvre spends lots of time talking about eating apples out under trees in orchards, his first experience cooking in the middle of a forest and how he loves the feeling of Fleur de Sel between his fingers as he sprinkles it over dishes he is preparing. The story of how he became a chef mingles within the amazing recipes to create a very satisfying culinary experience.

Almost all the recipes have additional notes to invite you into the cooking experience and then the instructions effortlessly guide you through the steps. I found this book was uncomplicated, very well organized and basically a dream. The recipes have all been carefully thought out and the ingredients carefully considered. This is about accessible culinary art or creating memorable experiences through artistic creation.

While you may think of vanilla as being most useful in cakes and cookies, Ludo Lefebvre uses vanilla beans in his Ahi tuna steaks. He also creates a Chestnut Ice Cream for warm waffles, which is very creative. The recipes all seem to be perfect for wintery feasts by candlelight, although the Yellow Peach Tart with Lemon Verbena would be perfect right when ripe peaches appear.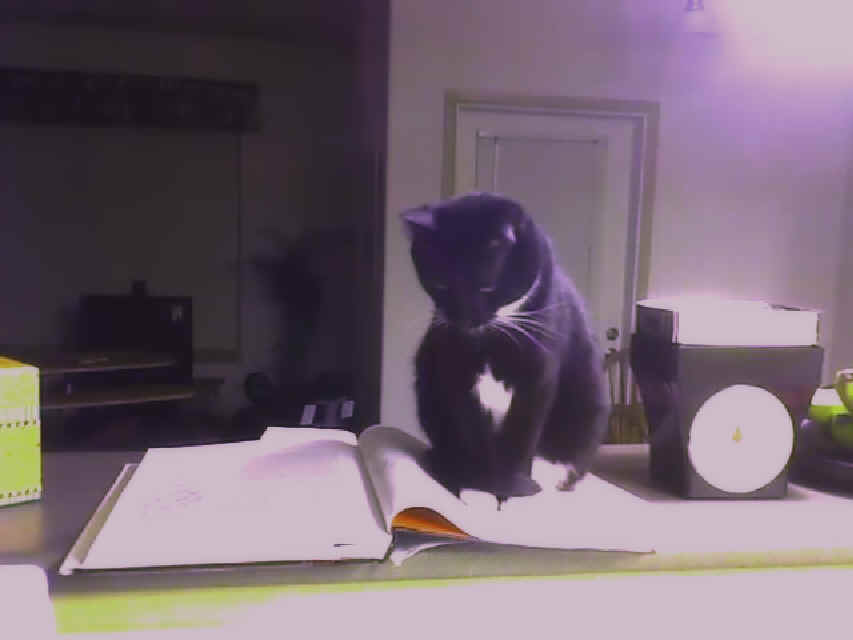 Kitten Meesa helping me by sitting
right on top of the recipe instructions!


I thought it was very interesting that while using this cookbook, I was making an apple cider using the spices that were Nostradamus' favorites even before reading this on page 228! This cookbook will inspire you in ways no other cookbook will - it is magical! While cooking from CRAVE, I like to make apple cider and burn a L'Occitane Winter Forest candle. I will now return to stealing another puff pastry while I await my husband's return home from the hunt. I sent him to the grocery store for more supplies (salmon/steaks), as I will be cooking from this book for quite a few more weeks!
Most cookbooks inspire me to try one or two recipes, but this has entire worlds to experience and is truly a "feast of the five senses" with an additional dash of warm culinary comfort.

~The Rebecca Review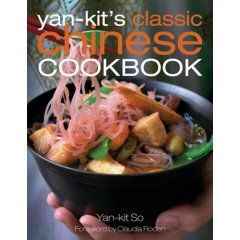 Yan-Kit's Classic Chinese Cookbook
Celebration of Chinese Cooking, December 25, 2006

Yan-kit's cookbook is a celebration of authentic flavors from China, with easy-to-follow numbered steps to make cooking even easier. National favorites like Peking Duck are featured along with delicious Wonton Soup and Spring Rolls. The book is divided into "Recipes" and "Regional Menus."

The first section explains ingredients, equipment and techniques. New cooks will love the detailed pages on how to use a Wok, Steamer and various knives like the cleaver. Step-by-step pictures take you through everything from preparing the ingredients to the final presentation.

Yan-kit also includes fun advice on what to drink with your meal, how to eat rice and how to serve a meal. Pictures of all the vegetables, dried mushrooms, bean products, herbs, spices, cereals, sauces, oils, wines, vinegars, grains and noodles is very helpful when shopping.

A few of the intriguing ingredients featured include Chinese flowering cabbage, winter melon, ginkgo nuts, Szechwan peppercorns, Tientsin fen pi made from mung beans, floral mushrooms and dried oyster.

A few of the delicious recipes include:

Steamed Scallops in the Shell
Deep-fried Wontons
Lobster with Ginger and Scallions
Kung Pao Chicken
Paper-wrapped Chicken
Willow Chicken in Black Bean Sauce
Beef with Preserved Tangerine Peel
Red Bean Paste Pancakes

The Szechwan Menu serves eight and includes delicious Silver thread buns, Lotus leaf buns, Fragrant and Crispy Duck, Hot and Sour Soup, Fragrant Shredded Pork, Dry-fried four-season beans and Pang Pang Chicken.

What is it about a delicious soup served in a beautiful bowl and enjoyed with a porcelain soup spoon? I think the recipes are even more delicious when served in something like the set with a beautiful peony design . You may also want to look for a Cantonese Fire Pot.

Monosodium glutamate (MSG) is not an ingredient in this cookbook, so the flavors come from quality ingredients and flavorings. The classic favorites are included, but this book is a little more gourmet in appeal all while retaining an authentic appeal. The beauty of this book is that you can either select a new recipe to try for lunch or dinner or go all out and cook for a party by using the menu section.

~The Rebecca Review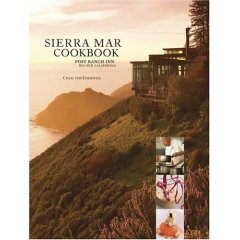 A Passion for Gourmet Cooking, October 23, 2006

The Sierra Mar Cookbook features recipes from the #1 Hotel Restaurant in California. The ever-changing menu features a fusion of French, Mediterranean and Asian culinary influences. The pictures alone produce a sense of awe and are beyond inspirational.

The unique style of this cookbook displays six intriguing menu options that represent six evenings at Sierra Mar:

Local Farmers Markets & Perfect Timing
Monterey Bay Salmon, Taste Memory & Total Utilization
Tomatoes, Terroir & the Artistry They Inspire
Preserves, Marmalades & Capturing Flavors that Sustain Us
Black Truffles, Shellfish & Pondering the Soul of Food
Slow Braising of Flavors & Big Sur Chanterelles, a Rustic Spirit of Taste

It seems rare for a cookbook to have the variety of stunning scenic pictures and it leaves you longing to visit this restaurant. A slopping field of flowers melts into a perfectly pink sunset in one picture and in another waves dash against the rocks.

Recipes that looked especially tempting include:

Salad of Grilled Black Mission Figs, Bitter Greens and Bleu de Haut Jura Cheese with a Port Reduction

Pancetta-Wrapped Sika Venison Loin with Pistachio Puree, Huckleberry Sauce and Pumpkin Dumplings

Butternut Squash Ravioli with Sage-Pecan Brown Butter

Composed Main Lobster Salad with Satsuma Mandarins, Hearts of Palm and Basil Oil
(the colors are gorgeous and look very tropical)

Grilled Rib-Eye Steak with Crispy Potato Cake and Oyster Mushroom Cambazola Compote

Ceylon Tea - Glazed Salmon with Hoisin-Braised Bacon and Pea Tendril Salad

Throughout the book there are step-by-step technique pictures with descriptions so you can learn how to slice potato gaufrettes. A section of "basic recipes" introduces you to Brioche, Pate Brissee, Champagne Vinaigrette, Fig Jam, Red Wine Syrup and Fines Herbes.

If you are looking to impress someone with recipes that will create an intoxicating culinary experience, I can't think of any cookbook that compares to this one! The pictures are stunning and the flavors are complex and have comforting seasonal appeal.

100 Stars!

~The Rebecca Review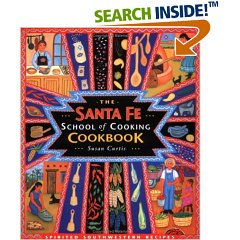 The Santa Fe School of Cooking Cookbook
Collectible Santa Fe Cookbook, January 28, 2006

"The heart and soul of the School is the agriculture upon which the food is based. Many of the traditional methods of growing and processing regional foods - posole, atole, chicos - are almost lost arts. The Cooking School serves as a vehicle to expose and sustain traditional lifestyles." ~Introduction

The Santa Fe School of Cooking Cookbook is filled with pictures from the school and some of them are rather amusing, like the picture of the goats next to the recipe for Open-faced Quesadillas with Goat Cheese and Roast Peppers. Pictures of peppers roasting over an open grill and blue corn being crushed in a molcajete gives this cookbook a warm sunny personality.

I was especially appreciative of the section on the types of chiles. De Arbol, Serrano and Jalapeño are familiar, but Pasilla and Moritas are definitely new to me.

Delicious Recipes Include:

Blue Corn Pancakes
Guacamole
Black Bean Soup
Wild Mint and Lamb Soup
Jicama Salad with Watercress, Radishes, and Chiles
Chicken Enchiladas
Grilled Shrimp in Achiote Marinade
Sopaipillas
Spiced Winter Pears with Ginger Crème Sauce

The Indian Fry Bread is easy to make and makes you feel a different connection to the earth and culture. It is different to fry bread and makes you feel like you are participating in some ancient bread making ritual as you pat out the dough by hand (Or you can roll it out, but I learned how to make it that way from my father's sister).

The recipes for Fresh Tortillas will take your cooking to new levels or homemade bliss and there is also a recipe for Green Chile Sauce and the smoky dipping sauce called Chipotle. Spiced Bananas with Rum and a recipe for Pumpkin Cheesecake make this truly collectible. Each recipe has a story and there are cooks notes and plenty of pictures that will make you wish you were gathering the produce and walking through sunny fields of corn. I've walked barefoot in New Mexico and fell in love with the Sopaipillas and the warm earth and even survived a hailstorm in my "just purchased" car. Fortunately we found shelter fast.

This cookbook brought back so many memories! It might inspire a vacation to New Mexico.

~The Rebecca Review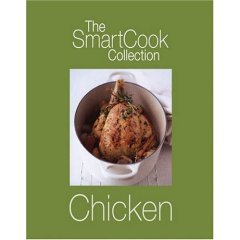 International Cooking for Comfort, April 14, 2006

Delia Smith's cookbook is a welcome addition to any cookbook collection. With the focus primarily on Chicken, she explores seasonal ideas and provides practical suggestions for making gravies and sauces.

The mood of the book is "English Country Garden" as you may imagine from the olive cover. Baskets of mushrooms, avenues of trees and pots of delicious chicken saut?ed with onions, tomatoes and rosemary continue this theme throughout. Roast Chicken is presented on a well-worn cutting board and Crunchy Pistachio=Crusted Drumsticks are shown fresh from the oven, still on the baking sheet. Many of the pictures create more of a mood as in one page where pictures of raspberries, peaches, cherry tomatoes and a butterfly on a flower all mingle with scenes of a picnic a tea tray and more country garden flowers.

The element of "gourmet cooking" at home is very prevalent and with the exception of the slightly more complex "Chicken Medallions Stuffed with Wild Mushrooms in Marsala Sauce" and a few of the pastries, everything looks fairly straightforward. There are directions for making your own chicken stock or you could use a stock base paste mixed with water.

Recipes include:

Roast Chicken with Lemon Sauce
Tandoori-Style Chicken Kebabs with Cilantro Chutney
Thai Coconut Chicken with Spiced Rice
Coq au Vin
Chicken Waldorf Salad
Chicken Jambalaya
Herbed Chicken Tartlets - unique pastries with a pork sausage filling surrounding chicken breast and wrapped in homemade dough. Perfect for summer picnics.

Most of the recipes use ingredients that are easy to find at your local store, like the Chicken Paprikash is made with onions, tomatoes, paprika, flour, cayenne, chicken stock, bell peppers and sour cream. The ingredient lists are on the left with numbered instructions on the right. Most of the recipes have a picture of the finished product on the adjacent page.

The SmartCook Collection makes Delia Smith's recipes highly accessible and with the variety of recipes and international flavors, there is a comforting dish for every season and mood.

~The Rebecca Review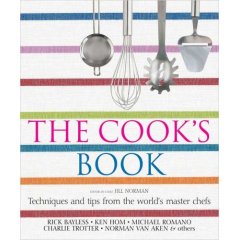 A Passion for Cooking, October 11, 2005

"Techniques are the key to good cooking. The Cook's Book provides the most comprehensive guide to all you may ever need in the kitchen." ~Jill Norman

Jill Norman, editor of the Elizabeth David classic cookbooks, has created a celebration of cooking that is bursting with knowledge and techniques. There are over 1800 full-color photographs and the recipes cover all major cooking styles, including Thai, Mexican, French, Indian and Chinese. Top Chefs from around the world present cooking methods you can master at home. They also include many of their signature dishes. Each Chef has their own chapter:

Sauces & Dressings - Paul Gayler, UK

All the basic saucemaking techniques are covered from deglazing to using a paste of butter and flour to thicken a sauce. Classics are covered in step-by-step beauty as mayonnaise, Hollandaise and Béarnaise are created and then varied to suit all occasions.

Foams - Ferran Adrià

We all know the types of foams we don't want, like when making food and a pot boils over or when making strawberry jam, but how do you make foams on purpose and with a sense of perfection. Here they take the form of Pistachio foam, frozen chocolate mousse and cappuccino almond foam with truffle juice.

Stocks & Soups - Shaun Hill, UK (All the basics for soups and heartwarming meals)

Flavorings - Peter Gordon

An especially exciting chapter filled with freshly crushed spices and herb mixtures. How do you dry-roast spices or grind them in a mortar and pestle? The recipes include sexy offerings like Saffron-Poached Peaches or Coconut & Palm sugar sauce.

Latin American Cooking - Norman Van Aken (Classics like caramelized plantains served with Mojo marinated chicken.)

Eggs & Dairy Products - Michael Romano

Fish & Shellfish - Charlie Trotter (He goes to great lengths in this chapter to show you how to prepare every type of seafood imaginable. This is Seafood 101.)

Japanese Cooking - Hisayuki Takeuchi from Paris (Sushi fans will adore this chapter.)

Poultry & Game Birds - Shaun Hill (A special section on how to cut up poultry into eight pieces - useful for all sorts of recipes.)

Indian Cooking - Atul Kochhar

Meat - Marcus Wareing, UK (Techniques that will take roasting meats to unexplored levels.)

Chinese Cooking - Ken Hom

Vegetables - Charlie Trotter

Charlie Trotter's chapters are highly detailed, showing you ever way to slice and dice vegetables or prepare tomatoes and peppers. He even shows you how to pickle cucumbers and create gourmet Asparacus & Goat Cheese Terrines.

Pasta & Dumplings - Michael Romano (Pasta from scratch!)

Asian Noodles & Dumplings - Christine Manfield from Australia

Thai Cooking - David Thompson

Grains & Beans - Paul Gayler (Secrets for cooking rice or turning lentils into smooth perfection in a Dal.)

Breads & Batters - Dan Lepard (The first recipe I've ever found for Crisp Rye Bread.)

Mexican Cooking - Rick Bayless from Chicago

Pastry & Sweet Dough - Pierre Hermé (Unique crisp Arlettes and even a recipe for Croissants.)

Middle Eastern Cooking - Greg Malouf (Turkish Coffee)

Desserts - Pierre Hermé (The basics of sugar syrups, candied fruits and nuts, Crème Pâtissière, Rose Ice Cream and unimaginably beautiful Italian Meringue.)

Cakes - Stephan Franz (Essential information on how to cut and fill cakes.)

Fruits & Nuts - Shaun Hill (Figs in cinnamon and lemon, baked apples, steamed orange puddings and even Nougat with almonds, pistachios and candied cherries. Perfect for Christmas.

"Cooking is like a language in which I can communicate my emotions and the love I feel for life and nature." ~Hisayuki Takeuchi

Each chef is featured in the contributing chef's section which gives background information and current projects. This is followed by a section on the equipment you will need to prepare the recipes. There is a focus on accurate measuring and finding high-quality ingredients.

As you read this book from cover to cover you may feel a great sense of accomplishment as you see how many techniques you have already mastered just from cooking for years and years.

I can't think of a more perfect book to give a new cook and if you are just starting to delve into this magical world of flavors and experience, this book will take you into the world of step-by-step instruction. This will make following just about any recipe much easier because you will have seen the techniques and you can also refer back to this book through the index to find just about anything you need to know.

I had barely made it to page 45 when the need to cook up a steak dinner complete with garlic sauces, broccoli in a plum wine sauce and crisp herbed potatoes fried in olive oil overtook me. You may find yourself creating new recipes just because you learn a new technique or it could be an infusion of inspiration born of the pure celebration of cooking itself. Either way, this book will not be only for reading in bed, this is a cookbook you won't be leaving on the counter for long because of the inspirational recipes, excellent glossary and complete index.

Have you ever imagined recipes like this?

Streusel Tart with Pistachios & Cherries - Beautiful simplicity
Tarte Au Citron (Lemon Tart) - So smooth and creamy you may faint with pleasure.
Milk Chocolate Truffles with Passion Fruit
Lime Ice Cream with Cajeta

Some of the classic recipes include:

Sachertorte - The chocolate cake topped with a chocolate glaze
Dresden Stollen - Perfect for Christmas gifts.

Pears swim in syrup poaching to perfection. Lamb is infused with rosemary and orange juice. Sliced carambola drowns in zabaglione. Chocolate marries pumpkin pie and settles into a cheesecake with a splash of country cream.

Such perfection! This is the type of cookbook you can fall in love with, instantly. Looking through this book all at once might leave you a little heady.

~TheRebeccaReview.com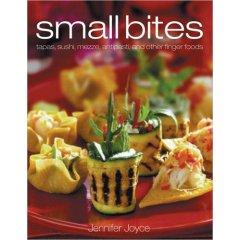 Red Curry Pumpkin Soup, October 7, 2005


There is a revolution going on. The formality of the dining room table is being exchanged for a more relaxed gathering around the coffee table as the new mode for entertaining. ~Jennifer Joyce

From the first page, Small Bites impresses with artistically designed culinary temptations. With minimal effort you can make soups, salads, skewers, wrapped Japanese style delicacies, sweets and even dishes of tempting vegetables.

These dishes are known as tapas, antipasti, mezze or finger food. They are perfect for a lifestyle that promotes social gatherings like book clubs or parties.

Unique selections: Fried Artichokes with Saffron Aioli, followed by an entire section on Latin Fiesta that includes classic recipes for a margarita. For the fried food recipes, you are sent to various pages of interest. Crispy Scallops can be dipped in Wasabi Mayonnaise and Ithaca Zucchini cakes are served with a dill yogurt sauce.

The soups are served in small cups or creative containers. The Red curry Pumpkin Soup is made with coconut milk, chicken stock and fresh pumpkin. Cilantro and shallots garnish the spicy garlicky soup.

The Dips chapter also contains a recipe for Mango crush and a complete menu that includes Lemongrass Beef Skewers and passion Fruit Trifle. Each chapter has a "quick" section with tips on fast foods you can make in a hurry. Roasted garlic with warm bread and Spicy peanut dip are easy to make and have just a few ingredients.

The Salads in this book look like they are straight out of a gourmet magazine. Watermelon and Feta cheese? There is a salty/sweet theme to some of the dishes.

If you love making skewers on your grill then the Citrus Swordfish Brochettes may entice you with the pomegranate dipping sauce. This chapter is filled with luxurious flavors of saffron, dried fruits, fragrant rose water, pistachios, black olives and smoked paprika. The shrimp are even dusted with Sumac. The theme is Middle Eastern Delights and each and ever page is filled with delicious satays for every taste and sauce dipping desire. Whether you are hungry for shrimp, lamb, pork or beef, there is a recipe.

By the time you get to the chapter on Meats you may be a little overwhelmed with all the ideas and rather hungry for recipes like Five-spice hoisin ribs. These are made in the oven and only take 2 hours with minimal preparation and care.

The fish chapter contains recipes for chicken breast bites. There is some mingling of ideas in each chapter and this book doesn't focus on any one food like chicken or beef. There is a good variety of every type of food you could imagine. For wrapped seafood, onward to the Wrapped, Tied and Rolled chapter which also contains ideas for rolling fruit with arugula and parmesan.

If you are thinking "parties," then look for the Wild Mushroom Crostini with Marscarpone and Sherry vinegar. Rent your favorite Bollywood movie and enjoy a spicy Indian feast complete with magenta pink tablecloths, small spice boals and scattered rose petals. The imaginative table settings add beauty to the pages filled with tons of tasty recipes. The "Rolled Zucchini Ribbons" are a stunning presentation and will catch the attention of your guests. The Artichoke Puff Pastry Bites are also easy to make because you can purchase puff pastry in sheets.

The recipes are adventurous, delicious and are made from ingredients that are easily found at your local grocery store. The Sweets chapter includes such tempting delights as chocolate cupcakes with cherry colored icing and rose petals. Is there no mercy? Chocolate Crinkle Cookies would ship well at Christmas and thinking about Figs dipped in chocolate and pistachios is making me feel a bit heady.

An entire section is dedicated to "useful" recipes - mostly sauces and dressings.

Jennifer Joyce loves to travel in search of new flavors and recipes and her book is simply stunning in beauty and overwhelming in creativity.

~TheRebeccaReview.com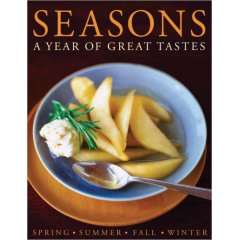 Scents of Saffron and Pumpkin Soup, October 11, 2005

Spring, Summer, Winter and Fall all meet in a collection of seasonal recipes celebrating the sweetness of summer and the comfort of winter cooking. Spring's earthy green flavors contrast with the more mellow beauty of a pumpkin soup as the weather cools.

If you have yet to taste the mingling of chestnuts with chocolate, then this cookbook is a perfect place to start. When chestnuts are pureed they turn creamy and mingle with chocolate in dreamy perfection. Chocolate Chestnut Rum Roulade is a chocolate sponge rolled up with chestnut filling and is tempting as a desert in cooler weather.

For winter there are Sausages with Beaujolais. The sausages are cooked in a light red wine and served with a colorful display of parsley potatoes. Honey, Orange & Cinnamon Roast Duck is made with Seville Oranges that used in marmalade and here they are used in the sauce.

Page after page of recipes are shown in full color on the right while the recipe is on the left. Each recipe has easy-to-follow steps and the pictures truly inspire. Gourmet Flavors include:

Chicken Dumplings with Miso Broth
Grilled Ginger Shrimp with Papaya Salsa
Strawberry Soup with Yogurt
Saffron, Orange & Apricot Syllabub

Cultural Favorites:

Moussaka
Baklava
Szechuan Pork

Comfort Food:

Steak and Mushroom Pie
Spiced Pumpkin Pie
Turkey with Orange and Cranberry Sauce

If you have been wondering how to serve peas in more creative ways, they appear in tartlets and timbales. Want to try a recipe with orange-flower water? There is a recipe for Orange-Flower Panna Cotta that is a smooth baked pudding with strawberries.

Seasons truly embraces not only seasonal fare, but the expanding ingredient selections that make our cooking ever more multicultural. One of the most exciting cookbook finds of 2005. Definitely a collectible cookbook for cooks who are fans of gourmet and multicultural cooking.

~TheRebeccaReview.com
Semi-Homemade Cooking
Food Lover's Companion
The Armchair James Beard
The Barefoot Contessa Cookbook : Secrets...

A taste of the past

If there was one thing I would change about my life, I would have loved to have met James Beard. He went on to the next life the year I discovered my true love - cooking. I was in Africa at the time and started cooking more than anything else. Daily I would come home and dream of dinner time when I too would learn many things from a cook who taught me how to enjoy some of the basic foods in life. While I was born in a different time and place, Africa was about 100 years behind America in some ways. I went through many of the same experiences he did. Times were simpler in Africa and I long for the days when cooking and eating dinner was a family occasion. After reading this charming collection of James Beards experiences with food and important people in his life - I now know why James Beard is so revered and honored for his amazing talents. His inspiration continues to flow through his books and this is a must read for the cookbook collector or anyone who wants a taste of the past

Decadent illustrations

I purchased this book for my Editor as a gift a while back. Buy one copy for all of your friends. That way they might start asking you to dinner for once! Buy it for your cookbook collecting friends or anyone who loves coffee table books. While it won't stay on the coffee table for long - you will want to read it from cover to cover as I did. Ina Garten wrote me an encouraging letter when I was compiling my new cookbook. I had written to her telling her how much I loved her cookbook. She is just super nice! I always love the fact that a cookbook is not just a book but is a living creation with a real author standing behind her work. She is just someone you wished lived next to you so you could go over for dinner all the time (of course you would wait for an invitation :-) Her recipes just look so good! Here new cookbook is now out and it is called Barefoot Contessa Parties. I tried some recipes and wrote a review which is at this site. It also have fun links to Ina Garten's Web site.

Julia and Jacques Cooking at Home
The Best Recipe

A book to inspire and introduce you to two famous cooks...

I did not grow up watching Julia Child on her famous TV program, but I sure love butter as much as she does. I grew up in Africa so I didn't hear of her until a few years ago when I started looking for shows on TV about cooking. After watching a special on her life and then watching a cooking show where Jacques made the most delicious creations, I decided to hunt down this book. I enjoyed both Julia and Jacques' sense of humor and love the work they have done together. Most cooks need books they can cook from fast. This book is for a day when you can take the time to read from cover to cover. Not only will you learn some new techniques you never thought of (a chicken massage with butter-mmmm!), you will also see that cooks are not all the same. We all have a special talent and gift to give the world. It is good to know that these two cooks stepped out of their own kitchens and have used their lives to teach so much. I recommend this book to all who collect books and all who may be new to the world of cooking.

How recipes should be written!

This is not only a book for those who love to be entertained, it is also for those who love to cook and want to make their cooking the best it can be. Christopher Kimball is one of the great researchers of our time. His attention to detail is remarkable. As an aspiring cookbook author myself, I see this book as an example of how recipes should be written.

My favorite sections are the detailed scientific and descriptive essays which are intriguing and entertaining to read. The information on chocolate is extremely accurate. By reading this book you will find out why some flaky pie crust recipes call for eggs, which tools are the best for preparing apples, and why evaporated milk helps to deepen the flavor of some dishes.

For some recipes, an extended explanation proceeds the recipe. When discussing "Individual Fallen Chocolate Cakes," three pages are devoted to explaining how the perfect recipe was achieved.

I am so pleased this book uses "chiles" instead of "chilies" since I had to prove to my editor that this was a valid spelling. In the winter, a "Chili Con Carne" is delicious and directions are given for spicing it up if you want more "heat."

I was also intrigued by recipes for: "Braised Lamb Shoulder Chops with Figs and North African Spices," Bread Stuffing with Sausage, Pecans, and Dried Apricots," "Penne with Portobello Mushroom Ragu," "Bruschetta with Red Onions, Herbs and Parmesan." While those sound very gourmet, there are also recipes for "Minestrone," "Tabbouleh," "Polenta," "Fried Chicken," "Roast Turkey," "Curry," "Cornbread," "Boston Cream Pie," "Popovers," Peanut Butter Cookies," and "Asparagus Frittata."

This book actually contains the Best Recipes from the pages of the magazine: Cook's Illustrated, which was first published in 1993. When creating these recipes, the editors started with the goal of developing the best recipe for "meatloaf" or "chocolate pudding." Cook's Illustrated is known for a near-obsessive dedication to finding the best recipes.

Here is a good example of Christopher Kimball's writing style:

Cinnamon Swirl Bread

"Sometimes the heavenly smell of cinnamon swirl bread emanating from the oven is the best part of the bread. Often after baking there are gaps between the swirls of cinnamon filing and bread, and the filling is prone to leaking out and burning in the pan.

We wanted to solve these problems when developing our recipe. We also wanted the baked texture to be moist and light, yet firm enough to be sliced fresh the first day and toasted for a few days after. To achieve the best texture and crust, we knew we needed to perfect the baking time and temperature as well as fine-tune the ingredients. While we were at it, we decided to use this recipe to develop a technique for the ever-popular cinnamon rolls."

My husband agrees that the "Molasses-Spice Cookies" are the best he has ever tasted. After years of searching for a recipe he would love....Christopher Kimball saved my marriage....I am kidding, but my husband was quite pleased.

You will also find a recipe for Key Lime Pie. (Have you ever noticed that you can smell Key Lime pie when someone mentions it or you see it in a cookbook? It happens to me all the time. I have vivid food memories.) The beauty of this cookbook is that the science of how a dish evolves is also sometimes included. On page 496, the science of how "Key Lime Pie Thickens" is explained in detail.

Another aspect of this cookbook, is the delightful information on kitchen equipment.

"Years ago, free-standing mixers were a kitchen staple. Grandma probably had a "mixmaster," which is a generic term for a free-standing mixer, thought it is actually a brand name for units manufactured by Sunbeam. .....If all you want to do is whip egg whites or cream, or if you only make cakes from a mix, you don't really need a heavy-duty standing mixer." page 351

This is the first book I reach for when I have a cooking question or want to validate my beliefs. You could say this is my cooking Bible. I also like the fact that there is a real author and not just a corporation standing behind these recipes.

I find it refreshing to find that the author is interested in his readership and really does want you to have success the first time you make a recipe. Thank you Mr. Kimball for helping us clarify the technical details and solve the cooking confusion.


Tantalizing pictures with deliciously entertaining text

If you are looking for a perfect cookbook for a cookbook collector, this is one they will value highly. Pictures burst from the page and are refreshingly surrounded with interesting tidbits and realistic recipes. The layout is superb and each subject is nicely highlighted for easy location while you page through 629 pages of intoxicating inspiration. The cover is practical with a plastic sheath and the book will open and stay that way on your counter. The type is easy to read with plenty of bold text for emphasis. I cannot give enough positive comments about this book. You will love it.

Not another cookbook :)

I have the habit of giving cookbooks as gifts. I recently gave How to Cook Everything as a gift. This cookbook is not only perfect for the cookbook collector, but will be appreciated by a new cook. I was inspired by the success of this cookbook and it showed me there is room in the world for a cookbook which revives our favorites and inspires us to try something new.

The World Encyclopedia of Bread and...
Provence : A Country Almanac

The scent of homemade bread...

If you have never made a loaf of homemade bread you have missed out on one of the most therapeutic experiences in the kitchen. The sensory delight you will experience as the bread cooks is nothing short of magical. Understandably, many of us do not have time to wait for bread to rise or feel insecure about the process of kneading. Put your fears aside, you can do this. Start on a Saturday afternoon and learn all you can. As an avid reader of history and culture, I enjoyed the history and Introduction chapters almost as much as the page after page of homemade goodness. For once the pictures actually look like what you will achieve in a home kitchen. There is an entire section on breads from various locations. Whether you just enjoy imagining you will make a loaf of bread, or want to purchase a gift for a friend....this is the book on bread you will both love.

El Farol: Tapas and Spanish Cuisine

Lemon-Rosemary Flan, June 14, 2005

El Farol is the oldest restaurant and bar in Santa Fe, New Mexico. Frescoes by Alfred Morang decorate the walls of the 1835 adobe. In this eclectic setting, oil paintings by Roland Van Loon dance across your vision as you take pleasure in the Spanish Cuisine.

For quite some time I've wondered about using smoked paprika and Chef James Campbell Caruso uses this ingredient in many of his recipes. Have you ever wondered how to make those preserved lemons? There is a recipe with simple ingredients like sea salt, cinnamon, cloves, garlic and olive oil. Once the lemons are preserved, you store them in oil for six months to a year. The Preserved Lemon Butter Sauce calls for 1 tablespoon chopped preserved lemons. This sauce can be served over salmon.

One of the most intriguing recipes is for the El Farol Pincho Spice Mix that makes use of all sorts of spices and herbs I've never blended together before like, smoked paprika and oregano. You rub the unique spices on anything you can grill.

If you love blue cheese, you may want to try to find "Cabrales." Most of the recipes do use readily available ingredients although you may have to hunt for saffron in your grocery store or order it online.

Recipes you may enjoy:

Lemon-Rosemary Flan - the El Farol's biggest-selling dessert

Marscarpone-Stuffed Figs and Dates - sprinkled with pistachios and arranged with orange slices.

Grilled Artichokes in Saffron Butter

Beef Empanadas - a masa harina/flour based dough filled with spicy turkey filling.

Grilled Artichokes in Saffron Butter - one of the most popular tapas (small, savory Spanish dishes)

The picture in this book that made me terribly hungry was the Ensalada de Uvas con Queso. A grape salad with fresh mozzarella. I had wondered about using the small balls of mozzarella and here is the recipe.

Pantry items you may need include: sherry vinegar, cinnamon sticks, whole cloves, sea salt, sweet smoked paprika, Mexican oregano, saffron, star anise, fennel seeds, coriander seeds, cumin seeds, olive oil, masa harina, raisins and of course, lots of fresh garlic.

Growing fresh herbs is optional and rosemary is one of the herbs I still need to plant this year. Once it is planted, I'm making the Lemon-Rosemary Flan. I have a feeling we will be eating a little better this summer than last! The food in the El Farol cookbook is comforting, delicious and at times a little exotic. Fortunately dried figs are not difficult to find and most of the spices can be found at the grocery store or here at Amazon.

~TheRebeccaReview.com

Sensationally colorful!

This is a book with page after page of an area in France I love. It is a place I want to visit time and time again. I can almost smell the intoxicating lavender breeze as I glance at the cover. If you purchase this book as a gift, I highly recommend enclosing something that has the scent of lavender. A soap or even a drop of lavender oil on the inside cover will make this a sensory experience. While I love books filled with recipes, I could not resist this one. Oh, to be in France at this moment sitting by a lavender field. This book truly brought back memories of my trip to France and I enjoyed the information on olives as I had purchased olive oil and olives at a little sea side store in Cassis. You will be looking into plane tickets soon after reading about the rich culinary heritage of this region.

These are my favorite cookbooks of all time...so far :)

See What's New on the Market



To keep your cookbooks open on the kitchen counter
look for the new Cookbook Shield at Baker's catalouge

An American Classic! September 1, 2000

The Better Homes and Gardens New Cook Book is hardly new in my family. At least not the copy I recently found! My mother has a great nack for saving just about everything. When I partially removed the old red fabric tape holding the cover together, I found the words "Meredith Press O1." The red and white gingham cover also has three pictures: a pot, a pan and a gravy server.

I know for a fact, my mother has had this cookbook since I was born. My grandmother also has about every edition ever published, all well worn! I am finally convinced that "The Better Homes and Gardens Cook Book" is perhaps almost completely responsible for my families love of cooking.

Our beloved cookbook is so well worn, the edges of all the pages are a lovely crinkled beige. The yellow tabbed pages have clear tape over the well-worn tabs and the poultry chapter has barely survived. (We raised chickens in Africa! This book was there!)

I was more than pleased to hear about the 1930-2000 Limited Edition! We still make the Herb Stuffing and Ambrosia. I also just realized that my father must have found the idea for cheese-filled bacon wrapped frankfurters from Better Homes and Gardens. Dad! And I thought he made that recipe up! It looks like men were reading cookbooks in the 60's or maybe that dish was a popular one.

Do you remember Praline or Seven-Minute Frosting? The Swedish Pancakes and Banana-nut Bread recipes are all splattered with stains of unknown origin. (I am guessing eggs, milk, butter?) All my new cookbooks are now on a stand, far out of reach of buttery fingers! But then again, if my mother had not let me use this cookbook at a young age (without much supervision - therefore the stains of unknown origin), who knows if I would have developed such a fascination for kitchen lore, cooking and culinary culture. Many of my family memories are also connected to recipes in many editions of this book.

If you are looking for a cookbook to inspire generations of cooks, you should consider this book seriously. Not only is it an American classic, the recipes carry with them the happy culinary memories of millions of Americans.

Idyllic Picnics for all Seasons, October 10, 2005

"A picnic evokes thoughts of leisure, relaxation, and enjoyment of the outdoors. It can be a still life in the open air or a boisterous frolic on the beach. Some picnics celebrate a special occasion, some offer the opportunity for friends to gather, and others provide an excuse for breaking the routine of daily life." ~DeeDee Stovel

Are you dreaming of sipping hot chocolate out in the snow or nibbling on brownies after skiing, then there is a lot to offer even in the winter. DeeDee Stovel is a caterer and cooking teacher who is also the author of "Weekend! A Menu Cookbook for Relaxed Entertaining." The recipes in this cookbook are family favorites so most are for eight people. You can easily cut the recipes in half or plan to have leftovers. The picnics for Romantic outings are designed for smaller quantities.

In this creative work, you can find picnic ideas for every season. This would be perfect as a gift with a basket filled with items needed for some of the recipes. The recipes are a reflection of the favorites on the East Coast, but they will appeal to anyone who loves to go on a picnic. You will find information on:

Picnic Planning
Spring Flings
Summer Spreads
Autumn Outings
Winter Wanderings

DeeDee Stovel loves art and introduces the reader to famous artists who loved to paint picnic scenes. She briefly introduces picnic history and includes information on portable meals from the past.

The useful information includes ideas on how to keep food safe, how to prepare meals to go and how to keep food cold or hot. If you are looking to create "ambience" then she gives recommendations for flowers, mints, candy and other items to add to your checklist. There are two ready-to-go checklists for "Baskets at the Ready." This enables the picnic prone to be ready to travel at the hint of a picnic longing.

Picnics of Interest:

Breakfast in a Meadow
Spring Day Hike
Family Celebration in the Backyard
Summer Canoe Picnic
Beach Picnic
Sunlight Through the Trees Picnic
Music Festival Picnic
Sports-Fan Picnic
Moonlight on a Mountaintop Picnic
Teddy Bear's Birthday Party Picnic
Cross-Country Ski Picnic
Workday Picnic

Recipe Ideas are organized according to the Picnic, but you can even just take one new idea from your favorite chapters and create your own outdoor feast. There are tantalizing recipes for:

Gingerbread
Herbal Ice Tea
Champagne Mimosas
Bundt Cake
Brownies
Apricot Almond Bars
Barbecued Chicken
Red Potato Salad
Grilled Salmon Fillets with Mustard Dill Sauce
Frosty Fruit Salad
Chocolate Zucchini Cake
Tortellini Salad
Fresh Peach Ice Cream
Marinated Pasta Salad
Sun Tea
Petite Lobster Rolls
Cucumber Sandwiches
Gazpacho Madrileno
Cold Rice Salad
Strawberry Cookies
Spicy Beans with Sausage

If I had to choose one picnic book to keep in a basket for spontaneous outdoor feasts, this
would be it. There are 125 recipes with seasonal appeal and lots of classic favorites and some intriguing surprises.

~TheRebeccaReview.com

Better Homes and Gardens New Cookbook...

Serious Books for Serious Cooks - Visit Joseph M. Carlin's Food Heritage site.

His goal is to help preserve America's rich culinary past. I also found a great

history/cookbook combination in Rare Bits : Unusual Origins of Popular...

"That about half of the books are recently published encourages me to believe that

historians have begun to take food history seriously. And it makes me feel

good to think that there are at least a few people out there who like a

little history with their dinner." —Michael Hastings discussing Food Books

Favorite Cookbooks Page II - Well, I keep adding to the list....

People give food meaning. It's easy to trivialize, because food
is everywhere. But love of food is love of life. ~Barbara Haber

Does anyone really have sixteen thousand cookbooks? YES, but they are in a library!
Barbara Haber is the curator of books at the Radcliffe Institute's Schlesinger Library.
They house one of the largest culinary collections. When Barbara arrived, the library
had a mere eight thousand books of all kinds and just a modest cache of cookbooks.
Several large donations from private collectors gave the library a big boost.
To find out more about culinary history...Click Here

It's strange to think most books are about love... even cookbooks.
~Stephan in the French film: A Heart in Winter