On a plate my father brought
to me from his last trip to Russia
When I first started researching Christmas symbols and traditions, I wondered what a "plum pudding"
would taste like. Centuries ago, the King of England's cook put everything he had into a pot for a
simple feast and made the first plum pudding. The ingredients he used on that occasion are said to
have formed the basic recipe for plum pudding. Most Christmas recipes contained breadcrumbs
and raisins and not one had plums! So, for this Christmas, try making
delicious plum pastries filled with creamy custard.
Custard powder can be ordered from Protea Imports.
News: This is my "first published" recipe that has also just been featured in the
OregoN® Fruit Products Holiday Edition 2003 Newsletter/Recipe Journal

www.oregonfruit.com/jindex.html
- Look for Holiday 2003
Also, see cookbook below.

Pastry Shells

3 (10 ounce) packages Pepperidge Farm® Puff Pastry Shells
Plum Glaze and Plum Filling

2 (16 1/2 ounce) cans OregoN® Purple Plums in heavy syrup
Reserved syrup from 1 can or a little over 1/2 cup syrup
1 tablespoon cornstarch
1 tablespoon water
1 tablespoon black currant preserves (Hero Swiss Preserves)
1/3 cup granulated sugar
1 tablespoon Cooks Choice™ Bourbon extract
Dash cinnamon
Custard Filling

1 cup whipping cream
1 cup whole milk
1/3 cup granulated sugar
1/4 cup Hinds Custard Powder (order from www.proteaimports.com )
1. Pastry shells: Preheat oven to 400˚ degrees.

2. Place frozen pastry shells on a baking sheet lined with
parchment paper. Bake 20-25 minutes or until golden brown
and puffed up. You may have to bake them in two batches so
allow enough time to bake all the pastries.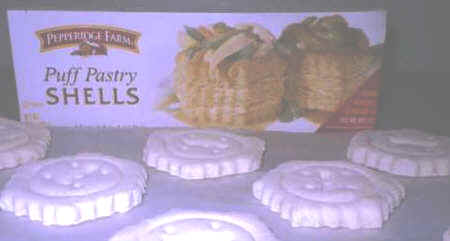 What could be easier than frozen pastry!
3. Plum Glaze: Drain plums and reserve the syrup. You should
have a little over 1/2 cup. Place the syrup in a 1 quart
saucepan. Stir cornstarch and water in a small bowl and whisk
into the syrup. Turn heat onto medium and then whisk in
currant preserves, sugar, bourbon extract and a dash
cinnamon to add a touch of Christmas spice.

4. Stir the sauce with the whisk frequently until the sauce is
thick, dark and purple. It will in fact look more clear as it
darkens. This makes a beautiful purple glaze.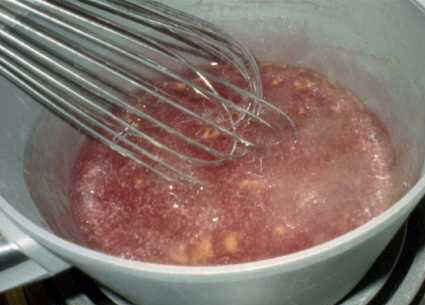 Glaze is cooked when it darkens.
5. Strain the glaze and discard seeds. Cool in the refrigerator.

6. Custard filling: In a 3-quart saucepan, whisk cream, milk,
sugar and custard powder. Turn heat onto medium and whisk
until custard is thick and creamy. Cool in the
refrigerator/freezer or pour into a ice cream maker bowl and
stir until completely cooled. This is the fastest method. When
completely cooled, set a plastic bag or pastry bag in a bowl
and then spoon in custard.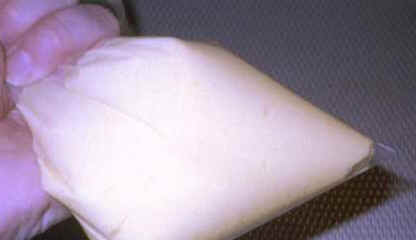 A plastic bag makes a great pastry bag!
7. Assembling the pastries: Pour the cooled plum glaze into a
small plastic bag. Set in a dish with ice cubes to cool
completely. Set the bag of custard in a bowl. Remove the tops
on the pastries and any uncooked pastry. Snip the corner of
custard bag and fill pastries halfway with custard. Pit each
plum carefully to maintain shape and then place on custard.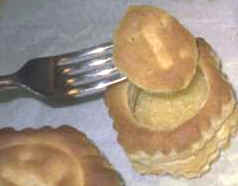 Remove tops and uncooked dough.
8. Take the plum glaze, snip corner and pipe just enough glaze to
completely cover plum and custard. Insert "pastry top" into
edge of custard so it stands upright and insert a sprig of mint.
These can be easily transported to a party.

Plumy News: Prunes are now called dried plums!
Makes 18 pastries for a Christmas Party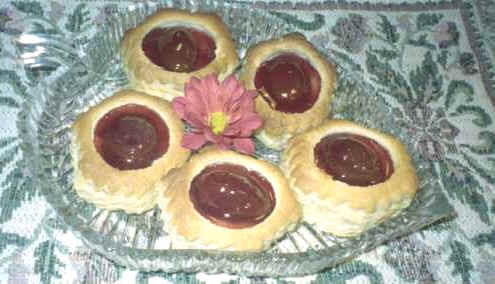 Click here for a printable version
Chef Johnny included this recipe and my recipe for Victorian Raspberry Cake and
Christmas Plum Pastries in his new book of over 300 recipes.
Many friends contributed to his cookbook. John E. Clark is a
member of the American Culinary Federation and
is an Executive Chef. He now sells his own private brand of
seasonings called Chef Johnny's Products.
Visit his site to find out more about this book and his products.
You will find two of my recipes along with recipes for appetizers,
beverages, soups, salads, vegetables, main dishes,
breads, rolls, desserts and more delicious recipes.
Examples of Recipes:
Chocolate Cherry Cake
Lemon Raisin-Nut Bread
Victorian Raspberry Cake
Uncle Jack's Onion Loaf
Blackened Red Snapper
Tuscany Flounder
Swiss Steak
As a bonus, there are plenty of recipes using Chef Johnny's Products!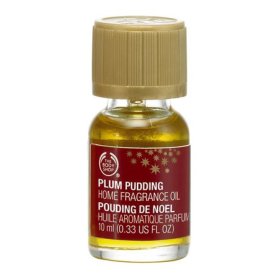 Plum Pudding Home Fragrance Oil