Camels: The wise men who visited Christ most likely traveled on camels. In Puerto Rico the children leave a gift for the camels of the wise men on January 6, "three kings' day." Often the gift is a basket filled with flowers.
Candles: After Christ's birth when the mid-winter festival became a celebration of Christ's birth, candles were used for many purposes. Candles were used by Martin Luther on his Christmas tree to represent the stars shining through the evergreens in the forest on Christmas Eve.

Carols: These originated from the custom of joyfully celebrating various festivals which have been held through the centuries. As the mid-winter observance of the Roman Saturnalia gave way to the more universally observed Christmas, a great wealth of songs with the Christmas theme sprang into being. Some of these carols, or songs, are of "folk song" origin, which came from the hearts of those who wanted to express their emotions in song. They were recorded on paper for permanent use at a later date by those who were interested in preserving them.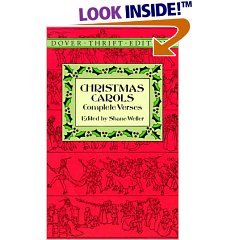 Christmas Carols : Complete Verses...

Carrots: These are sometimes left by the chimney or tree for the horse used by Saint Nicholas, or the reindeer used by Santa Claus.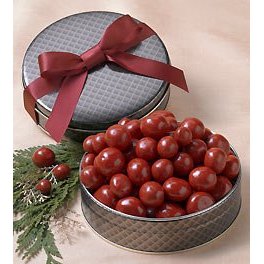 Cherries: The cherry tree tells the legend of the journey of Mary and Joseph to Bethlehem. Mary saw a tree filled with ripe cherries. When she asked Joseph to get some for her he refused. The branches bent down so she could reach the fruit. When Joseph, now ashamed of himself, attempted to reach the fruit for her, the branches flew back so that he could not reach them. Or so the legend goes. We make chocolate-covered cherries each year and give them as gifts.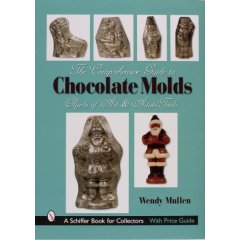 Chocolates:
Wendy Mullen found her first chocolate mold over fifteen years ago and loves writing about chocolate. She has published articles about chocolate molds and this book displays a wide array of antique chocolate molds that include everything from Easter eggs to cats and angels. There are molds for butterflies, bunnies, frogs, turtles, goats, roosters, pigs, lambs, dogs, elephants, teddy bears, deer and just about any other animal you can think of including storks, seals and stylized dolphins. Fairy Tales are also featured and you can may enjoy seeing a Hansel and Gretel house, Red Riding Hood and Snow White Scenes.

All the prices are included so you can have an idea of how much you want to spend if you go looking for these molds. All the main holidays are represented, as are unique items like the the Krampus mold familiar in Austria. Neptune also appears and then there are may pages of Santa. If you love collecting Santa items, there is page after page. Christmas takes up at least one fifth of the book and is perfect for getting ideas if you make chocolates for Christmas. There are snowmen, angels, Christmas ornaments and even manger scenes.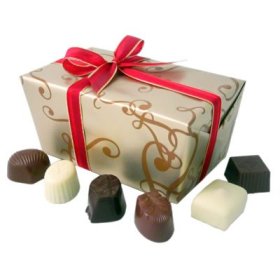 Leonidas Belgian Chocolates: 1.50 lb Holiday Ballotin


Even if you don't want to go looking for a three hundred dollar scallop shell, at least you can get ideas for what you want to go find online. Many of these molds seem to be useful for candy making and for making soaps.

Additional creative finds at the end include hearts in a postcard style which are very beautiful once painted or if you use three types of chocolate. There are castles, temples, crowns, shoes, cars, boats and even hot air balloons.

A special "Collector's Tips and Closing" section shows how to purchase antique chocolate molds, explains how they must be cleaned and handled to prevent rusting.

From the information in this book, you could actually buy a new chocolate mold that looks antique. Additional information on suppliers is briefly discussed. To find most of the molds, you only need to do an Internet search because all the items have collection information and the names of the specific items.

As a coffee table book this is highly entertaining, but the usefulness factor is especially enjoyable because of the way the book is organized. A lovely gift or a research tool for your own journey of chocolate art.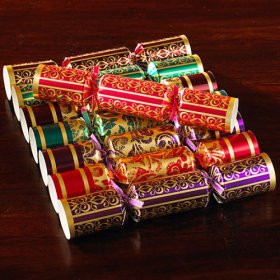 Christmas Cracker: These fun noisemakers originated in England in the Victorian Era. A confectioner named Thomas Smith became enchanted with sugared almonds wrapped in brightly colored tissue paper while on a trip to France. When he returned to England, he was watching a fire when suddenly a large log cracked. That inspired him to add a sharp crack to his wrapped bonbons. His idea caught on in 1898. Over the years, toys, a motto or a paper hat replaced the traditional sugared almonds inside the cracker. It is a tradition for two people to open a cracker. You pull at each end and hear a loud pop. Sur La Table has a nice set of crackers wrapped in a Victorian style. They make nice party favor decorations for a holiday dinner.

Christmas Music: Here are my favorite CD's. The Best Of Narada Christmas and A Winter's Solstice VI

Christmas Tree: This tradition is relatively new in America. There are quite a few legends surrounding this tree. Angels are said to have chosen the evergreen for the Christmas tree because it symbolized the everlasting life of Christ. Most likely the first Christmas tree came from the Black Forest in Germany. The fir tree was most likely decorated with fruits, nuts and candles to mark the beginning of winter festivals.
Martin Luther is however credited with decorating the first tree in Germany following a walk through the forest on Christmas Eve. The stars shining through the evergreen trees impressed him so much that he attempted to show his family a sight like it, so he cut down an evergreen and decorated it with candles. Today we use safer electric lights. The first decorated Christmas tree in England was introduced by Prince Albert, German born husband of Queen Victoria. Today in America the Christmas tree is displayed in every part of the country. Evergreen are the most popular, although cactus, palms and other varieties are used in places where evergreen do not grow.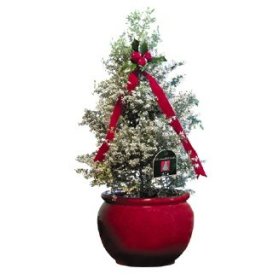 Miniature White Christmas Tree
In China the Christmas Tree is called "The Tree of Life." In Provence, France children put pine branches on the fire and burn strips of orange and tangerine peel. To find a wonderful holiday perfume which resembles this memory, look for Winter Forest candles and Ruban d'Orange parfum at Loccitane.
For a Tree stand with an extra reservoir: Hammacher
Make Your Tree Fire Resistant: Mix 1 gallon water with 8 oz. boric acid and spray over tree before decorating. Let dry overnight before decorating.
Hot Chocolate and Spiced Apple Cider Beverage Tins
Christmas Cookies: Homemade cookies are a part of the feasting tradition during the holidays. The custom stems from a time when spices were as costly as gold, frankincense and myrrh. Cooks of the past could only afford a minute quantity of nutmeg, cinnamon, ginger, aniseed, cardamom, mace and vanilla. It was only possible to afford to use these exotic spices once a year. Today, baking is still a priority in the holiday season. Kitchens are filled with the delicious scent of cookies baking or candy simmering on the stove top. The aromas wafting through a home bring the Christmas Spirit long before the tree has been put up or the presents have been wrapped.
It Santa isn't the only one who waits all year to taste those delicious gingerbread cookies. For gifts, decorate cookies and wrap in cellophane bags with a bow. Craft stores also have great ideas for painting boxes and decorating them for the holiday season. My favorite idea is to find a flat backed Christmas decoration. We paint craft boxes with three colors of paint which are sponged onto the box. Then glue the Christmas decoration onto the top of the box. You can add a bow once you have filled the box with cookies. Look for unique shapes for the holiday season and protect the cookies by placing them into cupcake liners. Silver and gold liners are available in cooking stores or look for them online. Cushion your cookies with plenty of colorful tissue paper. Tissue paper can also be used to wrap "Stollen Bread" which is a holiday tradition in our family. Labels for your holiday baking can be found at Bakers' Catalogue. Look for the Set of Gift Labels.
Cleaning the House: Tell your kids that Santa only delivers presents to a clean house! Once the house is all clean, you can reward the kids by spending quality time baking cookies or making Christmas decorations.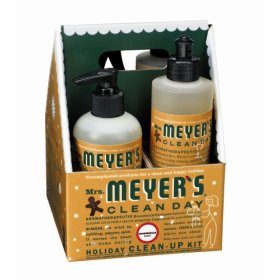 Mrs. Meyers Clean Day Holiday Cleaning Kit