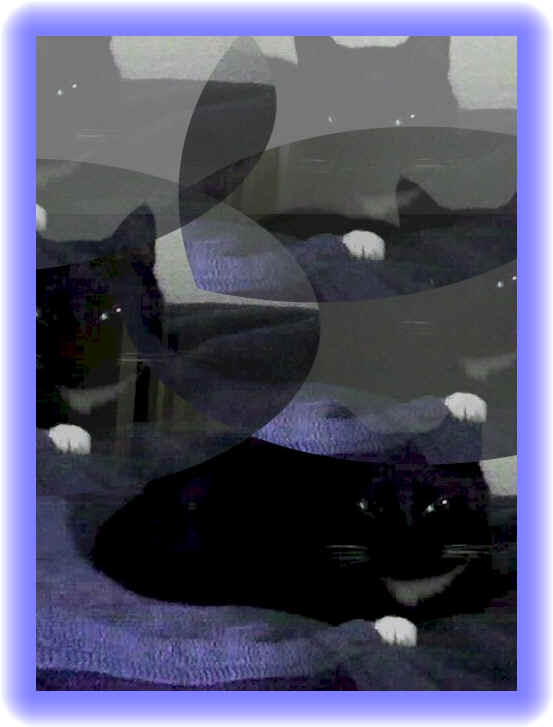 Meesa

Meesa is a poem on paws
Fur glistening, four paws dancing

Meesa is a poem on paws
that purrs, pounces and prowls

A poem of sleepy naps
and white whiskers
~Rebecca J.



Princess Meesa taking over my computer chair.
She has a wolfish face and unique eyes.
Her meow sounded like a squeak at times
and that is why we called her Meesa.

We rescued her from the shelter
on 2/15/2005 and she is most appreciative.





Sleeping on the first day home from the
shelter. I made her a little house with a
outdoor chair cushion, but recently found
her a fun kitten house that is on my desk.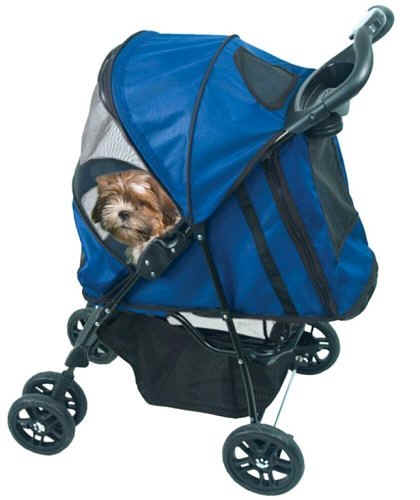 Pet Gear Happy Trails Pet Stroller
Meesa Kitten's Stroller Ride, March 27, 2005

Since my new kitten Meesa loves to run outside the minute we open the door, I felt she was adventurous enough to venture outside in a stroller. She also cries when I leave her alone and so the only solution seems to be to take her with me when I leave the house to go walking or to go get the mail.

Both cats were very curious about this new object as it sat in the living room. I pretended it didn't exist for a few days and then started to put each cat in the stroller and left the zipper panel open so they could get in and out and not feel trapped. Once you go outside you will appreciate the safety the zipper panel provides. Your cat will be spared the inconvenience of being chased by dogs, that type of thing.

So, after a few days, Meesa was ready to go outside. Since she was used to the stroller, she felt safe. I put her mouse toy in the stroller and lined the base with a soft towel. We then ventured out to get the mail. She was in bliss. Not only could she view everything from the safety of her mesh viewing window, she could also see me through the top opening and see out the sides. So, no matter if she was sitting, laying down or looking back at me, she felt safe.

My main concern was that being in a stroller would cause her too much stress. I know how cats seem to dislike suddenly being put in new environments. It seems Meesa is rather adventurous.

The Happy Trails Pet Stroller Features: Shock absorbers in the front wheels, 4 Pet viewing windows, Front Entry with Zipper, Waterproof Material, Top opening to view pet and a One-Hand Fold Mechanism for folding the stroller easily in half.

If you are taking the stroller with you on a trip, it will store flat. Unfolds again in an instant. You will also enjoy the Ergonomic handle.

Other features for your convenience:

Parent-Tray for water/keys, leash, etc.

Waterproof tray on the inside base of stroller - can be removed for cleaning

Large storage basket - You could use this for going on a picnic and taking lunch if you are heading to a park. Also useful if walking down to the mailbox or for carrying around cat toys or other kitten luxuries.

The only thing I was worried about when I ordered this stroller was the handlebar. I wasn't sure if it was expandable. This might be an issue if you are very tall or want to stand further back from the stroller. I found I could easily push the stroller from the side while walking or walk behind the stroller without any problem. They could improve this item by allowing the user to adjust the handle bar position and length.

Assembly: To assemble this item all you do is take the stroller out of the box and then you attach the wheels. Now, if only the instructions matched what is in the box. Fortunately it was easy enough to figure out, although I do think they need to update assembly instructions for the wheels immediately if not sooner. It seems they updated the design, but are still using an older pamphlet. I did not find a collet or a collet cover, but another metal "hair-pin-like" object that fastened the wheel onto the axle very easily. Like putting a hairpin through a metal bar with a hole in it. So, that was easy enough.

Once you get the wheels on, there is a tiny hubcap. Once the rear wheels are attached to the rear axle, you just slide the rear axle onto the frame until it clicks and locks. The front wheels are already assembled and all you have to do is basically remove the covers and press the wheels onto the front of the frame base. Assembly took me about 10 minutes max.

Suitable for pets up to 33 lbs - cats and dogs or I'd imagine other pets who love to get out of the house now and then.

Very lightweight - easy to push with one hand

8" wheels - Perfect on rugged terrain and the shock absorbers make the ride
more comfortable.

Fully lined canopy made from 600 Denier waterproof material - walk rain or shine.

Easy to store, fold or take with you when you travel

Replaceable parts - See the website for customer service.

To minimize wear and tear, they suggest you keep all moving parts in the wheels lubricated with WD40, but they make a note about not lubricating the brake components or swivel locks.

For Pets Only - perfect for older pets, new kittens, puppies, small dogs and other small animals.

My new kitten and I love this stroller and I think you will enjoy this product. Now I look forward to going outside for more walks because I don't have to worry about Meesa getting lonely. She likes to be within 4 feet of wherever I am these days and follow me around like a puppy. She is currently sleeping on the desk in her comfy kitten bed. Eventually I'll train Meesa to deal with a leash so she can get out of the stroller when we arrive at our destination.

Most pleased with this purchase! Now also available in Pink:



Pet Gear PINK Happy Trails Pet Stroller

~TheRebeccaReview.com

No More Scratches, April 20, 2005

Kitten Meesa has razor sharp claws unlike anything I've ever seen before. I mean, she sharpens her claws with precision. To her, it must be an art form.

While she is learning to keep her claws in when I hold her, she still sometimes takes off from my shoulder with kitten flair. So, now we make a game of clipping her claws. Just the tips, because you have to be very careful when clipping and you might want to buy some styptic powder with this purchase. I haven't had any problems because we just clip the tiniest bit off the end of her claws. Trimming a little once a week seems ideal.

The Cosmic Cat-Claw Clipper is very well made, short and easy to use. The stainless steel blade gives the nails a cleaner cut and this item is recommended by professional Groomers. It does seem to be a safe and dependable item.

~TheRebeccaReview.com
More Reviews coming soon...
Meesa is getting used to her Harness so we can take her more places. She thinks it is a game at
the moment and we put the harness on for a few minutes and then let her play
with the lead. She seems to think it is all very fun and this harness is very comfortable.


Comfortable Harness for Cats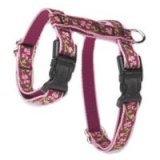 Cherry Blossom Lead attaches to Harness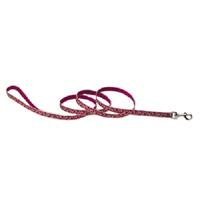 Cherry Blossom Lead for Harness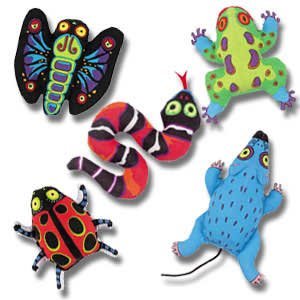 Organic Catnip - Butterfly Toy, December 11, 2005

This is one of the only cat toys my cats will actually play with. Often, they seem to prefer cat toys which you wouldn't think of as toys. Take for instance the tops of milk bottles. You just never know what is going to catch a cat's attention.

This butterfly is one of the best cat toys I've found. It crinkles like a paper bag, but it is a durable piece of crinkly plastic in each wing. In the center, there is a ball of catnip and some filling.

So far, this toy has held up miraculously well and I've even seen our cats toss it up in the air and pretend it is some bug they are chasing. Rather amusing.

For even more fun, dip this toy in a bit of fresh catnip.

~TheRebeccaReview.com




More Thoughts from the Cat Drawer...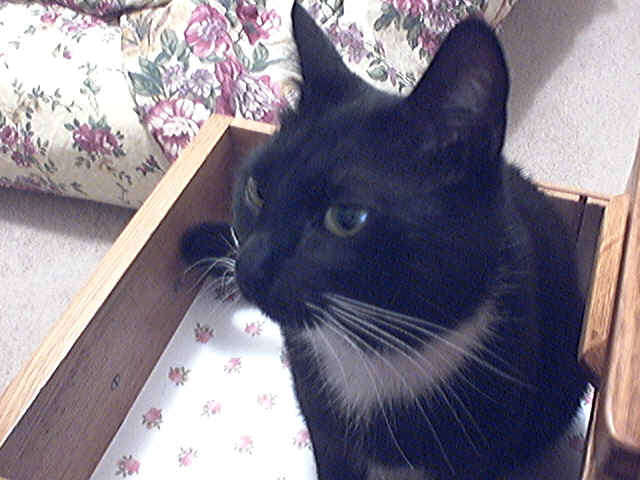 "Will you be buying me more Pit'r Pat Treats soon?" ~Meesa
Wildly Delicious Kitten Treats, April 20, 2005

If you buy one tin, buy ten because your cat will think these are wildly delicious. Strangely enough they are shaped like fish, but they contain ingredients like green tea extract and rosemary oil.

I went through one tin in a week and my cats thought these were the best treats they had ever tasted. I had no idea cats would enjoy rosemary oil in a cat treat, nor did I think they would paw at the empty tin begging for me to buy more.

Definitely a treat to hide in a safe place.

~TheRebeccaReview.com

P.S. Keep an empty tin with one treat in it and it can work as a training tool. I use it to call my cats indoors from the deck.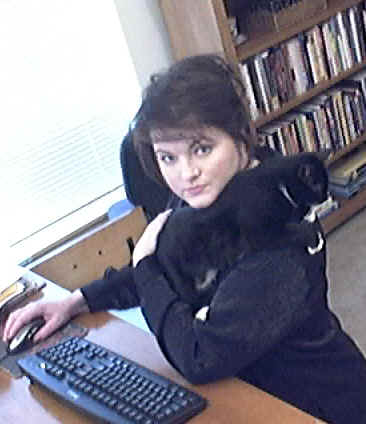 Books about Cats
The cats come in and make a purring circle next to me.
They're picking up something. Love? ~Christina Baldwin

The New Encyclopedia of the Cat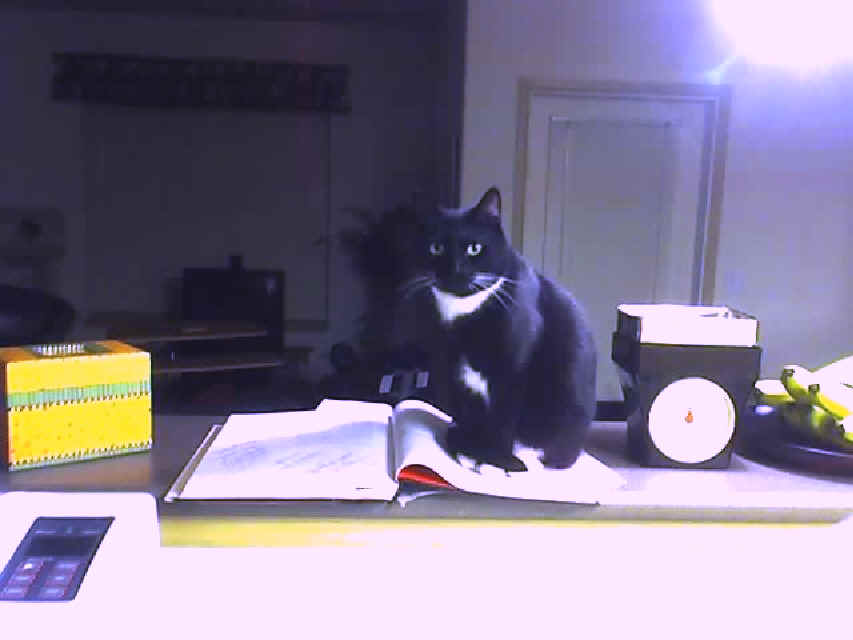 Meesa is very helpful in the kitchen, she especially enjoys sitting on the recipe
instructions I'm trying to read! She will watch me cook for hours, as if she was a chef
in a past life. She loves gourmet foods too, especially Black Forest Ham.
This was the day we made Puff Pastry from the cookbook: CRAVE

Website Links

Drs Foster and Smith Claws and Paws Meow.com

Kitten Care Cat Claws Meow Mail
My Pet Stop Cat Chow Pets Welcome

Dyson Cyclone Upright Vacuum for People with Pets
Meesa loves the Amazon River IMAX Presentation
She especially enjoyed seeing the jaguar and river scenes.