It always gives me a shiver when I see a cat seeing
what I can't see. ~ Eleanor Farjeon (1881-1965)
He lies there, purring and dreaming, shifting his limbs
now and then in an ecstasy of cushioned comfort.
He seems the incarnation of everything soft and silky and velvety,
without a sharp edge in his composition, a dreamer
whose philosophy is sleep and let sleep ... ~ Saki (1870-1916)

I put down my book "The Meaning of Zen" and see the cat smiling into her fur as she delicately combs
it with her rough pink tongue. "Cat, I would lend you this book to study but it appears that
you have already read it." She looks up and gives me her full gaze. "Don't be ridiculous,"
she purrs. "I wrote it." ~ Dilys Laing, "MIAO"
One small cat changes coming home to an empty house
to coming home. ~ Pam Brown

...cats have a way of endearing themselves to their owners, not just by
their "kittenoid" behaviour, which stimulates strong parental feelings,
but also by their sheer gracefulness. There is an elegance and a composure about them
that captivates the human eye. to the sensitive human being it becomes a privilege to share
a room with a cat, exchange its glance, feel its greeting rub, or watch it gently
luxuriate itself into a snoozing ball on a soft cushion.

~ Desmond Morris, from Catwatching and Catlore
The smallest feline is a masterpiece. ~ Leonardo Da Vinci (1452-1519)
Human beings are drawn to cats because they are all we are not ~self-contained,
elegant in everything they do, relaxed, assured, glad of company, yet
still possessing secret lives. ~ Pam Brown

Sometimes he will sit in front of you
with eyes so melting,
so caressing and so human,
that they almost frighten you,
for it is impossible to believe
that a soul is not there.
~ Theophile Gautier (1811-1872)
All I need to know I learned from my cat. ~ Suzy Becker
Cats are dangerous companions for writers because cat watching is a near perfect method of writing avoidance. ~Dan Greenburg

A cat can purr its way out of anything. ~ Donna McCrohan


Cats are connoisseurs of comfort. ~ James Herriot


A black cat dropped soundlessly from a high wall, ....and melted under a gate. ~ Elizabeth Lemarchand
Most cats, when they are Out want to be In, and vice versa, ...simultaneously. ~ Louis J. Camuti, D.V.M.

You haven't lived until you've lived with a cat. ~ Doris Day


I am as vigilant as a cat to steal cream. ~ William Shakespeare, Henry IV


The cat laps moonbeams in the bowl of water thinking them to be milk. ~ Hindu Adage


An ordinary kitten will ask more questions than any five year old. ~ Carl Van Vechten



It is a very inconvenient habit of kittens...that whatever you say to them, they always purr." ~ Lewis Carroll


To err is human,
to purr is feline.
~ Robert Byrne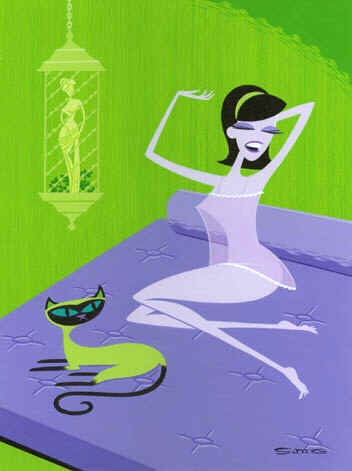 A morning kiss, a discreet touch of his nose landing somewhere
on the middle of my face. Because his long white whiskers tickled,
I began every day laughing. ~ Janet F. Faure
Wisdom from Around the Globe Quotes about Words
Beautiful Quotes from Books, Movies and Poems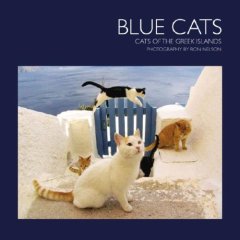 Artistic Photography, November 21, 2006

Ron Nelson's camera captures the soft details of some amazing cats living in the Greek Isles. Their fur seems to be especially healthy and their bright eyes seem to speak of happy days laying out in the sun, a life lived outdoors in the fresh air and a content spirit.

Each picture is framed on a white page to bring out the contrast of the white stone walls and sapphire waters glistening in the distance. Some kittens are found sleeping on windowsills outside windows with lace curtains while others find their home in a café or wandering along sun-drenched stone walls with foliage set against a background of mountains and cooling blue waters.

The photography in this book goes beyond capturing moments and has additional elements of artistic excellence.

My husband has always wanted a pure black cat and the one in this book really captured his interest in a variety of pictures including the one where the cat jumps off the wall and where it looks like it is meditating or observing the view. The tiny black-and-white cat will make you laugh as it seems to have found itself atop a large white stone pillar and is quite happy to sleep the day away far from the crowd.

All of the cats look especially well groomed, very pampered and happy to be living in Greece. Blue Cats is one of the most beautiful books on cats I've ever seen due to the additional artistic flair of the photography and the beyond gorgeous settings.

~The Rebecca Review