Parent Travel Tips:
1. Pack a travel backpack for each child. Paper, markers, pens, pencils,
tic-tac-toe, tape, stickers, toys, Kids Travel Kit from AAA
2. Pick up kids books on tape from your local library.
3. Give each child 10 coins and if they ask "When are we going to be there?" Take away a coin.
4. Pack popular road snacks. Pretzels, fruit, etc.
5. For very young children, pull over and occasionally find a playground.
6. Play games like I see something with the letter...___
7. Count things along the side of the road.
8. Take a plane, might be faster :)
9. Find as many license plates from different states as you can.
10. Invent stories about the people in the car next to yours...nice things :)
11. Count cars of the same color.
12. Tell three things ...two are true, one is a lie. Everyone guess which one is the lie.
More Travel Tips for Parents..
See Current Catalog for item #067494 - A back seat car organizer for kids.
Pet Travel Tips:
Pets Welcome - find pet friendly accommodations.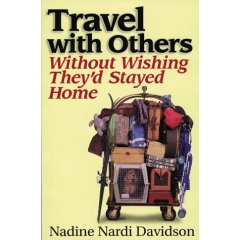 Travel With Others: Without Wishing They'd Stayed Home
A Book for Travelers and Their Companions, April 15, 2004

Can traveling really be hazardous to relationships? Are there people you would never travel with or dread traveling with on vacations? Then this book might present a few creative solutions.
Nadine Nardi Davidson has spent 27 years as a travel consultant and in this time she has assisted many travelers from age 9 to 90. In this book she finally shares all her travel insights and secret tips for staying sane while traveling.
In this entertaining book you will discover:
The Nine Travel Types (You might find you are a little of each, but one will be dominant and it does seem that "shopper" and "culturist" seemed familiar.) Nadine mentions that you might be a combination of travel types.
Travel Etiquette when Traveling with your Employer or Business Colleagues
How to Survive Traveling with Your Friends, Spouse, Pet, Relatives, In-Laws and Kids
The Honeymoon (If there is a hurricane on the way in, leave no matter what your husband says. Ha, ha. )
What to do when your teenager falls in love while you are on vacation
What to do when you take your child's friend along on your vacation
Nadine's writing style is comforting, often humorous and always a pleasure to read. This is one of the most interesting books on travel I've read to date. There are concepts in this book I would never have even considered. On my last trip I used her idea about limiting my wardrobe to one or two basic colors. That would be black clothes as a basic and therefore all shoes could be black too, etc. Nadine is right about packing toiletries. They can truly take longer to pack than your clothes.
Throughout the book you will find real-life stories that are often humorous and always entertaining. This is an insiders view of travel and this book is filled with practical advice.
You will also find travel checklists, information on special airline meals, making a traveler's medical kit and packing tips for trips of 7-21 days. May I also suggest: Smart Packing by Susan Foster.
Whether you are traveling to visit family for the holidays or traveling overseas, this book is an essential guide to enjoying your next vacation or business trip.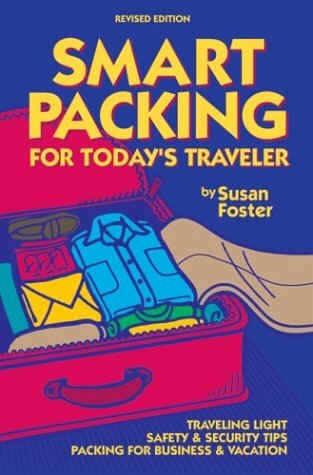 Smart Packing for Today's Traveler
Everything You Need to Know and More April 15, 2004

I have been doing what a travel writer lives for - traveling. I packed for a three-week trip to France (one week in Paris, the balance in Provence) in a 22" roll-aboard bag plus a small tote. Using all my best tips from Smart Packing, I had everything I needed or wanted and easily traveled by plane, train and very small car. It works! ~ Susan Foster

When I was getting ready for a trip to Seattle, we were told that the dress would be business casual. Well, since I am working from home, I needed to figure out what would be acceptable. I tend to overdress for all occasions and this time I decided to do research. After reading through the wardrobe sections, I decided to go a step below business casual and it felt right.

So, are you planning for a cruise? Part III: Customize Your Wardrobe is going to save you so much time and you will have more fun shopping for the clothes you will actually want to wear. The words: "less is best" is pretty foreign to me. I pack enough for three weeks at least. Just taking a backpack would be horrifying to me. Yet, this is what some people learn to do while traveling. Whether you are traveling light or taking it all, this book has something to offer. I went with the "One Week Trip, Casual Business Wardrobe" idea.

Susan has divided her book into four main sections:

1. Plan Your Perfect Trip - Planning for weather, travel fabrics, packing perfectly, etc.
2. Pack Smart - Airport Security, choosing the right luggage, checking or carrying bags?
3. Customize Your Wardrobe - Business, Cruise, Adventure, Resort, Sports, selecting clothes for your kids.
4. Travel Safely in Comfort and Good Health - Things to do before you leave home, worthwhile travel gadgets, money matters and travel insurance.

Some of the helpful tips included:

How to use a paper shopping bag to make unpacking easier. Great idea.
How to layer clothes so they don't get wrinkled.
Tips for not getting your luggage stolen when going through security.
Saline Nasal Spray - Helps you not to get sick from being on a plane.
Tips for traveling with infants and younger children
Take-Along Medicine Cabinet
Resource Guide - Lists of online sources for travel clothes, accessories/luggage, publications, organizations.

Smart Packing is more than a packing guide, Susan will show you how to travel in comfort and style. Without this book, I would have felt so lost. This book gave me the confidence I needed to go shopping for the right clothes and taught me a thing or two about packing for a business trip. I still pack too much, but hey I have wheels on my luggage. On the way home, they made me move some items to another bag because I went over the 50 lb limit. Um, oops. Yeah, I went shopping.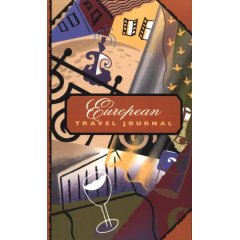 Travel Journal with Inspirational Travel Quotes, November 2, 2004

We don't receive wisdom; we must discover it for ourselves after a journey that no one can take for us or spare us. ~Marcel Proust

If you are looking for a compact travel journal that has a beautiful plastic cover and can fit easily into your backpack or purse, then this might be for you. The quotes in this slim journal caught my attention because I had read very few of them or was actually trying to find out the author for numerous quotes.

There are over 100 journal pages, tips on beginning and maintaining a journal, inspirational quotes, recommended travel guides and websites, tourist office locations, blank address pages, conversion and clothing size charts, money and currency exchange information, U.S. embassies and consulates, packing tips and checklists, record keeping lists, journal contents page, natural remedies, Cybercafe locations, European holidays and even information on how to make an easy return to the U.S.

Each journal page had a line for Date and Place and the
lines are delicate so you don't have to keep within the lines.

When I last traveled to Europe, I didn't think of having a journal with me. Why? I was just so excited about the trip itself, I didn't think of writing about the experience while I was traveling. Now I wish I'd had this journal with me so I could remember more of my trip in detail.

I'd also recommend this book to quote collectors because of the unique journal and travel quotes and short biographies of American and European authors, artists and thinkers.

~TheRebeccaReview.com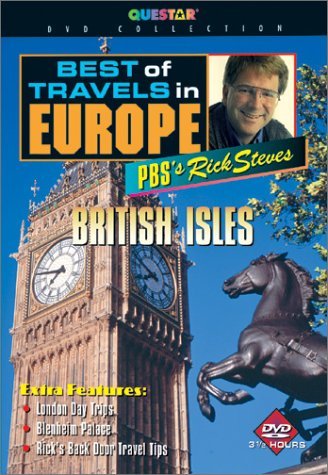 British Isles in 3 hours and 30 minutes, December 28, 2005

The most intriguing bookstore is the world's largest secondhand bookstore in Hay-on-Wye in Wales. ~Rick Steves

Rick Steves explores the British Isles in order to experience local customs and to mingle with the locals in pubs and at festivals. The London & Edinburgh show is perhaps the funniest Rick Steves' travel diary yet. These are very personal journeys, not unlike a travel diary that tells of who you met and where you ate, not to mention which museum you discovered.

Rick Steves has an amazing talent for making the unknown seem like something you may want to discover. He also has a great appreciation for beauty and likes to have fun traveling with his family. He takes his family on a day trip to Blackpool where they enjoy Amusement Park rides. His wife is all smiles as Rick Steves explains the historical significance of monuments to his children. She seems to be having the best time of her life and seems to share Rick Steves' sense of adventure.

The three main sections of this DVD include:

London & Edinburgh
Wales, Cotswold & Bath
Ireland, Dublin & Belfast

Then there are three special sections for Blenheim Palace, Blackpool and Stratford. You get to see where Shakespeare's wife lived (Anne Hathaway's Cottage), where they now put on Shakespeare's plays in a replica of the original theatre, the Globe. The gardens are refreshing and somewhat untamed in all their beauty. If you love gardening, you may enjoy the brief moments when you can guess the names of the flowers as the camera sweeps through the garden.

There are also scenes of gorgeous outdoor settings with rushing streams amidst romantic settings, crumbling stonewalls that run for miles through the countryside (Hadrian's Wall), mansions you could get lost in and little tea shops hidden in bed and breakfast locations in quaint towns. The food looks especially delicious and if you stay in a quaint B&B, the owners can give recommendations, not to mention giving you directions for how to find your way around the Cotswold Villages.

Rick Steves freely gives his advice and explains why he enjoys Cambridge over Oxford and gives tips on how to pack for your vacation. He also shows how to preserve your memories by taking great pictures.

Of all the travel shows on the British Isles, this completely explains the main events in history, highlights the places you want to visit or lets you vicariously enjoy memories of your trip to London, Ireland or Wales. You may also start dreaming of again visiting Medieval castles or have a desire to learn how to make an Irish cable knit sweater or start looking for a cardigan.

As someone who has been to London as a teenager, this DVD made me wish I could instantly return for a long vacation! Especially to see the castles. Until I can travel again, I'll live vicariously through Rick Steves' magnificent and fun adventures. He has a great sense of humor and his love for travel will awaken your own sense of discovery.

Highly Recommended.

~TheRebeccaReview.com

P.S. If you enjoy the Best of Travels in Europe adventure, look for Rick Steves' Great Britain 2005, a book that is a nice companion to the DVD.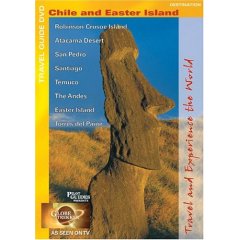 Valley of the Moon, June 4, 2006

Ian Wright provides laughter therapy throughout an exciting journey to Chile and Easter Island. When he is not running into the ocean with a sense of abandon, he is walking across steam-covered landscapes infused with a sense of adventure.

As one of my favorite travel guides he excels at making you feel you are on a journey where you never know what might happen next. The scenery in this DVD is spectacular as he travels across the driest desert in the world, visits some of the best observatories in the world and has a go at llama herding.

He walks with observers of religious traditions and takes a ten-mile hike to one of the most beautiful locations in the world where towering mountains showcase climber's dream rock walls.

It doesn't matter whether he is sipping tea to ward off altitude sickness or asking other travelers for advice about setting up his tent while camping, Ian Wright is one of the most adventurous travelers in the world and connects with the culture and people living in any area where he travels.

Truly inspirational and who would have thought you could find apple strudel in Chile?

~The Rebecca Review