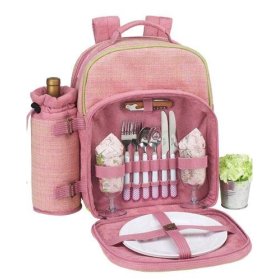 Pink Suede Picnic Backpack, June 18, 2006

The soft pink suede finish and pink and cream tweed makes this backpack unique and playful. The plastic cups and plates are high quality and unbreakable. A bottle opener is included and you can place a bottle in the detachable insulated holder.

The entire area inside the backpack is completely insulated, making this especially practical for backpacking trips or picnics. Two linen napkins and stainless silverware are also included. The knives are sharp enough to cut cheese or meats and have sharp serrated edges. Even though the handles are plastic, they are covering stainless steel, so they won't break like regular plastic knives.

What is most impressive is the superior craftsmanship of the entire backpack with perfectly sewn edges and extra details like mesh pockets and a detachable drink holder.

Anna Sova Organic Linens and Paint

Ann Taylor Build a new wardrobe with Ann Taylor clothing collections.

April Cornell Look for the matching clothes for mother and daughter.

Arctic180s Ear Warmers wrap around the back of your head. Fit in your coat pocket.

As Seen On TV Buy products you have seen on TV, no call needed.

Audradella Swimwear, clothing and lingerie for the plus-size woman.

Big Guys Casual and dress clothing for big and tall men.

Bloomingdales Exclusive Bridal registry and apparel.

Blue Canoe Soft, pure organic cotton clothes that take you from yoga class to a business lunch.

Blue Fly Reduced-price clothing from more than 350 designers. Look for activewear, demin,
jewelry, shoes, suits, dresses, sweaters, bags and more. Lots of items are 75 percent off original price.



Brighton All things "heart!" Look for their sunglasses and other unique heart-themed items.

Buckle Unique selections.

Daisy Shop Vintage Couture and estate jewelry.

Decades Two Sells European designer clothes and accessories at discounted prices.

Drake Collections Calida bodywear is free of pesticides and
allergens with no carcinogenic dyes.

California Closets Solves organizational problems in any area of the house.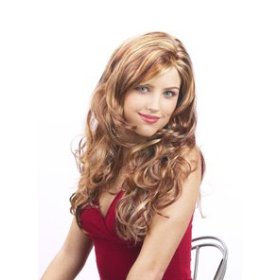 Circuit City Electronics.

Casual Corner Great sweaters!

Chefs Catalog Covered Cake Stands, stainless steel canister sets, frozen-pop molds. See More Kitchen Sites!

Chadwicks Up-to-date fashion. Take 30% off with code: 2151-00185-368 until 1/26/2006.

Chicos Exclusive apparel and accessories. Elegant eveningwear and everyday clothing.

Christabellecloset Resale boutique with designer fashions you can own at a fraction
of the retail cost. DKNY, Velentino, Celine.

Click Rewards Helps you rack up points to cash in on frequent flier programs.

Clothes Horse Anonymous Clothing and accessories from Bisou, Eileen Fisher,
Laundry, Banana Republic.

Coldwater Creek Clothes for colder weather with a Northwest theme.

Consumer Review Featured reviews before you buy.
Also try: www.epinions.com

Consumer Reports Subscription based information site.

Consumer World Links to over 2,000 resources.

Cool Savings Personalized coupon clipping. Also try:
Coupons Clever Moms Sales Hound Nest Eggz ValuPage

Current Catalog Look for cute calendars, Daisy key chains, With Love from My Kitchen Memory Book, Edible
Cookie Tree Kit, Cookie Wreath Kit, Cellophane Gift Bags, Holiday Kitchen Labels, Wooden Spoons, Curling Ribbon,
Christmas Gift Wrap, Candle Adhesive.

Crutchfield - rave reviews. You can also review your favorite site at www.alexa.com or at www.planetfeedback.com

Deal Catcher Monitors more than 350 Internet retailers and tells you about the sales.

Designer Outlet Discount designer fashions.

Donating Your clothes could help someone get a job.

Drapers Beautiful four-piece weekender soft knit suits that feel casual and look formal.

Dream Products Catalog Has the cutest Calendar Bear with 12 sweaters.

Dyson They have vacuums designed to remove pet hair from your carpets.

Earth Earth footwear for natural posture.

eLuxury Find the finest brands and all the latest fashion news from the insiders.

Express Fashion Unique skirts and sweaters.

Faeries Dance Environmentally conscious women's clothing.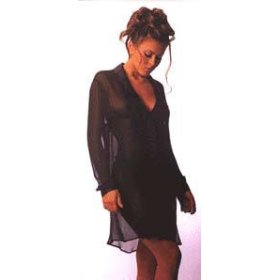 Elusive Silk Chiffon Nightshirt

Fashion Pulse an online boutique

Foot Smart Great solutions for happy feet. See their free standing shoe racks, pedicure items and clogs.

Frontgate Fun items for the home and garden.

Garden Botanika Custom fragrances and beauty formulas.

Gold Violin Gifts for the heroes in your life.

Good Home Decorating resource for fabrics, paint, etc.

Jemznjewels Jewelry for less than normal.

J Jill Cozy scarves and hats to match.
Harriet Carter Cute cat tunnel and interesting safety items.
Hats Plus A source for caps, hats, sun hats, summer hats, winter hats and Western hats.

Home Trends Catalog.com Look for their unique and hard to find vacuum attachments and storage items. Look for
a roller bucket, scuff markers, dryer lint vac attachment, unique protect your bras bag for washing
machine, non-electric humidifiers, De-Mite Laundry additive to kill dust mites, fireplace cleaner, magnetic door holder,
pill keepers, eggtimer, brown sugar disks to keep brown sugar soft. Lots of gadgets.

Hammacher Schlemmer Products you don't see anyplace else. Like a microwave flower press,
Inline boots/skates and Ice Skates all in one and flexible comfort clogs
you will love if you stand in the kitchen a lot or love to garden.

Hanna Andersson All-cotton clothing. Great for anyone with allergies to other fabrics.

Hot Fingers

Gloves for skiing.

Idea Factory Inc. Look for the Rinse Ace to help clean your shower.

I Give will give 3.5% and up, to charity when shopping from the site.

Ina NYC premier designer consignment store.

It's A Wrap The clothes of the stars.

Jango Check this site before making a big purchase.

Jessica London The original off-price fashion catalog.

Jump On Deals The latest in coupons, sales, steals and deals for all major online stores.

Junonia They have cat suits that are nice to wear when exercising or doing yoga.

Just 4 me Virtual models based on your body type.

Lands' End Direct Merchant that offers the best in value and service for your clothing needs.

Lifestyles Direct Tan through swim suits.

Lillian Vernon Perfect gift boxes and ribbon for food gifts.

Mademoiselle

Fashion finds

Maxwellsilberny Housewares shopping site, upscale online boutique, whimsical pillows by Jonathan Adler,
notecards from Papivore.

Midnight Velvet Elegance and style. Distinctive clothing and gifts, home furnishings, exclusive
designs with international flair.

Misserika Comfortable clothes for real life. Store locator at site.

My Points gives discounts when shopping from their sites.

My Simon Prowls the Web for the best prices.

Netaporter Luxury labels like Carolina Herrera, Jimmy Choo, Alberta Ferretti,
Michael Kors and Calvin Klein.

Newport-News Express your individuality with exclusive designs.

Next Money has original artwork just for you.

Nordstrom Free return shipping when you use your Nordstrom card on Internet purchases.

Norm Thompson Electronic Crosswords solver, puzzles, San Remo Italian Cardigans,
Shearling Slippers, Cuddle Cape, Chenille Robs and shag slippers, Traveler's Dream Wrap Robe made
from microfleece, Shearling Clogs with arch support.

Novica Directly links artisans from remote regions in the world with merchants.