Accent Care - The nation's leading personal in-home care services.

Aging Parents and Elder Care - A variety of articles, comprehensive checklists and
links to key resources.

Autism Resources - Information and links regarding autism.

Bible Study Tools

-

Nurture your soul. When life lets you down, let faith lift you up!

Bosom Buddy - Lightweight breast prosthesis for women who have had a mastectomy.

Care Guide - Day-care or elder-care sorted by location.

Care Manager - Helps you locate local licensed care coordinators to help resolve issues.

Care There - A portal for home-care services and a data base of medical and legal news.

ChemoTherapy - Enroll for a free chemotherapy e-mail to understand what to expect from chemotherapy.

Chicken Soup - The books we all love because they are so true and inspirational.

Comfort Bath - For those caring for someone who is ill or it could be taken camping. Soft disposable washcloths.

Computer Help - Call 1-800-479-9133 for the Video Professor

Coupon Chief - Savings for Seniors - Save money on your next purchase - lots of information on senior discounts.

Current Catalog - Beautiful note cards so you send a special message anytime of the year.

Discount Surgical - Woundcare products, surgical stockings, arm sleeves, great prices.

Drug Watch - Look up drugs your are taking for safety information.

Elder Abuse - Prevent elder abuse - a page dedicated to helping prevent abuse.

Elder Page - Elder-care issues and community assistance locator.

Elder Web - A good overview of regional resources for all phases of care.

Empowerment Resources - Tools for personal growth.

Extended Care - For seniors, those who care about them, hospitals, and extended-care providers.

Friends for a Reason, a Season or a Lifetime? - Understanding your friendships.

Learning to Forgive - A site by Frederic Luskin to help you learn to forgive and grow as a person.

Heartsong - Maggie Davis started an outreach to help the ill, dying and heartsick in her neighborhood.
Her book Caring in Remembered Ways will help all those who want to see the interconnectedness of all life.

Healthy-Dating - Information on How to avoid sexual assault. Also see: May I Kiss You?

House Works - A large menu of elder-care services from drivers and house cleaners to live-in-attendant.

Hugo Anywhere - A rolling walker with a seat - great indoors and out. Helps your loved ones get out of the house.
When they get tired, they have a portable seat. May be Medicare reimbursable.

Internet Stalking Resources

1-800-656-HOPE A Rape, Abuse and Incest National Network co-founded by Tori Amos.

Literacy Volunteers - Reading tutors are needed and there are training programs on teaching the fundamentals of reading.

Jenny Craig - Give the gift of health to a friend.

Just a Tip Sincere Suggestions Clue Box - These sites range in price from free to a little cost of a few dollars.
They can send a gift and a hint (that you don't want to say to their face!) to a friend or family member. People are afraid
of causing anger or discomfort in an established relationship. This is a fun solution to sending a hint when you are too scared
to say how you feel in person.

Lifeline Systems - Affiliated with the Red Cross and many hospitals. 1-800-Lifeline.

Life Transitions - Offers advice on issues ranging from cleaning house to paying bills.

Medicare - Benefit information.

Mental Health

-

Internet mental health reference.

For those you need to care for.

Mental Health Recovery - The author of many self-help books now has a site.

Metanoia - Talk to someone when you have a crisis.

Mental Health Source

-

Information on a specific disorder when you are caring for someone.


Mental Help - Relationship advice and links.

My Grandchild - A site filled with tips and tricks to spoil your grandkids and show you care.

NFCA Cares - The National Family Caregivers Association represents family members.

Surviving Breast Cancer
Book and DVD




Flor-Essence Tea

This tea is brewed to make a super detox
drink you keep in your refrigerator. The tea
flushes toxins from your body.
Be a Survivor Book Review:


New Treatments in an Environment of Understanding, June 10, 2006

"Many experts believe that Herceptin represents the future direction of breast cancer drugs, because it targets a particular protein on the cancer cell, rather than attacking all cells at random. As research progresses, scientist hope to make all anti-cancer drugs as specific as possible." ~ pg. 97

Designed to compliment the book, the DVD provides an environment of understanding with explanations for all the procedures and various situations that will occur after a diagnosis. New treatments like Immunotherapy are discussed and there is an extensive resource section with additional CD options, including a CD-ROM program that is an interactive guide to treatment.

Helpful up-to-date information about why you may not need a mastectomy and only a lumpectomy is encouraging and gives hope. Radiation and Chemo is also discussed in detail. Throughout both the DVD and book, women tell their stories and that gives a sense of the range of experience. There are over 150 color photographs and graphics to illustrate important points.

A variety of questions are given in each section so you know what to ask your doctor. The stages of breast cancer are given so you know exactly what your doctor is talking about. The main sections include:

Facing Breast Cancer - Your feelings, support groups, healthcare teams and overview of treatment options.

Breast Cancer Basics - Types of Breast Cancer

Diagnosis and Staging - Tumor Testing, the Pathology Report, Additional Tests, How Stage is Determined

Surgery - Reconstruction, Lumpectomy and Mastectomy options, Lymph Nodes

Reconstruction - Choosing a Plastic Surgeon, External and Internal Options

Radiation Therapy - How treatment is given, Brachytherapy

Chemotherapy - Side Effects, Common Chemotherapy Drugs

Hormone Therapy - How Treatment is Given, Who should be Treated, Side Effects

Immunotherapy - Future Therapies and Herceptin

Clinical Trials - Participation Ideas and getting the newest treatments...

Life after Cancer - Emotional Recovery, Physical Recovery

The Guide for Your Partner is a special section your partner can read. If possible, watching the DVD together would be ideal because it explains all the basics in the book.

Be a Survivor is an excellent resource because it gives you all the questions you need to ask and answers a number of pertinent questions any woman will be asking the moment she is diagnosed.

Vladimir Lange, MD is one of the most respected doctors in this field of study and this book came into being after his own wife was diagnosed with breast cancer.

~The Rebecca Review

I can also recommend "Reconstructing Natalie" by Laura Jensen Walker.


PCOS pcosupport soulcysters - Support for the Hidden Epidemic of Poly Cystic Ovary Syndrome.

Reader's Digest Site - Look up topics to read interesting articles.

Undoing Depression - A great site to read informative and entertaining articles about various forms of depression.

University Access

-

Online seminars.

Voice Care - Call 1-800-645-3244 To help an elderly relative remember medications and a system with a "help" button that triggers a call from a centralized box in the home to a response center. Peace of mind if you have an elderly parent living alone.

Volunteer Match - Find your perfect volunteer job or see Servenet for charity events.

4selfhelp

-

Variety of self-help topics.

For Women dealing with the issues of Abortion write to: Project Young One, 5927 Quaker Hill Drive, Racine,
WI 53406 to see a plastic model of a 11- to 12- week unborn baby. Also look for a CD-ROM called The Choice
and a book called: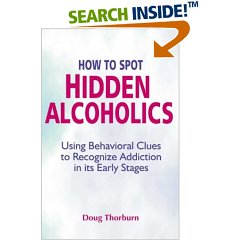 Early Warning Signs, May 23, 2006

Few, "experts" included, are identifying alcoholism until it becomes tragically obvious. There are a number of reasons for this potentially lethal delay in diagnosis." ~Doug Thorburn

Doug Thorburn is an addiction expert who writes books about alcohol and drug abuse. He also explains why most attempts to stop a drinking problem fail. He explains how family members can catch the early warning signs and save a person from alcoholism before they lose control over their drinking habits. The book is divided into three main sections:

Redefining Alcoholism
Early Stage Clues
Middle-Stage or Ploy Drug Clues

These chapters discuss everything from biochemistry to poor judgment and mental confusion. The author shows how early-stage biology of a person who develops alcoholism motivates him in just that direction.

Throughout the book you will find examples of situations like compulsive spending or compulsive gambling that the author describes and explains could lead to other addictions. I think it is possible to be a compulsive spender and never touch alcohol, so these issues are mainly clues to addictive behavior and do not always point towards alcoholism.

"This is a compulsion that can exist independently of alcoholism, but rarely is it totally isolated." ~Doug Thorburn

I think the clues like a person drinking heavily on an empty stomach are more helpful for analysis. Physical symptoms like glassy eyes point towards high blood alcohol levels but these are often later signs.

At times this book is very helpful in identifying positive and negative behaviors as desired by modern society. This book will be helpful for anyone seeking to understand the complexities of life and it could help family, friends or co-workers identify early warning signs in order to prevent a tragedy.

~The Rebecca Review
What to Do when You are Feeling Blue?