ACE Hardware

Brands you trust.

Acorn Online Unique "Knight Light." Thought that was pretty witty. Gallantly illuminates
nocturnal journeys.

Adirondack Design Adirondack chairs, love seats, tables, swings and more.

Amana

Quality appliances.

Also see: OurHouse.com

Amerimark Blackout curtains and other unique home products.

Arrange A Room Would you love to rearrange your furniture? Make a design online and print it out! :)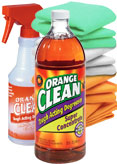 Be Home Eager to redecorate? Also see Area Rugs Etc

Bare Walls Up to 20% off on prints, posters and lithographs.

Bed,Bath and Beyond A huge collection of bedding and just about everything else to tastefully outfit a home.

Best Recyle Bin System You have to see item 17-0022. In is ingenious! The cart holds three recycling bins and has wheels!

Best Selections Treasures from artisans, galleries and shops around the world.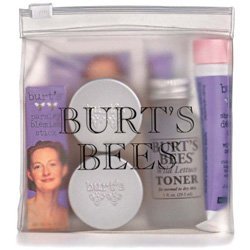 Natural Remedies & Beauty Products

Blindsgalore
Home and commercial blinds. Get a free quote.

Bob Vila

Tim the Tool Man's favorite rival.

Bombay Co Distinctive home furnishings.

Brookstone Hard-to-find tools and storage. Look for their unique talking photo album or back massager.

Burpee Featuring heirloom seeds, new varieties and vegetables, flower, annuals and perennials.

Buy Buzz Ethnic and internationally flavored home decorations.

Brylane Home
Home decorating heaven.

Bloomingdales You never know what you might find!

Beautiful Brooms Colorful brooms made from sorghum and bamboo.

City Yard Gardening in the city. Make a garden anywhere!

Company Kids Bedding for kids. Look for the ABC wool rug - adorable.

Crate and Barrel The search the world for the best home product.

Current Custom-Framed Prints. Also see their main site for calendars and calendar hangers.

Curtain Exchange Designer-look/ready-made curtains.

Decorate Today Wallpaper, blinds, lighting, wall art, area rugs and more. Free UPS.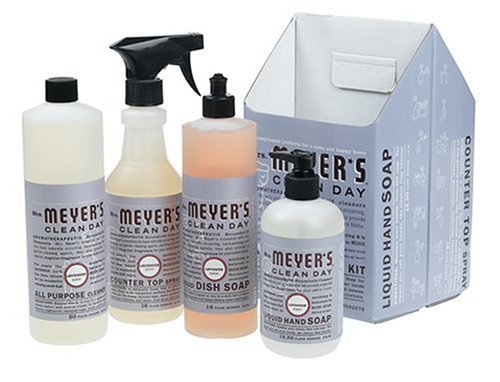 Natural Cleaning Products

Seventh Generations Products Work! The laundry soap, bathroom
cleaner and kitchen cleaner make laundry and cleaning a pleasure.

Scrub the Tub with the delicious Mrs. Meyer's Clean Day Kitchen Scrub and
your entire bathroom will be scented like a field of flowers.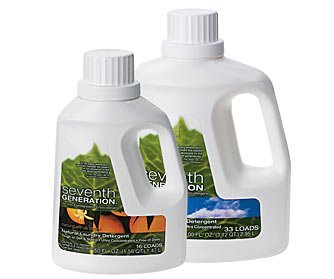 Lavender, October 30, 2005

"If every household in the U.S. Replaced just one bottle of 100 oz. Ultra petroleum based liquid laundry detergent with our 100 oz. Vegetable based product, we could save 220,000 barrels of oil, enough to heat and cool 13,000 U.S. homes for a year! ~back of bottle

The Seventh Generation Natural Laundry Detergent is ultra concentrated, tough on dirt and stains, non-toxic, biodegradable and hypo-allergenic. How often do you read all those items in one list?

For the past year I have purchased bottle after bottle of this Lavender scented product. Now I look forward to doing the laundry. It is more like a Zen experience. The lovely lavender scent is much milder than regular harsh detergent scents and they have a matching Lavender softener.

You may also notice this product cleans your clothes better and your skin will also notice the change. If you have any allergies to regular detergents, you might want to try this for a few months. You can also use less detergent, 1/4 of a cup is quite enough for most loads or you can use up to 1/2 cup.

This Product is not tested on Animals...I'm supporting this company as much as I can. They are really trying to make a difference in the world.

The 100 Fl.OZ bottle will wash about 33 loads.

~The Rebecca Review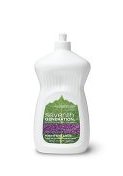 Digital City Your Town Channel which offers local news, restaurants, entertainment, shopping, etc.

Domestications Bring a new style to your home. Furniture covers, accessories, bedding, tablecloths and curtains.

Eddie Bauer Home The classic look for bedding, furniture, toys and rugs. Cute star shelf with pegs.

Eziba Handcrafted products from around the world.

Flat Hose 1-800-717-8866 A hose that rolls up easily and is more lightweight.

Frontera Large inventory of indoor and outdoor furniture. Search by room.

Gaiam White cedar Adirondack rockers, happy lights for the winter blues, rolling recycle cart and HEPA air filters. Also look for their Laundry Organizer and Folding Station #10-0015 and Laundry Fragrances #10-0028.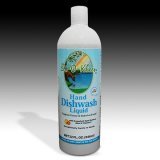 Safe for Sensitive Skin, March 13, 2006

After weeks of using most soaps, you will notice how your skin dries out, especially in the winter. With this dishwashing liquid, you may wash more dishes and start to notice an improvement in your skin. If ingredients like coconut, orange, aloe and vitamin E sound delicious in a hand cream; imagine them in your dishwashing liquid. The oils cut grease while the vitamin E nourishes your skin. An excellent companion to this product is the Soy Cleanser. If you need even more cleaning power, add a dash of baking soda.

If you are looking for the most effective cleaners in the natural market, Bi-O-Kleen promises and delivers. These products work and you can feel good about cleaning your house because they don't harm the environment. This soap and the laundry soap are very mild and can also be scented with your own collection of essential oils. You can pour this dishwashing liquid into a dispenser and add a few drops of orange oil, rose or lavender oil. Essential oils make cleaning more enjoyable and a more beautiful/relaxing experience.

~The Rebecca Review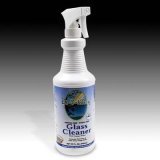 Classy Glass Cleaner - Sparkle the Entire House, March 13, 2006

No Ammonia
Streak Free Shine
No Fumes
Vinegar Power

The first time you use this glass cleaner it will remove all the buildup from other cleaners, which will make everything super shiny. The Kosher vinegar in this product has a very mild scent, hardly noticeable.

Other fun uses:

Can be diluted with equal parts water and used with professional glass cleaning equipment. Can be poured into your car's auto washer reserve unit.

If you take this around the house and shine up mirrors, the front of the stove, the toaster, chrome in the bathrooms, the windows, mirrors and the glass on pictures....etc, you will notice your entire house is sparkling. Spring Cleaning has rarely been this much fun. This cleaner and the soy cleanser are delicious products. The soy cleaner has a lime scent and this product has a fresh vinegar scent that reminds me of a mixture my grandma would make up at home to clean the windows.

The vinegar is definitely the secret. What you might enjoy most is the mild scent and how you can breathe and clean at the same time! Unlike other overwhelming window cleaners, this is definitely ammonia free. I cleaned houses for years and this window/glass cleaner tops them all. For superior shine, this is one classy glass cleaner.

~The Rebecca Review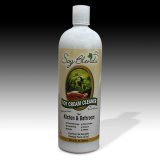 Lovely Lime Scented and Environmentally Friendly Cleaner/Scrub, March 13, 2006


If you have been dreaming of a natural cleaner that cuts grease and takes down everything from marks on your floor to yellowing on baking sheets, this is your cleaner. The delicious lime scent may encourage more cleaning and this cleaner is safe for all surfaces in the kitchen and bathroom. It will even tackle scuff marks on the floor, marks on the walls and hard to clean pots and pans.

If you need a little extra abrasive, just sprinkle in some baking soda. This cleaned the stovetop perfectly without scratching and polished up the toaster, lid on the crock pot and made all the tile in the kitchen super shiny. Anything it touches is shinier and cleaner because it seems to remove any oil buildup and rinses clean, leaving no residue behind.

Is there anything soy can't do? The soybean oil in this product replaces hazardous solvents and has excellent cleaning power. It is biodegradable and this cleaner is also gentle to the skin. I'm amazed at how it can cut grease, but it doesn't dry out my hands even when using this without gloves.

You can use this on glass, pots and pans, bathroom and kitchen sinks and even polished surfaces like stainless steel sinks and toasters. The chrome shines beautifully after just a quick cleaning and it even seemed to remove some of the water stains each time the bathroom was cleaned.

Next, I'm cleaning the outdoor furniture. It is good to know this product is biodegradable and also safe for the environment.

~The Rebecca Review

Gazoontite A site to help you fight allergies.

Good Home

A traditional furniture store with a custom upholstery shop.

Great Buildings

Gateway to architecture from around the world.

Haiku Designs Create a harmonious bedroom environment with zen platform beds, Japanese furniture,
lamps, shoji screens and more...

HGTV Fun home and garden ideas from your favorite TV shows. Home and Garden TV.

Home Advisor Get expert advice for your home. Simple repairs, decorating tips, major remodels.

Home Base

Source for Weber Grills. Also see Cool House Plans if you are building a house.

Home Click Villeroy & Boch Isabelle Green Decanter and other items.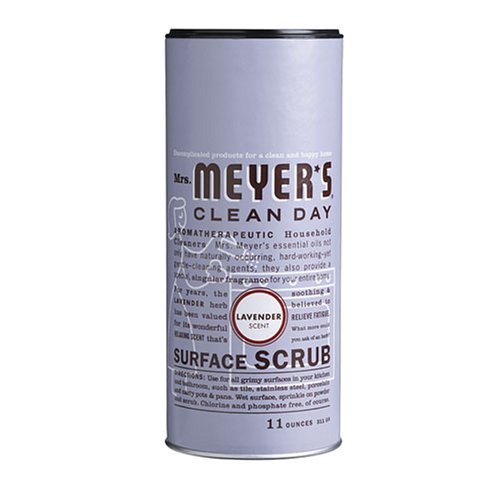 Goodbye Harsh Chemicals, October 21, 2005
Hello Mrs. Meyer's Clean Day Dreamy Lavender Scrub!

If you have been overwhelmed by chemicals while cleaning, then you will truly appreciate the natural scent of lavender in this scrub. This can be used in the kitchen or bathroom and it actually does contain real essential oils of lavender and orange. Unlike more synthetic cleaners, using this product can also have a therapeutic effect.

Ingredients: Calcium Carbonate, Oxygen Bleach (natural cleaning activator), Plant-Derived Surfactants, Fragrance, and Essential Oils of Lavender and Orange.

You may find yourself using less of this product than you would of a less natural product. The powder lasts a long time and you only need a little to clean an entire sink or bathtub. Unlike other powders that seem to dissolve more quickly, this one really cleans and scrubs before it dissolves, although it seems safe for most surfaces.

You may also find the "gardenia" scrub to be equally entertaining. I love the scents of these products and it makes me want to clean. I no longer dread cleaning showers and even look forward to washing the kitchen sink.

~TheRebeccaReview.com

Home Depot Tools, hardware and just about everything else for the do-it-yourself projects.

Home Ideas Link to home improvement magazines, find resources and tools you need.

Home Portfolio

The world's largest resource for home design products. Where dreams become homes.

Home Remodeling Guide 123 Directory of home remodeling, home services, and home
improvement solutions, tips and articles.

Home Time

Improvement, remodeling and repair.

IKEA Innovative ideas! Look for hanging lanterns and other fun items.

Improve Net Thinking about remodeling? Get great ideas and product information.

Improvements Catalog Quick & Clever Problem solvers. Order you own American Flag.
Mary Ellen's Complete Home Reference Book

Just Ask Jane Learn tips on house cleaning and home care. Or ask a cleaning question.

Kenmore

Ranges, dishwashers, refrigerators, etc.

Kid Style You can buy one item or everything on a specific page to coordinate a bedroom. Time Saver!

Kohlerco

Bath and kitchen ideas.

LandscapeUSA.com
Gardening and landscape supplies.

Linenplace.com, Inc.
The highest quality linens at the best prices.

llbean Top-quality goods. Everything from Indoor furnishings to accessories.

Insurance Web Research insurance coverage for your home, car, health and life.

Leather Furniture Cleaner: 1-800-300-2359. Ask for Leather Master's Cleaners.

LG Appliances Wash and dry your laundry in the same machine. Saves space.

Loose Ends Beautiful decorations for your home including wreaths, pottery and seashells.

Martex

Caring for your sheets.

Microban

Durable antibacterial products.