These are the basics needed to make most of the recipes in Seasoned with Love. Brand names of products are the ones used in recipe testing and were selected for their superior qualities. Fresh ingredients should be purchased as needed. If you start accumulating ingredients each time you need them, your kitchen will soon be well stocked. Item location is noted where applicable. See the Sources or Detailed Catalog list if you have trouble finding specifics at your local grocery store.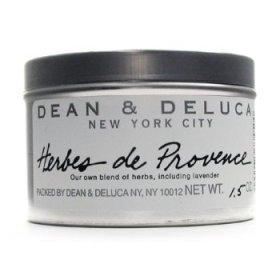 Dean & Deluca Herbes de Provence
Dean & Deluca Dreams, December 14, 2006

Thinking of Dean & Deluca gourmet items can send any gourmet's heart into a flutter. The breathless selections inspire dreams of savory and sweet culinary intoxication. Each spice and herb in their collection has impressed me with its fine quality and careful selection.

The signature tins may be slightly difficult to open at times (and a top that was easier to remove would be brilliant), but the contents are pure, fine and especially delicious. The tins help to retain the quality of the herbs and spices, unlike glass containers which allow in too much light. The tight fitting lids do actually help to retain the freshness of the dried ingredients. If you want quality, you may have to spend a few seconds pulling off the lid carefully so as not to empty out the contents by accident.

To make these tins most useful, you can keep empty them into a spice bottle and keep them in a nice spice carousel. In that way, the spices retain the freshness, while also becoming instantly available for your cooking adventures. The Herbes de Provence blend is one of the best I've found and is a fast favorite in my kitchen.

With this herb blend, you can make the most delicious roasts, soups, chicken dishes, steaks with gourmet sauces, baked fish (especially in foil or in a homemade puff pastry) and anything else you can imagine would go well with a hint of lavender and a depth of fennel, thyme and rosemary. Sprinkle this on steaks when you are frying them and then add the Dean and Deluca Basil and some Emeril's Original Essence for a gourmet experience. I finish the steaks with a sauce of butter, freshly ground Tellicherry peppercorns and Cabernet Sauvignon.

I've used this herbal blend in so many dishes, I've lost track. All I know is that I use it so much, I keep almost finishing the tin before I remember to order it again. Add this to wintery homemade soups to make them healing and nourishing. Sprinkle some on fish before you wrap it up in puff pastry. Bake at 375 until the pastry has browned. What you will discover after serving this is a delicately scented dish with warm comforting appeal.

Ahh..Dean & Deluca...the store of my culinary fantasies and dreams. I love everything I've ever tried and can't wait to experience all they have to offer over the years. Buying any of the spice/herb products as gifts will make any cook feel a little heady. The Basil and Star Anise are also favorites. When you buy a lot of spices over the years, you come to realize that some are especially flavorful and others have lost their spark. These products retain their magical qualities and I think the "hard to open tins people complain about" are the secret. I will happily struggle to open these for a few seconds. The results in my cooking are magical.

~The Rebecca Review
Savory not Salty, October 22, 2006

If you love buying roast beef you can layer slices on fresh French bread, then dip the sandwiches in a delicious flavored beef bouillon. The flavor can be greatly enhanced by using this stock base.

A dipping sauce can be made with ¼ cup water, 2 bay leaves, ¼ teaspoon beef base, 1 teaspoon Italian tomato paste, ½ teaspoon dried parsley, ¼ teaspoon dried minced onion and 1/8 teaspoon dried thyme. Heat in a saucepan and then simmer for a few minutes until slightly reduced and it tastes rich and delicious.

Better Than Bouillon is a stock paste or more like a beef base than a bouillon cube. Dry bouillon cubes are famous for being overly salty and that is why beef base is a much healthier, not to mention, tasty alternative. This beef base also contains garlic, onion and spices.

One teaspoon of base blended into one cup of hot water makes one cup of beef stock. To make gravy, I use two tablespoons butter and two tablespoons flour plus the stock and a sprinkling of freshly ground pepper and various dried herbs and spices. Melt the butter in a small saucepan, whisk in the flour and then the stock.

~The Rebecca Review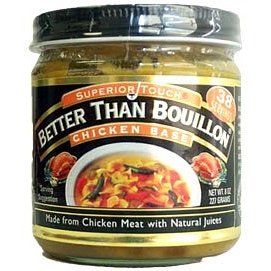 Better Than Bouillon - Chicken
Savory not Salty, October 22, 2006

If you love buying rotisserie chicken you can layer slices of chicken on fresh bread, then dip the sandwiches in a delicious homemade chicken gravy. The flavor of the gravy can be greatly enhanced by using this stock base. This chicken base also contains turmeric and soy protein.

Better Than Bouillon is a stock paste or more like a chicken base than a bouillon cube. Dry bouillon cubes are famous for being overly salty and that is why chicken base is a much healthier, not to mention, tasty alternative.

One teaspoon of bouillon blended into one cup of hot water makes one cup of chicken stock. I use two tablespoons butter and two tablespoons flour plus the stock and a sprinkling of poultry seasoning, freshly ground pepper and paprika. Melt the butter in a small saucepan, whisk in the flour and then the stock.

The stock base is also perfect when you are making soups and one to two tablespoons is enough to flavor an entire pot of stock. You can also put the leftover rotisserie chicken in a stockpot, cover with water and simmer with vegetables and herbs/spices to make a delicious homemade stock. I love enhancing the stock with Better Than Bouillon and the possibilities are endless after you learn to make chicken stock and then use this product to enhance the flavor.

~The Rebecca Review

Especially Delicious Basil for Winter, December 14, 2006

Dean & Deluca's Basil can add delicious aromas to your crockpot cooking adventures. It is also perfect to add to a pot of steaming vegetables or to sprinkle on fish wrapped in puff pastry. The minute you open a tin of the Dean & Deluca Basil, you can sense the high-quality of the product and the aroma swirls into the air making you eager to try many of their herb and spice products.

I especially love using this when making a homemade stock in my crockpot/slow cooker. It enhances soups, vegetables and just about anything you sprinkle it on that is savory. This can also be used in salad dressings and is especially delicious used over pasta, if you ever run out of fresh basil in the winter.

~The Rebecca Review

Kitchen Secret, December 14, 2006

If you love to flavor foods with garlic, why not sprinkle on a product that has salt, parsley and garlic? This is useful for any food that will be enhanced with garlic. Sprinkle on winter roasts, baked chicken, fish, baked potatoes, pasta, rice, vegetables, buttered breads or even add this to salad dressings.

~The Rebecca Review


McCormick Gourmet Parsley Flakes
Especially Fresh Tasting Dried Parsley, December 14, 2006

This parsley is especially green and tastes especially fresh and flavorful. Most dried parsley will lose its green color, but this parsley is vibrant green as if you just chopped fresh parsley. I honestly can't believe how good this is compared to any other dried parsley I've tried. If you are always running out of fresh parsley just when you need it most, give this a try. How did they do this? It must be some top secret herb drying process.

Impressive!

~The Rebecca Review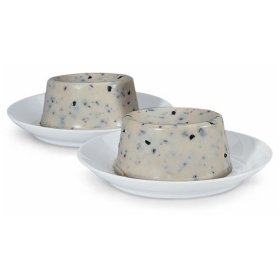 A Delicious Truffle Butter for the Holidays, December 14, 2006

If you are looking for a way to make your dishes a little more gourmet, this truffle butter is an excellent way to add truffle flavor to meats or pasta. It is also an excellent way to finish a risotto. Stir this into sauces, into rice, into just about anything you would like to flavor with truffles. I think truffles work especially well in any dish where you would normally use garlic or onions. With the price of truffles, this is an easy way to experience the flavor and you can keep this in the freezer for truffle flavor all year round.

~The Rebecca Review
Convenient and Creative, December 14, 2006

Emeril's Original Essence is a combination of salt, paprika, pepper, granulated garlic, spices and onion powder. This mixture is perfect for chicken, fish, meats and even veggies. You can use it to enhance the flavor of anything savory and as Emeril says: "I use it on everything but ice cream."

I can truly see why he does because this is especially convenient for anyone who loves using garlic and paprika. It also saves you lots of time not having to reach for the salt and pepper. You can skip lots of steps like crushing garlic cloves, although you may want to add even more garlic flavor with fresh garlic.

Lately I've been using this essence along with parsley flakes, basil and a mixture from Dean & Deluca called: Herbes de Provence. I sprinkle this over steaks when I fry them in olive oil and then finish the dish with a tablespoon of butter and a ¼ cup Cabernet Sauvignon to make a delicious sauce. Adding in a little fresh or dried basil is optional, but delicious.

Emeril's Original Essence frees up some of your time in the kitchen, which allows for more creativity and uniqueness in your cooking. Sprinkle a little of this essence on all your savory dishes and see what happens. The new depth of flavors will amaze you and tantalize your taste buds!

~The Rebecca Review

Cherry Design Kitchen Canisters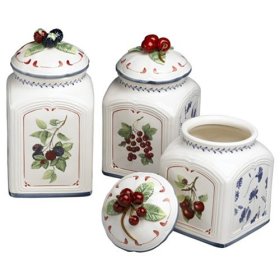 Baking Shelves
· Active dry yeast or instant yeast
· Aluminum-free baking powder
· Bourbon vanilla extract (Nielsen-Massey)
· Canola oil nonstick spray
· Dutch-process black cocoa
· Fiori di Sicilia flavoring
· Floribbean™ Key Lime Juice
· Glacé fruit mix (candied fruit peels)
· Glucose
· Glycerin
· Just Whites®, dried egg whites
· King Arthur all-purpose flour
· Marshmallow Fluff ®
· Natural banana flavoring
· Pumpernickel flour
· Rye flour
· Sourdough starter
· Soy flour
· Van Leer Dutch-process cocoa or use Hershey's®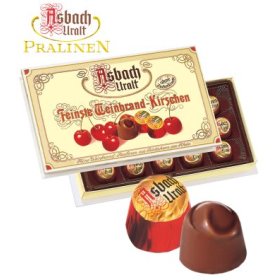 · All-purpose stabilizer from Sweet Celebrations Inc.
· Chefmaster® Deluxe Meringue Powder
· Edible decorations for cakes, e.g., sugar flowers
· Glycerin
· Gum Arabic
· Marzipan
· Nonpareils
· Peter's Dark Sweet Burgundy Chocolate
· Peter's Milk Chocolate
Rafal Spice Company 1-800-228-4276
· Almond paste
· Wonderslim® Fat & Egg Substitute
· Callebaut Belgium semisweet chocolate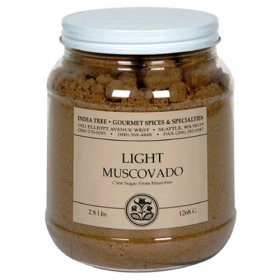 Sweet Caramel Perfection, September 29, 2006

Light Muscovado is a caramel light brown sugar with the flavors of earth and sky somehow infused into dreamy sweet perfection. All other light brown sugars can't compare to this quality and if you want the best light brown sugar for baking, I can't imagine anything could be more delicious.

Light Muscovado is slightly moist, has a medium molasses content and is delicious in gingerbread, coffee cake, cookies and chocolate cake. It is delicious with a Farina porridge in the morning or can be stirred into tea.

I first found this sugar while working at Larry's Market in Seattle. The India Tree company is also located in Seattle and has some amazing sugar products for baking and decorating.

Also recommended: Dark Muscovado is also deeply delicious and once you use the Muscovado sugars, there is no escape. You will crave the rich flavors and high molasses content of this delicious sugar from Mauritius.

~The Rebecca Review

India Tree 1-800-369-4848

· Dark muscovado natural cane sugar www.chefshop.com.

· Party sugar – multicolored sugar crystals for decorating

Williams Sonoma 1-800-541-2233

· Fruit slices for decorating, natural food colors

· Natural food colors

· All-purpose flour for biscuits.

N.Y. Cake & Baking Distributors 1-800-942-2539

· Candied violets

· Chocolate liquor

· Edible sprinkles and dragées

· Flavorings for chocolate

· Glucose

· Valrhona Manjari chocolate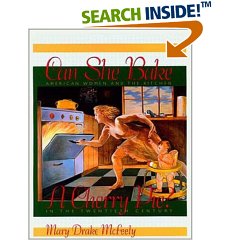 Can She Bake a Cherry Pie?: American Women and the Kitchen in the Twentieth Century
Grocery Store
· All-purpose flour which is unbleached from Gold Medal®
or a brand you trust.
· Almond paste
· Baker's® German's® sweet chocolate bars
· Baking soda
· Borden™ Eagle® Brand sweetened condensed milk
· Bread flour from King Arthur® or Gold Medal®
· Buttermilk powder
· C&H® confectioners' powdered sugar
· C&H® dark brown sugar and golden brown sugar
· C&H® super fine sugar
· Cake flour
· Candied green cherries
· Canned coconut milk, regular and low-fat
· Canola oil
· Cornstarch
· Cream of tartar
· Crisco® sticks (solid vegetable shortening)
· Crystallized ginger
· Dark corn syrup
· Dates
· Dried banana chips
· Envelopes of unflavored gelatin
· Flavorings for chocolate making
· Granulated white sugar
· Honey, orange blossom and clover
· Imitation brandy extract
· Imitation rum extract
· Light corn syrup with real vanilla
· Maple syrup, pure is best
· Maple-flavored syrup
· Marzipan
· Mild molasses
· Nonfat milk powder
· Nonpareils
· Nonstick food spray
· Poppy seeds
· Pure almond extract
· Pure anise extract
· Pure orange extract
· Pure peppermint extract
· Quick Cooking brand Minute tapioca
· Rapid-rise yeast
· Salt
· Semisweet chocolate chips
· Sesame seeds
· Vanilla syrup
· Whole-wheat flour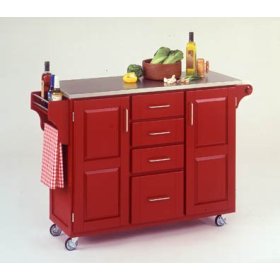 Kitchen Cart with Stainless Steel Top - Red
Cooking Shelves
Grocery Store
· Adolph's® sodium-free meat tenderizer (No MSG)
· Alessi® red balsamic vinegar
· Alessi® white balsamic vinegar
· Apple cider vinegar
· Arrowroot - use half as much as flour to thicken sauces
· Canned pimientos
· Canola oil or use any vegetable oil
· Chow Mein noodles
· Colored toothpicks
· Cornmeal, regular fine
· Couscous/granular semolina
· Dried red chiles (chile de árbol)
· Garbonzo beans/chickpeas
· Ghee
· Gravymaster® Seasoning and Browning Sauce
· Hazelnut Italian syrup
· Matzo meal
· Orzo pasta
· Peanut oil
· Pinenuts
· Plain bread crumbs
· Polenta, or coarse cornmeal
· Postum®
· Ramen noodles, chicken flavor
· Red Devil® Cayenne Pepper Sauce
· Red lentils
· Rice bran oil
· Rice vinegar
· S&W® Fish 'n Chips malt vinegar
· Sesame oil
· Soy flour
· Sweet cooking rice wine
· Tamari sauce
· Tarragon vinegar
· Vegetable base
· White distilled vinegar
· Worcestershire sauce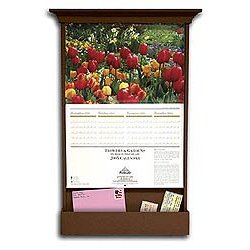 Cherry Finish Wood Calendar Frame
Freezer Basics
· Black walnuts
· Cashews
· Chopped hazelnuts
· Decorative shredded coconut
· Flaked coconut
· Folger's® Aroma roasted coffee crystals
· Macadamia nuts
· Millstone® Hazelnut Cream coffee beans
· Millstone® Kalùha Vanilla Creme coffee beans
· Minute Maid® Premium Frozen concentrated orange juice
· Pepperidge Farm® or Athens fillo
· Pepperidge Farm® Puff pastry sheets (17.3 ounce)
· Regular salted butter
· Shelled pistachios
· Sliced almonds
· Slivered almonds
· Truffle butter
· Unsalted butter
· Whole shelled almonds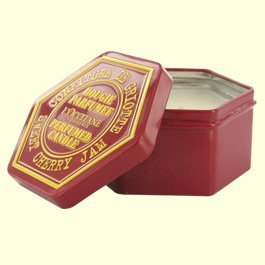 L'Occitane - Sweet Cherry Scented Candle
Pantry Shelves
· Braaipap
· Garam Masala
· Mango Atchar
· Mrs. H.S. Ball's™ peach chutney
· Rajah curry powder
· Chestnuts in vanilla syrup
· Macaroni noodles called maccheroni
· Maussane-les-alpilles olive oil
· Masa Harina
· Thai purple glutinous rice
Virginia Traditions 1-800-222-4267
· Butter-toasted peanuts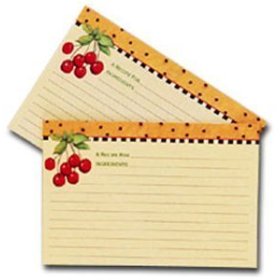 Grocery Store
· 13-bean soup mix
· Arborio rice
· B&M® Pork & Beans
· Bamboo shoots
· Basmati rice
· Bean thread noodles
· Blue Diamond® Smokehouse almonds
· Brown rice
· Bulgur wheat
· Campbell's Cream of Chicken soup
· Canned baby corn
· Celestial Seasonings teas, especially Sleepy Time
· Cheddar flavor Goldfish
· Contadina® Italian (tomato) paste
· Contadina® tomato paste
· Contadina® tomato sauce
· Couscous
· Cream of Wheat
· Creamy peanut butter
· Currants
· Dark sweet pitted cherries
· Decaffeinated and regular Lipton® tea bags
· Dole pineapple chunks
· Dried split peas
· Fettuccine noodles
· Fine yellow cornmeal
· Golden Grain® Mission Extra Wide lasagna noodles
· Graham Crackers and graham crumbs
· Herb teas
· Honey-roasted peanuts
· Italian vanilla syrup
· Italian herb mix
· Japapeños, canned
· Jasmine rice
· Jell-O®, variety of flavors
· Kidney beans
· Knott's Berry Farm boysenberry syrup
· Lipton® Recipe Secrets® Onion Recipe Soup Mix
· Lipton® tea bags, decaffeinated
· Long grain rice
· Mariana Mediterranean apricots
· Matzo meal
· Mini-marshmallows, multicolored
· Mini-marshmallows, white
· Nabisco 100% Bran Cereal
· Nature's Plus Energy universal protein shake, health stores
· Nestlè® Carnation® Malted Milk
· Old-fashioned rolled oats
· OregoN® Canned Fruit
· Original Flavor Bugles®
· Orowheat® buttermilk bread
· Pearl rice
· Pepperidge Farm® herb stuffing mix
· Polenta cornmeal
· Pop Secret® 94% fat-free microwave popcorn
· Raisins
· S&W® Maraschino cherries with stems
· S&W® Mexican Recipe™ stewed tomatoes
· S&W® Ready-Cut® Italian Recipe™ peeled tomatoes
· Saltine crackers
· Spaghetti noodles
· Sun-dried tomatoes in oil
· Thick rolled oats
· Thin spaghetti noodles
· Water chestnuts
· White long grain rice
· Yellow cornmeal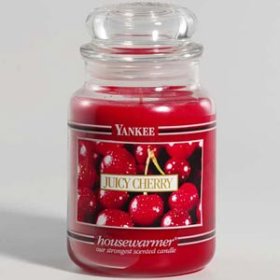 Refrigerator Shelf Basics
· Beef base
· Chicken base
Grocery Store
· Apricot jam
· Best Foods® Real Mayonnaise
· Butter, salted and unsalted
· Capers
· Chocolate syrup
· Farman's® Fresh Pack cucumber chips
· Fresh parmesan cheese
· Green peppercorns in brine
· Grey Poupon® Dijon-style mustard
· Heinz® chili sauce
· Heinz® ketchup
· Inglehoffer® thick and creamy horseradish
· Kalamata Olives
· Kikkoman® soy sauce, regular & low salt
· Kikkoman® teriyaki marinade & sauce
· Mexican shredded cheeses
· Mezzetta® garlic and dill golden pepperoncini
· Pimientos
· Raspberry jam
· Real bacon bits
· Red currant jelly
· S&W® Restaurant Style teriyaki cooking sauce
· S&W® teriyaki cooking sauce and marinade
· Shredded cheddar cheese
· Shredded part-skim mozzarella cheese
· Sun-dried tomatoes in olive oil
· Tamari
· Tiger® Sauce
· Wheat germ in health food section of supermarket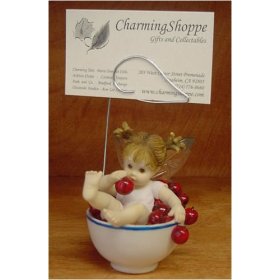 Spice Carousel and Spice/Seasonings Shelf
· Fleur de Sel in a salt crock
· Spanish paprika, smoky
· Tellicherry peppercorns (World's finest peppercorns)
Grocery Store/Catalog source
· Apple pie spice
· Black peppercorns (not Tellicherry)
· Black wild onion seeds/kalonji or Nigella
· Caraway seeds
· Celery flakes
· Celery seeds
· Chili powder
· Chinese five spice powder or from Penzeys Spices
· Cinnamon bark
· Cinnamon sticks
· Curry leaves
· Curry powder (mild and hot)
· Dried basil
· Dried bay leaves
· Dried celery
· Dried dill weed
· Dried green cardamom pods or from Penzeys Spices
· Dried Italian herb mix
· Dried marjoram
· Dried oregano, Greek and Mexican
· Dried parsley
· Dried rosemary
· Dried sage, whole leaf and rubbed sage leaves
· Dried summer savory
· Dried tarragon
· Dried thyme
· Fennel seeds
· Garlic cloves in a small bowl
· Green whole cardamom
· Ground allspice
· Ground anise seeds
· Ground cardamom
· Ground cayenne
· Ground cinnamon
· Ground cloves
· Ground coriander seeds
· Ground cumin seeds
· Ground fenugreek
· Ground mace
· Ground nutmeg
· Ground white pepper
· Johnny's Dock MSG Free seasoning salt
· Juniper berries
· Lawry's® garlic salt
· Lemon pepper seasoning
· Minced dried onion
· Paprika, sweet
· Penzeys pizza seasoning
· Penzeys Turkish seasoning
· Pink peppercorns
· Plain salt (table salt)
· Poppy seeds
· Poultry seasonings
· Powdered ginger
· Powdered mustard
· Pumpkin pie spice
· Rainbow peppercorns
· Spanish saffron powder or threads
· Turmeric
· Vanilla beans
· Whole cloves
Garden
· Edible Flowers Don't use pesticides on the flowers you grow yourself.
· Fresh grown herbs: parsley, thyme, rosemary, tarragon, basil and sage.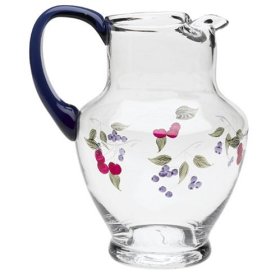 Villeroy & Boch Cottage Inn Glass Pitcher with Cherry Design