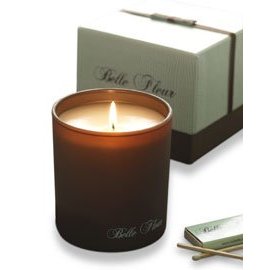 Very Expensive but Completely Unforgettable - 100 Stars

,

December 21, 2009

"Belle Fleur scented candles, custom blended with the most seductive fragrances, are the essence of refinement and luxury. Indulge your senses with the sublime bouquet of lush florals and rare botanicals reminiscent of exotic gardens and faraway places." ~ on box

I have a friend who loves buying me presents for my birthday and Christmas and last year they purchased this candle for me. I was completely blown away by the fragrance which permeated my bedroom/office even when it wasn't burning. This year I told them how much I loved this candle and they purchased it for me again. The scent is so delicious it is difficult to describe.

The packaging claims this candle is scented with orange blossom, pomegranate and cassis "with a tangy citrus finish." To me the fragrance is a little similar to orange butter. There is a warmth in the fragrance that overpowers the citrus and yet there is still a hint of orange peel. I'd highly recommend this as a gift for someone you love. This is one candle I don't want to live without. I love it that much! To put it mildly, this candle is INTOXICATING. :)

~The Rebecca Review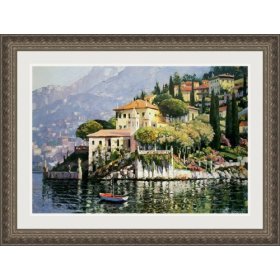 The Magical Villa Balbianello, October 22, 2006

For years I have gazed at the Villa Balbainello painting in my office imagining people wandering around inside the building and never actually realizing this was a very famous location built by Cardinal Angelo Maria Durini.

Looking out from the hotel, you can observe stunning views of Lake Como. The two towers are actually the campanili of the church. Looking up additional viewpoints of this location is very satisfying. You can then see the villa from a variety of angles. In the 1600s, a terrace was built to provide a view of the holm-oaks, magnolias, cyclamen, azaleas and cypress trees. Visitors can reach the gardens by boat from Sala Comacina.

This villa was once owned by Guido Monzino, who filled it with artifacts from his expeditions. When he died in 1988, the villa was left to the National Trust of Italy. Villa Balbianello is famous for its terraced gardens, but now also famous as a filming location for many movies including Star Wars: Episode II Attack of the Clones, A Month by the Lake and Casino Royale.

I bought the painting because it looked restful and the solitary boat rocking gently on the ripples creates a sense of peace.

~The Rebecca Review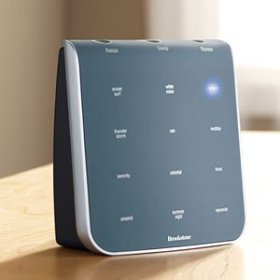 Brookstone Tranquil Moments Sound Therapy
Sweet Sleep and Relaxing Escapes, December 27, 2006

"Alpha waves indicate an alert state with a quiet mind, like a person who has completed a task and sits down to rest." ~ pg. 15

The Brookstone "Tranquil Moments Sound Therapy System" is a highly portable and soothing sleep aid. This will work on four AA batteries, which means you can take it with you anywhere or use the AC power adapter. You can also use this with headphones although the rich omni-directional sound on this system is excellent.

This sound system can be used for relaxation, sleep or renewal. The technology used to create "Tranquil Moments" is based on 23 years of research. Five digitally recorded nature sound tracks (Ocean Surf, Rain, Thunder Storm, Summer Night, Stream) and seven scientifically engineered sound programs (Unwind, White Noise, Rejuvenate, Meditate, Celestial, Serenity, Focus) help you to create soothing environments for your soul.

"Theta waves reflect a state of mind that is attuned to intense creativity, visualization, imagination and problem solving in a non-sleep state and emotional healing in the sleep state." ~ pg. 14

Each acoustic experience can be enjoyed for as long as you like or you can set the time for 30, 60 or 90 minutes. The sound will then shut off automatically and this works well when using this to fall asleep fast. When using the auto shutoff options, the volume will gradually decrease during the last 10 minutes of the selected program. To select the programs, there are three buttons: Relax, Sleep, Renew. Each main section has four options to enhance your experience. The volume controls are easy to use and you can also change the brightness of the backlight on the front panel.

"Delta waves are associated with the deepest levels of physical relaxation. Delta is the rhythm of dreamless sleep and its presence usually corresponds with physical rejuvenation and healing."

Relax - You can choose from Ocean Surf, Thunderstorm, Serenity and Unwind. Soothing musical instruments, ancient Indian Tamboura, gentle rippling streams, thunder and rain on a remote lake and relaxing Oceanside environments lead you to deep relaxation. In Serenity, the sounds activate ALPHA brainwave patterns to promote an enjoyable relaxation experience.

Sleep - The White Noise option sounds like the Niagra Falls! The waterfall is great for masking unwanted background noises. The Rain option is raindrop perfection and "Celestial" takes you to faraway places where deep pulsations and string instruments help to lead our mind into a DELTA-brainwave state. This encourages sleep and the Summer Night also has sounds recorded by NASA with calming nature environments.

Renew - Mountain streams, Tibetan singing bowls, birds, NASA recordings and an Austrian zither makes renew especially interesting. The sounds activate THETA brainwaves to create ideal meditation states.

I've wanted one of these for years and it seems Santa finally got my letter! I also use this along with a Pearlessence Theara Mist Air Therapy Fountain Mister and when I listen to the thunderstorm, I put pine and fir essential oils in the mist. You can create all sorts of moods with aromatherapy and sound therapy. This unit is perfect as a companion while reading, while falling asleep and can provide a relaxing environment while traveling. A cup of tea (Celestial Seasonings Sleepytime Extra) and some essential oils (Forces of Nature Organic French Lavender is lovely) enhance the experience. For even deeper sleep, I can also recommend Hylands Calms tablets and "Essense of Vali," a blend of essential oils you can buy as a mist or oil.

Since stress can damage more than your peace of mind, it is worth looking into items that help you relax and renew. This unit will help you fall asleep faster, but it will also help your body heal and will give you the tools to move from the harried pace of every day life to a tranquil escape where you nurture body and soul.

~The Rebecca Review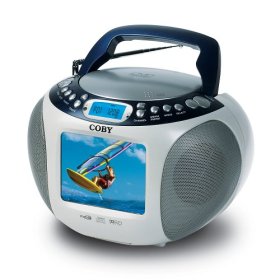 Coby TF-DVD170 5" TFT Portable DVD Player with TV Tuner
3-in-1 Portable Entertainment System, October 29, 2006

Coby's 5" TFT DVD/MP3/CD Player also has an AM/FM Radio and a TV Tuner, making this a highly portable personal entertainment system. I bought this so my mom and I could watch DVDs while at the hospital with my dad.

The unit is lightweight and the accessories even give you more freedom. They include an AV Cable and DC Car Adapter, Stereo Headphones, Full Function Remote Control, Lithium-Ion Rechargeable Battery and a 100-240V UL Adapter.

The built-in anti-skip circuitry is especially effective even while moving the player around and this will play DVD/MP3/CD/CD-R and CD-RW.

I'd highly recommend a VHF/UHF/HD/FM Indoor TV Antenna if you want to view TV shows. We also found we needed an F Jack Mini Phone Plug Adapter.

While watching movies when you are near an outlet, you may want to take out the battery. I found the little red battery symbol kept flashing until I took out the battery. I assume it is because I haven't fully charged the battery yet.

Mostly we have been using this to watch DVDs, but now that my dad is home from the hospital, we have been watching the news and listening to radio shows.

The 5" Color TFT Display is fine for viewing at a short range, like while working on the computer and watching TV at the same time or you might find this useful when you go camping or while keeping someone company in the hospital (they don't all have DVD players as we recently found out).

My entire family loves this Portable DVD/TV Player and it would make a perfect gift for Christmas or any time of the year. One of the nurses at the hospital said she is buying one too! This is way more fun than just a portable DVD player because with all the features and extras, you literally can take a mini-entertainment system with you anyplace you wish!

~The Rebecca Review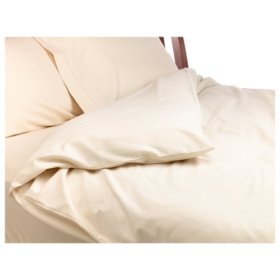 Soft and Cozy for Winter, September 20, 2006

The softness of these covers takes you to new levels of comforting warmth. We put the duvet cover on the bed just when the weather started to turn slightly colder. The preshrunk cotton has been brushed to maximum softness unlike anything I've ever felt in a sheet. The quality seems superior for the price. Once you buy the comforter/duvet cover, you may find yourself dreaming about pillowcases and sheets to match.

The Wamsutta Flannel sheets are velvety in a heavyweight flannel that is brushed on both sides for comfort. You will adore the soft cozy feel. Even my husband complains if I put any other sheets on the bed. My cats think they are in heaven as they sink their paws into the soft fabric and duvet. They normally won't walk on other duvet covers, but this one really appeals to them. I love the duvet covers because making the bed could not be easier.

~The Rebecca Review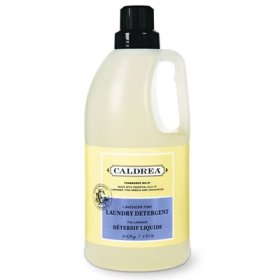 Caldrea Laundry Soap - Lavender Pine
Pine Forest Laundry Moods, December 26, 2006

Essential oils of Cedar, Eucalyptus, Orange, Lavender and Pine blend together in this laundry soap to create a rather healing and nurturing laundry mood.

If you love the scent of pine, this takes the idea to "mysterious pine and cedar forest surrounded by orange trees and lavender."

Once you buy this, you may wish you had purchased two or more containers because you will want to use this every day! I admit, I am completely addicted to the scent of this product and it makes my laundry super fresh and clean. The cleaning ability of this laundry soap is superior to anything I can ever remember trying. I think it is the essential oils that create a much more cleansing experience.

The Caldrea products are soothing and make you look forward to doing the laundry. Along with the softener; you will think you are washing clothes outdoors in a forest.

If you love this fragrance, the powdered scrub and all-purpose cleaner are excellent. You can put a little of the cleaner in a spray bottle and it works on counters, floors, walls...just about anything.

~The Rebecca Review
Caldrea Fabric Softner - Lavender Pine
Soft Forest Scented Clothes, December 26, 2006

Essential oils of Cedar, Eucalyptus, Orange, Lavender and Pine blend together to create an unforgettable forest mood. The fabric softener goes nicely with the laundry soap and all the Caldrea Lavender Pine cleaners are amazing and perfectly scented for your cleaning day pleasure. If you love the scent of pine, this takes the idea to "mysterious pine and cedar forest surrounded by orange trees and lavender." I admit, I am completely addicted to the scent of this product enhances the laundry day experience.

This works well with the Lavender Pine Laundry Soap. The cleaning ability of this laundry soap is superior to anything I can ever remember trying. I think it is the essential oils that create a much more cleansing experience.

The Caldrea products are soothing and make you look forward to doing the laundry. Along with the softener; you will think you are washing clothes outdoors in a forest.

If you love this fragrance, the powdered scrub and all-purpose cleaner are excellent. You can put a little of the cleaner in a spray bottle and it works on counters, floors, walls...just about anything. I'd like to try other fragrances, but so far I'm addicted to the Lavender Pine fragrance that seems to enhance my fantasy of living in a forest.

~The Rebecca Review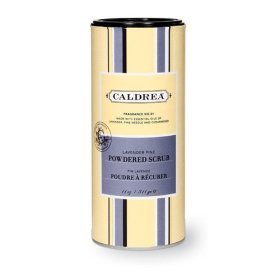 Pine Forest Cleaning Moods, December 27, 2006
Essential oils of Cedar, Eucalyptus, Orange, Lavender and Pine blend together in this powdered scrub to create an addictive cleaning experience. If you love the scent of pine, this takes the idea to "mysterious pine and cedar forest surrounded by orange trees and lavender." Once you buy this, you may wish you had purchased four containers because you will want to use this in the kitchen and bathroom and pretty much on anything you need to clean, including walls, counters, pots & pans, dishes, bathtubs and sinks. This is also perfect for cleaning outdoor furniture. The Caldrea products are soothing and make you look forward to cleaning. The laundry soap is also one of the best I've ever tried and along with the softener; you will think you are washing clothes outdoors in a forest.

~The Rebecca Review
Fragrant Scrub, September 20, 2006
You may find yourself using this low suds fragrant scrub all over the house, from the kitchen while cleaning pots and pans to cleaning sinks and tubs. The warm, exotic scent of patchouli is blended with green tea and non-abrasive powders to make cleaning fun and effective. The ingredients include finely ground non-abrasive sand (completely a powder), naturally derived oxygen bleach, green tea fragrance and essential oil of patchouli. Caldrea makes your house feel more like a home.

~The Rebecca Review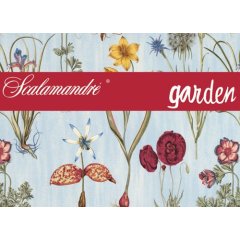 Perfectly Elegant Gift, July 27, 2006

The beautiful box holding the cards is a treasure and beautifully lined with the same design as the cards you first see when you open the box. There are four sets of cards with garden designs.

There are two sets with a creamy background and then red or blue artwork detailing watering cans, chairs, sun dials, planters, gardening tools and birdhouses. A cherry red card has a lovely fabric design and a pastoral scene of gathering fruit.

This set of cards would be especially appreciated by your gardening friends. I love the Scalamandre cards and especially the collectible boxes they come in.

~The Rebecca Review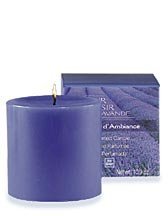 Delicate Powdery Lavender Scent, October 20, 2005

The Yves Rocher candle came to me as a gift with another order and the delicate lavender fragrance almost reminds me of a scented powder.

The fragrance is not overly powerful, just mildly romantic and the lilac candle melts into a pool of deep plum. Perfect for a relaxing mood when you want to feel comfy and like your house is a home.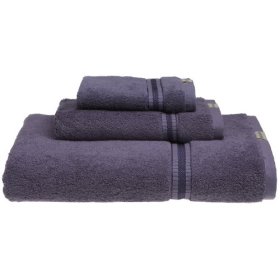 Heavy Weight Guest Towels, June 18, 2006

Columbia towels are especially luxurious to use and for a long time I didn't use them because they looked so lovely and new hanging in the bathroom. The color is especially pretty and reminds me of a deep lavender, they call it Plumberry. The weight of the towels is especially luxurious and they absorb water so well, that the towel at times can still feel almost dry after you use it. When the washcloths are completely drenched, they do seem a little more heavy than most, although they have that "spa feel" to them and they retain heat very well, which makes them sort of comforting. I've tried many towels and these are the most absorbent I've found. They are made with 100% combed cotton and have a heavier feel. The edges are sewn especially well with a nice fabric border so they don't fall apart the first time you wash them.

~The Rebecca Review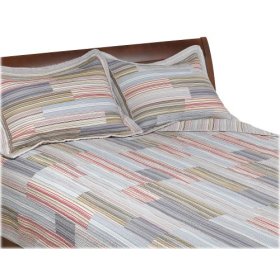 Durable and Comforting, June 18, 2006

The weight of this quilt feels like a homemade quilt made by someone in your own family. The design is more modern with stripes instead of squares and it is made with preshrunk cotton and an all-cotton filling.

You don't have to take this to the drycleaner because it can be washed at home. Although, you may notice that you wash this less often because it remains wrinkle free and the pillowcases hold their shape very well. Perfect for the couch or the bedroom. Use with a duvet for added warmth.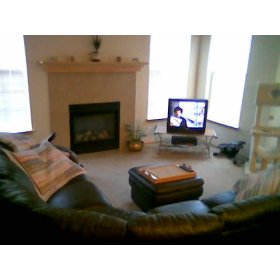 Works well in the living room too...


The colors are much more vibrant and remind me of golden sea grass rugs, lavender blossoms, bowls of cherries, and warm summer days with blue skies.

~The Rebecca Review
For Guests or an Extra Bed



Coleman Airbeds Queen Flocked Quickbed
Quick Cheap Solution, November 1, 2006

If you are looking for a bed you can take with you camping in the summer and to relatives homes any time of the year, this bed works fairly well for short term use and is a quick and cheap solution. I find the Coleman beds last quite a long time, even though you will eventually find yourself on the floor due to the many problems that can occur with placing an airbed on the floor. For one, sharp objects will easily puncture the bed and this includes playful cats tossing about toys near the bed or like my cat loves to do, pushing a cat toy under the bed and retrieving it again.

I've lost two beds this way, but this can be solved by placing a thick mattress cover over the bed. Sharp objects under the carpet may also puncture the bed although this bed has an exclusive PVC and the airtight system is guaranteed not to leak. I find that we deflate this bed in the morning and inflate it again at night, so this isn't really a problem, although after two days, you may notice air has leaked out a little bit more than you expect.

The comfortsmart coil system helps the bed to conform to your body for better support, which means you might like this bed better than a regular mattress. In my short lifetime I've purchased quite a few of these beds and more expensive doesn't mean more comfortable. To be honest, this is more comfortable than the Aero beds with the pillow top.

If the bed looses air, you might want to take a look at the inflation instructions where it shows the internal seal and the internal yellow post and how you can completely seal the valve in a two-step process.

"Air temperature and weather do affect the air pressure in inflatable products. In cold weather your airbed will lose some pressure due to the fact that the air will contract."

So, to avoid this happening, we use a heating blanket on the bed.

One thing I will say about Coleman, they stand by
their warranty. With Aero, I found it difficult
to even return a bed or to find a return address
at their site.

~The Rebecca Review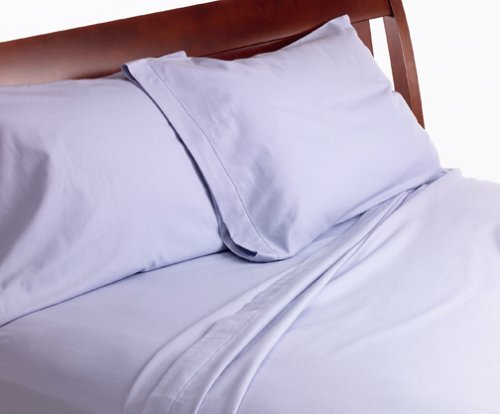 Wamsutta 100 % Cotton Luxury Flannel Pillowcases - Lots of Colors
Cozy Soft Pillowcases, October 17, 2005

Not only are these pillowcases super soft and cozy, they also have much more style than a regular pillowcase. You can use these as decorative pillowcases, no need to hide them under the sheets. The cases didn't shrink when I washed them and they will even handle extra fluffy pillows like feather pillows or decorator pillows. I like that it is easy to put the pillow into the case unlike most "less than enough" fabric pillowcases you find on a regular basis. The secret to these seems to be that they are preshrunk.

When I tried to take these sheets off the bed and wash them, my husband complained that he didn't like the other pillowcases as much. "They are so comfy and soft," he said. So, a day later I had them washed and put back on the bed. They do take slightly longer to dry and I ended up putting them back in the dryer for a few minutes even when the dryer cycle was complete.

The softness takes you to new levels of comforting warmth. My pillowcases came free with the duvet set, so that is also a great option. Except, now we want more pillowcases.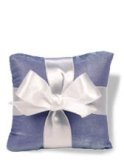 We put these on the bed just when the weather started to turn slightly colder. The preshrunk cotton has been brushed to maximum softness unlike anything I've ever felt in a sheet. The quality seems superior for the price.

The Wamsutta Flannel sheets are velvety in a heavyweight flannel that is brushed on both sides for comfort. You will adore these sheets. Even my husband complains if I put any other sheets on the bed. My cats think they are in heaven as they sink their paws into the soft fabric and duvet. They normally won't walk on other comforter covers, but this
one really appeals to them.

~TheRebeccaReview.com

Ergo Passion Rose De Mai Candle
Exotic Rose Heaven, April 20, 2005

We create from the soul for the soul. ~Er'go Candle

After trying a few soy candles, I finally splurged and purchased my first expensive soy candle. The Rose De Mai candle may seem expensive, but when you consider how this candle will change your entire mood and environment, suddenly you are happy to pay whatever it costs to feel this good.

The essential oils in this candle create an inner rose garden. If you have happy memories of walking through rose gardens, this candle will recreate the experience inside your home or on your deck or patio. Even when this candle is not lit, it releases a heavenly rose fragrance throughout your home.

By blending 105 oils, including geranium, clove, jasmine and sandalwood, Er'go candle has created a completely unique, mysteriously spicy and sensuous fragrance candle. There are no petroleum fillers or dilution oils. The fragrance blends are clean and pure and are equal to a fine parfum. The boxes reflect this idea and the color of the box for the Rose De Mai is a luminous strawberry shimmer. I'm keeping the box because it is so beautiful.

The natural soy wax (soybeans farmed in the USA) is clean burning and healthier for you than other candles. The cotton wicks stay lit and you should actually burn these candles for about 3-5 hours at a time. After three hours, your entire house should be scented with roses. They recommend trimming the wick to 1/8" before lighting the candle.

My most sophisticated candle purchase and possibly the best find on Amazon - Ever!

A 100 star item! Perfect for gifts that will never be forgotten. Now I want to try every candle this company makes and definitely have one Er'go candle in every room of the house.

Sage Colored Ambiant Candles Dissolve into a Ruby Glow
Ambiance, October 26, 2004

Reviewer: TheRebeccaReview.com
All that was warm and quick, she loved too well-
A light, a flame, a heart against her own...
~Dorothy Parker

The Archipelago Botanicals Excursion Collection has a few exotic candles that melt beautifully into pools of shimmering sensual liquid wax. Of all the candles I'd choose for October, the Ambiant tea light candles are perfect to set a rich romantic tone. When they melt after a few minutes, the light dances on completely melted wax as if a lone skater on a moonlit pond. From above, the clear wax radiates with a ruby glow and from the side, the color is dark flickering amber.

You may also want to buy these for Valentine's Day or Christmas. They could be used for romantic or seasonal festive occasions. I think my husband can definitely add these romantic candles to the "Her Favorites List" in the Gentlemen, Start Her Engine book by Steven Andrew Guerrero. For some reason, I think he'd approve of these candles at a midnight picnic with chocolate covered strawberries.

One candle can also be placed on a tiny silver, glass or copper plate at the top of a Zen Rock Water Fountain.

~The Rebecca Review
Home Decorating Books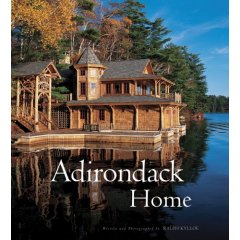 Traditional Adirondack Design, July 27, 2006

Reviewer: The Rebecca Review

"In time the Adirondacks became synonymous with rugged living, fishing and hunting, other outdoor activities and all sorts of rest and relaxation. It was because of the great camps and rustic furniture that Adirondack became a style until its own." ~Ralph Kylloe

After a brief history with pictures, Ralph Kylloe delves into the beauty of Adirondack design. There are magical items in this book you may never see anywhere else like the rustic and romantic bridge design, complete with trolls.

The magical computer desk and chair look like something out of a fairy tale. Contemporary boats rest in luxurious boathouses and small guest houses are nestled beneath the trees. Many lodges and camps are featured and show the ingenuity of design. Chairs made with boat paddles and artistic waterways flowing through wood decks make this a very intriguing read. What is most interesting is how the exterior is brought inside and how artist envision one-of-a-kind pieces of furniture.

This book would be an inspiration to artists, architects and designers interested in this classic style.

~The Rebecca Review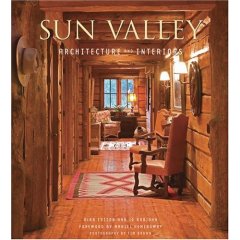 Sun Valley Architecture and Interiors
American Skiing and Architecture, July 27, 2006

Reviewer: The Rebecca Review

"Sun Valley is an oasis between desert and lava of the Snake River Plain, an isolated haven and difficult place to reach from just about anywhere. It is wedged between surrounding peaks of Sawtooth, Smokey and Boulder Ranges with a high desert climate."

For anyone living in Sun Valley, the history at the beginning of the book will be of interest. Then, if you have ever been skiing in Sun Valley, this has interesting historical pictures. Golfing and fishing are also of interest.

In regards to the beautiful architecture in this book, you may notice the abundance of open space and walls of windows. Living inside, you feel a sense of communion with nature. Garden showers and retreat rooms are an essential. Modern log cabin styles contrast with the more traditional mystique of old-world adventure.

The homes do not seem overly opulent on every page. There are some quaint pictures of decorating with quilts and small porches with aging chairs. The retreat style homes have a cozy country feel and there are even pictures of restored trailers.

There is a gorgeous kitchen complete with rows of copper pots and a huge island. Fireplaces, libraries, lush gardens, modern art, fishing lodges and barns all mingle nicely together. The picture of the kitchen in the fishing lodge is amazing in detail. Now that is what I call a sink on page 205.

~The Rebecca Review