Gym America Virtual trainer for daily personalized workouts. Try out the workouts of your favorite athlete.

Karen Voight Great fitness videos, books, weights.

Martial Arts Supplies Uniforms, shoes, sparing gear and books and videos.

Massage Resource The place to learn about massage and bodywork.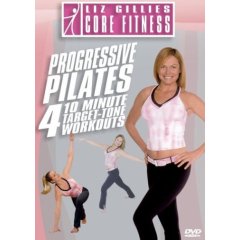 Full-Body Toning, September 15, 2007
"Life isn't about finding yourself. It's about creating yourself." ~ George Bernard Shaw

Progressive Pilates is one of those workouts where you start off skeptical and then become completely convinced. Liz Gillies leads you through classic Pilates exercises but keeps them fresh with little modifications. If you have been doing Pilates for years this will still give you enough challenges to keep you interested in the entire 40-minute workout. You can also choose to complete only one or two of the 10-minute workouts.

The pace is perfect for intermediate students. The exercises are intense but the four to eight repetitions won't leave you exhausted. Some of the exercises you may recognize include:

Mermaid
Teaser
Swan
Cat/Cow from Yoga
Boxing with weights
90-Degree Front Press
Hot Potato
Pendulum
Plank with Battements
Arm Circles with weights
Pelvic lift with leg extension
Active moving Cat
Cobra from Yoga
Child's Pose from Yoga

The "Teaser" is also included but with a fun almost rocking variation. She calls downward dog "elephant." I also enjoyed the three "Mermaid" variations. If you go for the full 40 minutes you will complete a full-body toning workout. Progressive Pilates is perfect for intermediates although there are modifications for beginners.

~The Rebecca Review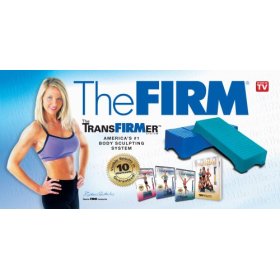 The TransFIRMer Workout with 3 DVDs
Stylized Workouts, April 17, 2007

The FIRM Supercharged Sculpting workout is a highly stylized workout with electronica, artistically designed sets and a clean, sleek mood. This is a combination of traditional weight training with aerobics using the necessary TransFIRMer. Most of the exercises are recognizable as traditional exercises like plank or sit-ups and squats.

The lunges seem easier to do with the TransFIRMer, although weights are used throughout most of the exercises to give them a little more edge. The workout is followed by a brief stretching segment, but if you want to totally relax, there is a "Bonus: 8-minute Stretch Workout."

This set also includes two additional DVDs: The FIRM Ultimate Calorie Blaster and The FIRM Aerobic Body Shaping.

"The TransFIRMer was designed with multiple uses in mind and has 5 different configurations to take each workout to the next level." ~ pg. 6

The TransFIRMer can be positioned in five different ways to increase the possibilities:

6" TransFIRMer - The green section can be used alone
8" TransFIRMer - The blue section can be used alone
14" TransFIRMer - The blue and green sections used together
Side-by-Side TransFIRMer - The blue and green sections placed next to each other
Incline TransFIRMer - The green piece fits into the blue piece for a convenient and stable incline.

"You can adjust the intensity of the workout depending on how high you step." ~ pg. 7

The workout booklet has some interesting rotation calendars so you can plan out 21 days. There is also a section on healthy eating tips, an eating plan, 21-day diet plan, list of 100-calorie snacks and list of 200-calorie snacks. A substitution list makes the diet easier to follow especially if you are eating out and want to still keep to the diet plan.

For years I couldn't do the FIRM workouts because I kept forgetting to buy the equipment, but now with the step at home I can try out most of the new workouts and have fun working out. The 2-piece step is also easy to arrange and is very sturdy. The low-impact exercises work well with the step and the incline is used for push-ups, cardio, arms and ab exercises. If you are buying this step to also use with other workouts that use a step, they say that is not recommended.

~The Rebecca Review

Men's Fitness The online edition for the magazine about men's health issues.

Mountain Woman Athletic gear with an attitude.

Mountain Zone Skiing, snowboarding, climbing, hiking and mountain-biking equipment.
Fitness Tips

Drink water to increase your metabolism.
Try Green Tea - contains ingredients that help you burn calories faster
Start Walking - even 30 minutes can reduce body fat.
Sit Less - Buy a treadmill to walk on while watching TV shows
Eat a Salad every day or a soup with vegetables - fiber and water fill you up.
Try Yoga and Meditation to reduce stress
Keep a Fitness Journal


Namasta A site for massage therapists.

Nutrio A site which looks at the physical, emotional and psychological reasons behind why you eat.

Orvis Furniture for country retreats.

Phys Weight loss and fitness goals.

Platinumcrossbow For exercise at home.
Find a Personal Trainer Online:

Shape You

Rei-Outlet and Rei Extensive selection of outdoor gear. Rei-Outlet has discounted items.

Ultrawheels Look for great inline skates.

Reviews of my favorite workout tapes..

Sandbox Tired of working? Come play in the sand.

Shapeup A weight-management system.

Special Interests Workout videos.

Sports & Outdoors All your sporting needs in one place.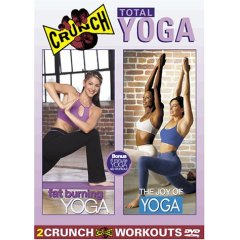 Crunch Total Yoga Sarah Ivanhoe
Comforting Teaching Style, December 30, 2006

Sara Ivanhoe has a fresh radiant energy and a comforting teaching style. She believes that if it isn't fun, you won't do it. Her energy is like orange zest for the soul. You can safely relax into her workouts and let her instruction take you to relaxation. The Fat Burning workout on this DVD is especially enjoyable.

The setting is a gym with wooden floors and lavender mats. All the traditional Yoga moves are here: Downward Dog, Chair and Warrior. What makes them more enjoyable is how Sara Ivanhoe arranges the poses so they flow together in a beautiful sequence.

If you are intermediate and are looking for a way to burn more calories during your Yoga sessions, then the Fat Burning segment may impress you. Normally I walk, bike or dance before doing yoga, but with this session, you may want to save your energy and just head straight into the practice. I can also highly recommend the Crunch Candlelight Yoga DVD and all of the 20-minute Yoga Makeover DVDs.

~The Rebecca Review

Sports for Women News and features just for women.

The Female Athlete Everything an athlete could wish for.

The Undiet Lose weight with the UnDiet recipes & meal plans. Updated monthly.

Thrive Online Interactive tools and health questionnaires.

Toys for Grownups Be a kid again.

Your Spine Chiropractic advice and information.

Weightloss Information Weight loss articles, fitness, beauty, diet pills and programs.

Women's Sports Foundation Women's sports and fitness.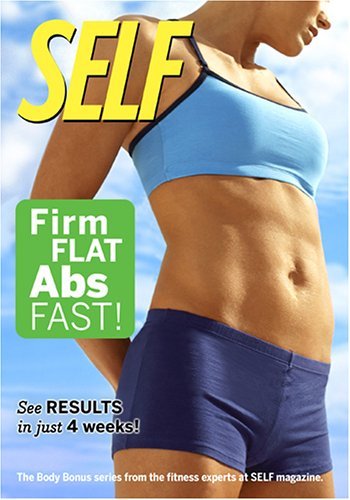 Creative Advanced Routine, October 3, 2005

Self has created a strong sexy progressive workout to take you through a variety of exercises that will quickly tone your abs. The stability ball is not essential if you adapt those exercises with an exercise ring or just skip leaning on the ball and do the exercises on the floor. A set of weights and a mat are needed to complete the exercises.

Stretching is interspersed throughout the workout and it gives you a much needed rest between the more intense exercises. The exercises are taught well and then the instructor quickly raises the intensity. The addition of weights and raising the arms takes this workout to an intermediate to advanced routine.

Strong graceful moves make each exercise super efficient. The variety keeps your interest and there are creative adaptations for familiar exercises. Advice is given on how to stabilize your neck and the warm-up helps you to ease into the movements.

Routine:

Warming Up
Stability Ball
Pilates Abs
Yoga Abs
Cooldown

I think they could have made this much more adaptable because they have three women working out and there are few modifications for beginners. This is mostly an intermediate to advanced workout with an emphasis on Yoga stretching and Pilates conditioning.

I felt like I was only working out for about 15 minutes, so this seems to go fast and the creativity kept my attention. The wonderful beach setting is relaxing and healing.

If you are at the advanced level, you may think this is 5 stars for the balance challenges.

~The Rebecca Review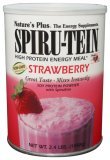 SPIRU-TEIN Strawberry Soy Shake
Delicious and Dreamy Fruit Shakes, December 28, 2006

The SPIRU-TEIN High Protein Energy Meal Strawberry Protein Powder is as close to perfect as a protein powder could be. One scoop blended with an orange, kiwi, apple and orange juice makes a delicious and nutritious shake. This shake will benefit you in the following ways:

You get 100% of the Daily Value of all vitamins
They have made sure you get a Broad Profile of Essential Minerals
Soy Protein and Bee Pollen are added for energy
Diet aids like Lecithin, Spirulina, Choline and Inositol are included

This powder also contains Bromelain, Papaya, Chlorophyll, Bran, Cellulose and Apple Pectin. The Amino Acid Profile per serving is also impressive.

Add in a scoop of ice cream and it turns dreamy. You then have a pink strawberry shake that is and very healthy and especially delicious. I'm of the opinion that a little ice cream now and then is a good way to encourage you to eat more fruit. It only takes a few minutes to cut up the fruit and this powder blends so fast, making a shake will seem like you are saving time.

~The Rebecca Review

Aerobic Exercise with Target Toning, October 31, 2004

Marilyn L. Bach, Ph. D. is a fitness consultant and Lorie Schleck, M.A., P.T., is a fitness consultant. Together, they have developed a total fitness program to encourage a healthier life. There are six main chapters/steps:

1. Making the Decision - Deciding to "fitness walk."

2. Getting Started with Fitness Walking - Target Zone information and Creating a Custom Program.

3. Fitness Walking Plus - Incorporating toning into your walking

4. Strength Training - A 15 and 30-minute strength training program.

5. Target Toning - Toning exercises that will enhance your walking.

6. A Week in the Life of a ShapeWalker - Liz, Tom and Jodi share their secrets and you can see charts of walking activities. Throughout this book, you will find pictures of toning exercises and walking techniques.

At the end of the book, you can find a Fitness Walking Record. I also found I could keep track of my walking in a fitness journal. This section of the book is essential to keep you focused and motivated. Before keeping a fitness journal I could not see where I was going or where I had been. When you keep track of your progress, it is highly motivational. At that point, you keep increasing your knowledge and you find out what works.

If you are continuously working on your New Year's resolutions, this book can give you new goals for the coming year. I tend to want to start new projects in the summer, although walking is a year-round activity you can enjoy in any season. I started becoming more serious about my walking over 51 weeks ago and it was the breakthrough I needed. When you only stretch and do Pilates and Yoga, you can see good results in muscle tone, but it is the walking or other aerobic exercises that take you to a new level in your fitness. I found that just doing one or the other is definitely not as effective as doing aerobics and toning. That made my walking easier and made my toning sessions much more enjoyable because I had more endurance and a new level of confidence.

Not only does walking oxygenate the body, it helps you to feel less stiff, can reduce bodily pain and will definitely help you lose inches. Since I started my walking program I've lost about 11 ½ inches. I did notice that when you gain muscle, your weight takes a while to regulate and then drop week by week. This was also mentioned on some of the makeover shows on TV, but is rarely mentioned in health books.

Whether you are just starting a walking program or have decided to incorporate target toning, this book has a lot to offer. This is the new edition and not only does this book help you develop a walking program, the authors give special attention to the abs, butt, thighs and arms.

What will you need? Walking shoes, an exercise band and free weights.

Some of the helpful items in this book include:

Advice for various weather conditions.
Advice about heart-rate monitoring.
How to get rid of cellulite - no creams needed.
Ideas about keeping a Food Journal
Developing a Plan for a Lifetime of Fitness
Working out in your Target Zone

ShapeWalking may encourage you to take a 10-minute walk before lunch or you may find yourself looking forward to walking on your treadmill while watching a new movie. When I started my walking program, I didn't push myself too much and this seems to be why I was able to keep up with the program. If you burn out at the start by overdoing it, the result will be a rejection of healing. Healing should be a fun process and when you keep track of your inches lost, you will love walking. You might also enjoy wearing a pedometer at first to see how many steps you are talking. When I saw how little I was walking at first; that made me very aware of how much I needed to move.

Winter Tips: Layer your clothes, look for waterproof walking shoes, plan your route before you leave the house. Use Walk Away the Pounds workouts if it is icy outside.

The most important thing is to just keep moving. When you realize how good it feels when you do exercise, you can never go back to not exercising. A few hidden benefits of walking include:

Alleviates Depression
Releases Endorphins
Reduces the risk of cardiovascular disease
Helps to Clear the Mind and gives you a sense of well-being
Boosts Your Self-Esteem
Prevents the loss of bone density
Helps to Maintain Good Posture
Controls your Weight
Increases Muscle Definition
Reduces Stress
Lessens Stiffness (especially if you are also stretching)
Encourages deeper breathing
Gives you the energy you need to maintain a healthy existence

Also:

Encourages healthy eating habits (this really seems to happen because once you are committed to exercise, healthy eating will naturally follow.)

~The Rebecca Review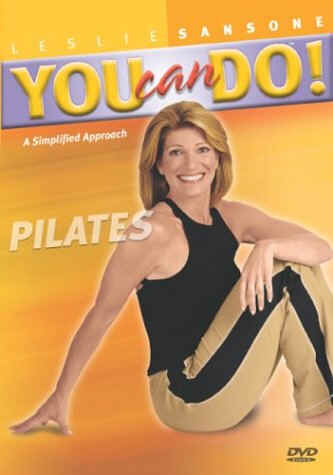 A Calming Professional Approach, August 2, 2004

In this 60 Minute DVD, you will find a complete workout with additional instruction. The first section can be viewed without working out or you can follow along and try out the new exercises.

I was impressed with Leslie Sansone's professional approach to Pilates. I had just finished her 3-mile walk and was thinking about finishing my workout routine with a Pilates DVD. Fortunately, Leslie spends time explaining each exercise so I had a bit of time to cool down. However, once I started the actual workout, it was definitely filled with calorie burning exercises.

While she focuses on "just the basics" you really do get a great workout. You start with "the hundred" and progress to the roll-up, leg circles and simple leg stretch. The last exercise is the "plank" which could have flowed into some push-ups, but trying to hold your body in the plank position for even 10 seconds can be a good challenge depending on your fitness level.

If you are new to Pilates, this might be one of the best ways to get started besides the Winsor Pilates workouts. If you have been doing Pilates for a few years, this might work as a quick refresher course and the swimming exercise in this DVD is pretty powerful.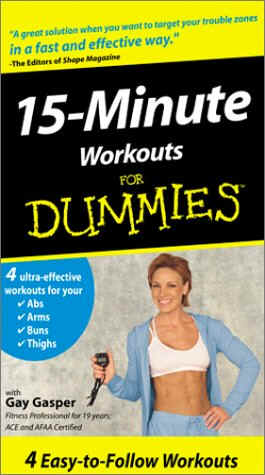 Intermediate Speed, Classic Exercises, July 14, 2004

"Common don't quit!" ~Gay Gasper
Gay Gasper is an internationally known fitness presenter who loves exercise and has been teaching for over 19 years. She has appeared in 27 fitness workouts and has a high-energy style. Each movement has a purpose and she doesn't waste anytime between exercises. This is why I'm going to say this might be intermediate. If you have been exercising for a few months, and are familiar with the use of dumbbells then you might be ready for this workout.
Some favorite features:
15-minute Workouts for Abs, Arms, Buns and Thighs
The countdown clock - motivation to keep going to the last minute
Aerobic sections between the weight lifting - This makes the workout feel like an interval training style workout. If you do all the exercises one after the other.
Challenging modifications for advanced users - you can add weights at some point.
Icons - Jargon alert, Myth Buster, Tips, Beware and Remember Icon.
If you are looking for a nice challenge, you can do all the 15-minute workouts and make your way through all 26 toning and shaping exercises. If you want to take exercise breaks throughout the day or just want to spend 15 minutes each day - that is also an option.
The tips were interesting and Gay gives advice like using a sponge mop for balance.
The music is highly motivating, the set is uncluttered and Gay's personality and voice are pleasant and inspirational. She also uses humor throughout the exercises. Her professional attitude towards exercise makes you feel confident and you can really trust her advice.
What will you need?
A space large enough to do lunges
Two sets of weights.
You could use 3-5 lb weights or even start with smaller weights and in a few weeks you will notice you are ready to move onto heavier weights. 3lb weights sounded right to me, but they say you can use two eight-pound dumbbells. It is better to work slowly into using weights and see gradual results. I started with one-pound weights and in about 30 weeks I was up to using 3-5lb weights. I no longer believe that faster is better. If it takes you 30 weeks to get to a point where you are really proud of yourself and you are keeping with an exercise program, then that beats a quick fix any day.
15-Minute Workouts for Dummies might even become a staple in your exercise video collection. I loved it and will keep doing this workout because it is highly motivational and the exercises are very effective. You are increasing muscle that eventually helps you to burn more calories each day. If I am ever having trouble feeling motivated to exercise, I just put this video in the VCR and within minutes I'm in the mood to burn some calories.
~The Rebecca Review
P.S. You might also enjoy Basic Yoga for Dummies with Sara Ivanhoe. She is also an instructor in Candlelight Yoga which
is one of my absolute favorite evening treats before bed. I feel soooo relaxed after Candlelight Yoga. It is also especially beautiful with all the candles.

Shape Your Life: 4 Weeks to a Better Body--And a Better Life
Mastering the Seven Elements of Fitness April 15, 2004

With the popularity of makeover shows, it is no surprise to find books promoting the idea of "getting in shape fast." It only took my husband asking me if I wanted to go on one of those makeover shows to get me thinking I could probably do this myself without surgery and a "lot" of patience. What I worry about is how discouraged some people might become when four weeks pass and they look at themselves in the mirror and see minimal results.
For me, it has taken over 24 weeks of serious working out for about 45 minutes a day, not to mention all the salads I've had to eat to get to a point where I feel that I should have started. I've found that diets don't work, but diet counts. If that makes any sense.
But with that aside, I think this book is for people who are between 10-20 lbs overweight. Then, you will probably see dramatic results. For anyone who is trying to lose 50 or more pounds, it is going to take much longer than 4 weeks.
So, I would say that this book is more helpful for anyone looking for lifestyle changes on a permanent basis. Toss out the "4-week" idea and think "life plan for getting fit and staying that way." Then, you will enjoy this book and it becomes a starting point for major changes down the road. I would just hate to see anyone toss out the wonderful ideas when they don't see dramatic changes in four weeks.
The concepts are amazingly well organized. The Seven Elements each have their own chapters. You explore: your workout, diet, spirituality, rest, emotions, body image, work and finally the last chapter analyzes your results. Throughout the pages you will find "quick tips" and "what you'll learn" pointers. The fitness test is helpful to determine your present strength level. The "walk-run" idea is probably not new to you if you have a treadmill, but might interest you if you have only been walking. The walking program is highly detailed and gives you a schedule for all four weeks, day by day.
If you don't have a lot of time to workout, you can try the 20-minute workout. There is a helpful chart for major muscle groups. If you enjoy learning exercises from a book, there are quite a few exercises. I still recommend getting exercise videos to learn how to do Pilates, yoga or any other exercise you want to try. You can refer back to the book to see the pictures, but nothing compares to a one-on-one session with a professional instructor on video/DVD. A video will help you keep the intensity going and an instructor will show you what you might be doing wrong.
Chapter two delves into the area of diet. I'm going to say that I agree with Shape's approach to eating right. The shape food pyramid puts vegetables and fruits on the bottom of the pyramid and whole grains on the third level. Water is on the second level. This makes sense and I've lost weight following these ideas. I'm less hungry when I drink enough water and my moods are more constant when I drink enough fluids and exercise almost daily. If you are a vegetarian, there is information for your diet which includes suggestions for meat substitutes, etc.
I must say that the weekly menus are rather impressive. They have easy-to-prepare recipes for every single meal, every single day for four weeks. You start to eat 5 times a day which you really need to do once you start working out more. Some of the delicious recipes include:
Quinoa Salad with Red Peppers and Pine Nuts
Frozen Cinnamon Cappuccino
Tarragon Mashed Potatoes
Grilled Tuna Salad
Thai Pudding
Banana-Soy Shake
Chicken Pot Stickers
The amazing thing about the recipes is the lack of complicated preparation steps and the speed at which the meals can be prepared. There is an intriguing section that shows you how to navigate your grocery store. The Mango and Ginger Cream recipe reminded me of how we mix low-fat sour cream with honey or stevia and a dash of vanilla. Suddenly pieces of fruit becomes an exotic treat when dipped in creamy vanilla bliss. I can eat an orange, banana and apple in one sitting while watching a TV show. That is one of the ways I get in my fruit for the day.
The chapter on spirituality encourages you to explore new areas of your life. The "are you starving your soul? questionnaire could be enlightening in itself. The list of "7 people we all need" shows you that you can't just rely on one friend to satisfy all your friendship needs. Whether you try journaling or meditation, there are plenty of ways to feel more nourished. Try yoga! The next chapter should be called: Your sleep number. ;) Although, it also deals with vacations and visualization. Then, you explore body image and finally analyze your results.
Helpful Tools that make this book a keeper:
How to calculate your daily calories
How to calculate your Body Mass Index
Fitness Test
Menu Plans
When you start buying smaller clothes, reading this book is going to be so worth it! Just remember, when you are first working out, you might gain weight. Once you get over that hurdle, the pounds start to drop. It took me years of working out, panicking because I'd gain a few pounds and starting over again to realize that you just have to live through the first 24 weeks and deal with it. Once you get to week 25 things are looking pretty darn good and by then you have been able to apply many of the principles in this book. It is more about lifestyle changes than "I have to be fit in 4 weeks." This book could change your life around, just be patient with yourself and forgive yourself on those days when you break all the rules. The principles are working for me and I'm pretty sure they will work for you.

Exercise is key!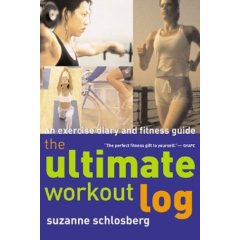 A gift of fitness to yourself!, August 11, 2001


When the last book had been filled, my exercise routine tapered off and then fizzled. Was having a book around to record cardio exercise, strength training, stretching, a rating, how many sets, the reps and the weights used giving me the motivation I needed? Or was it how guilty I felt about not exercising and having to write down...ahh...nothing that day the real problem.

So, when my husband gave me the evil eye and said I was sitting around reading too many books, I bought another one. Ideally the plan is to buy one book every 23 weeks so you have a fresh one ready to go at the end of week 24. So, the first thing to do is to write in "order new book" under week 23, so you never forget and end up getting out of your normal workout routine.

Do you remember writing a diary? Well, if you exercise...this will be one you don't mind having everyone read. It is like writing a review of yourself, of your goals and your accomplishments. The benefits of keeping a training diary is so you can feel guilty when you don't, see when you did well and find out what on earth you did last week that helped you to lose a few pounds. Something you might want to repeat!

Suzanne Schlosberg believes this book will get you results. There are designated spaces to record your goals for the next six months and more specific objectives for each individual week an then day.

"It is hard for anyone-accomplished athlete or complete novice-to stay motivated without a mission. Research confirms the importance of setting concrete workout goals." -pg.8

This edition differs from the first log I owned in that now there is a space for daily nutrition notes (like if you are on the Suzanne Somers' diet). There are training tips based on current research and a batch of fun sports slang and inspirational quotes. There is a new question-and-answer format and a resources section on page 157 of essential books to help supplement the information presented. A section on how to use the log is very helpful. Suzanne also has a delightful sense of humor. Her writing flows casually through the pages, making you feel that she is almost your personal trainer.

So, what will you be recording? First...your goals for the next six months. This is called the Big Picture. On the Workout diary page, may I suggest a "before" picture. There is just enough space for an "after" picture on the last page. That way, you can look back on your achievements and realize how much you changed. At the start of each week, you identify your mission. The Cardio section lets you record say: Bike, 15 minutes, felt energized! The Strength Training area has room for: Chest Press wt. 80, sets. 3, reps 10. May I suggest Karen Voight's book: Precision Training for Body & Mind...to help you out on this area. She describes the workout moves so well and in pictures. This book doesn't go into detail about any specific sport, but is your log to record all those activities.

Finally, you give yourself a daily rating on a scale of 1-5. Hey, that is like giving yourself a daily "body" review. I can do this...I can do this...

Do you know how to measure your heart rate? And what is your target zone? Will I burn more fat if I exercise at a slow pace? How often should I check my heart rate? What are the most effective cardio machines? How long will it take to see results? Does the order of my routine matter? Should I hire a trainer. How can I keep from getting injured? Suzanne tells all.

The next two chapters explain strength training with a picture of all the muscles of the body (and labels) so you can easily learn the main muscles so you can understand that the lat pulldown is a back exercise. A special chapter on "fueling up" leads you to the path of enlightenment on how many calories to eat a day, what vitamin supplements to take, how much water to drink and if it is a bad idea to eat before a workout.

Essential information takes up the first third of the book and it helps to read this information again and again throughout the six months. The workout diary follows and is a beautifully set out with a plum "day" title and then lines for your diary and blocks of gray under wt. sets reps. At the top of the right hand page there is a training tip or sports speak (for the adventurous) for the week. On the top left hand pages following the first page of each week, there is a inspirational quote.

This might just be the motivation you need. I know it worked the last time I had this book and I am ready to get back to a real exercise routine again. I looked around at some sites where you could log in your workouts, but it seems that if you turn on the computer, you are never going to get to that workout, so this book is a better solution. If you leave it on your kitchen counter...open to the next workout day....who knows what might happen.

Monday will be the start of a new fitness adventure!

Love Yoga?

Yoga Journal

New and Sexy


I always feel great after using these DVDs
When you feel good about yourself, it makes

you want to keep working out.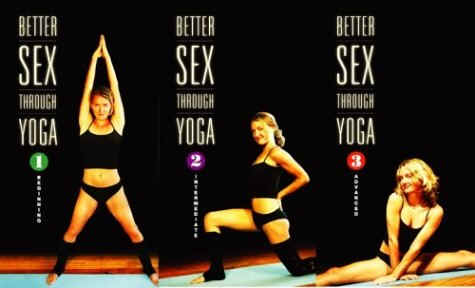 The Better Sex Through Yoga Series