Baked Pita Triangles
1 (10 ounce) package Greek pita breads (about 5 to a package)
1/4 cup toasted sesame oil
1/4 cup olive oil
1 teaspoon ground cumin
Crab Topping
1 (12 ounce) package imitation crab meat
1/2 cup mayonnaise
3 green onions, chopped, including about 1/2-inch green
1/4 teaspoon freshly ground Tellicherry peppercorns
Dash seasoning salt
Dash cayenne pepper
1 1/2 teaspoons lime juice
Garnish
Chopped fresh cilantro or parsley
1. Preheat the oven to 425 degrees.
2. Pita Triangles: Cut each pita bread in half so you have two rounds.
A kitchen shears works well for this purpose. Cut each round into
6 wedges so you have 60 triangles.
3. In a small bowl, use a pastry brush to mix the sesame oil, olive oil and
ground cumin. Mix well and then brush the oil over all the rough sides
of the pita triangles. Be careful not to use too much oil on each pita.
Too much oil will leave the pita really oily. You just want to
lightly brush them to give them flavor. Place
the cut/oil brushed side up on two baking sheets.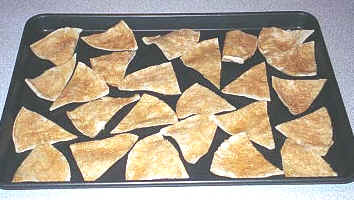 Toasted Pita Triangles
4. Bake the pita breads for 6 minutes and then check them. Bake further
watching closely so they don't burn. They can burn fast if you are not watching
them. Bake them in two batches until lightly toasted and crisp.
5. While the pita triangle chips are cooling, make the topping.
6. Crab Topping: Place the crab into a large bowl and use a scissors to
cut the crab up into smaller pieces. Mix in the mayonnaise, green onions,
pepper, salt, pepper and lime juice.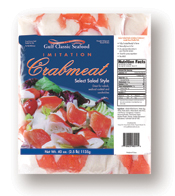 7. To assemble these appetizers, place a teaspoon or so of the crab
topping on the crispy pita triangles. Sprinkle each one with a sprinkling of
chopped cilantro or parsley.
8. Place on a serving tray and enjoy. These should not be assembled
too far ahead of time.

Makes 60 crab bites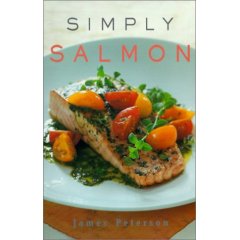 Click here for a printable version