= Mystical Christmas Journey

Reviewer: The Rebecca Review from Washington State

"I am a simple traveler. I am transported adrift a gentle, melodic seduction across hundreds of years to this place. Here in a shroud of feudal protection is common man, with reasoning and conduct conforming to his day, desperately seeking beauty, purity, and gentleness in an otherwise brutal world. Beyond dark stone walls of medieval thought, the allure of the beautiful virgin and the child-king's humble birth is the cherished focus of desire and intrigue." ~Zola Van
I first heard Zola Van's radiant music on a CD titled "The HeartAid Project." Her music captures hope, wonder, kindness and beauty. The fluidity of the fragile notes are balanced by the strength and depth of the message. Crisp, delicate and heart-felt notes mingle with images of Christmas memories and dreams.
There are lesser-known carols you might be hearing for the first time and a few beloved favorites that have survived in the hearts and minds of people across the centuries.
1. A Virgin Most Pure – Poignant and delicate rendition of an Old English carol.
2. Coventry Carol: the Holy Innocents - A 16th Century English carol with familiar strains and has grief and love intertwined.
3. Children's Song of the Nativity - A piece filled with questions and expectation. "How far is it to Bethlehem? Not very far. Shall we find the stable room lit by a star?" Zola plays this piece with precision and deep understanding. It is pure and beautiful.
4. Carol of the Birds is from Bas-Quercy, France. The peasants of the time told legends of enchanted animals who could speak on Christmas Eve. I can see birds swooping and soaring and following the "noel star."
5. The Wexford Carol is an Irish Carol known as the "Enniscorthy Carol."
6. Huron Carol is an Indian/Canadian tune - One of my favorites because it almost foretells sadness. Zola shows the full force of her interpretation as she alternates between spectacular lightness of hand and rich intensity. Zola has truly captured a moment in time with exquisite detail.
7. The Boar's Head Carol - A piece to take your breath away. The notes almost seem to be floating through the air like an invigorating breeze.
8. Joyeaux Noel - A French Carol sung at New Year's in the 1400s. Zola captures mystery and magic. You will recognize this sweet dream of new beginnings and hope for the future. This piece might delve into your memory and remind you of your most beautiful Christmas memories. I love how Zola tantalizes the listener with tiny raindrop notes and then just sends a downpour of notes to refresh your spirit.
9. Bring a Torch Jeanette, Isabella - A 15th Century French Provincial Carol with a playful twist. In the depth of night I can see little torches swirling in circles as Jeanette playfully dances instead of hurrying with the torches. There is a touch of humor here. It is as if time stops and this song could play forever.
10. The Dutch Carol - The beauty here is a solitary angel flying high above the earth. In the stillness of the night you can here "How sweet is love." The most comforting carol on this CD. It wraps you in warmth and you almost feel protected from all harm. Zola's playing dissolves all stress, this is a piece you could easily fall asleep to. As beautiful as a lullaby with a depth of caring that speaks of love and sweet dreams.
11. Ding Dong Merrily on High - A lighthearted piece. The emphasis here seems to be a joyous celebration.
12. Poverty - Spectacular depth and understanding. Zola shows her sensitivity in this interpretation. I hear a message so subtle it almost begs not to be explained but only to be felt with the heart. Perhaps this piece mostly evokes a sense of awe. We gaze at the tiny gift sleeping in the straw and are amazed at how a small child could be the hope of the world.
13. Silent Night - Instantly recognizable and a combination of all we love at Christmas Time. Zola plays this carol with an intricate beauty befitting this captivating story of heavenly peace.
Truly, I've never heard a collection of piano solos so delicate in magical beauty. Zola Van's music will quickly capture your heart. The universal messages of hope, peace and love have been captured in her interpretations of each carol. I highly recommend "Carol: A Christmas Journey" for the Holiday Season or anytime when you need a musical escape. It is timeless in its appeal and is a much needed escape from the harried pace of the holiday season or everyday life.
You may also enjoy "Paint the Forest Winter," and "River to River Trail: The Hike."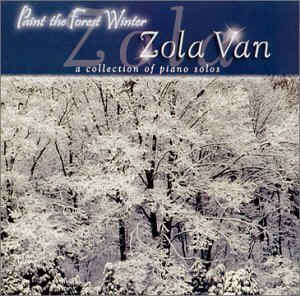 = Frozen Waterfalls and Magical Crystal Cave Dreams

Reviewer: The Rebecca Review from Washington State

Walk with me through timeless moments of beauty as the forest rests and seems to endlessly sleep through days and months, across countless years of winter. The forest lies open and vulnerable, sharing its secrets while resting peacefully through this season of scarcity and earth, waiting patiently for spring and the promise of renewal. ~Zola Van

If snow fell to the earth as musical notes, they might sound like "Snow Dance at Sand Cave." There is a crystalline beauty in Zola Van's playing that almost rivals nature itself. Her playing is born from a love of nature and her connection with her environment weaves its way into the notes in her piano solos in an almost breathless anticipatory beauty.

While the first two solos are fast-paced and the notes dance excitably like sun glinting off ice, Winter's Kiss at Rim Rock Trail has a calming quality reminiscent of the security you would feel looking out from a warm house covered in snow. You will feel the chill of winter in the shivers Zola Van's playing will give you. The notes are especially crisp in this piece.

In Gathering at Teal Pond majesty intermingles with playfulness. Wintertide at Miller's Grove is haunting in its delicacy and an element of bittersweet memories have been inspired by a lonely pine grove. Perhaps my favorite track on this CD because the pace is comforting. I'd like to have an entire CD with songs of this pace. Zola's playing does at times have an intensity to it, but in Wintertide, she captures the true feeling of winter in its stillness.

The Snow Day might remind you of playgrounds and snowball fights. Paint the Forest Winter is exquisite and you can imagine a moonlit woods sparkling like diamonds under a starlit night. Zola's sensitivity to each note is very apparent as she delicately unfolds a painting in a musical observation.

Trail of Tears: Kyrie at Brownfield was inspired by the story of mothers who told their children to run into the forest for safety. Zola captures the immense sense of loss and heart-wrenching despair the Cherokee Indians felt in the winter of 1839. It is almost a tribute to the human spirit and even if you didn't know the story that inspired this song, you would be overwhelmed with a sense of someone feeling despair. I am only left wondering how humans could treat one another with such disrespect when surrounded by such woodland beauty.

Burden Falls is a heavier piece representing a frozen section of waterfall trapped motionless in the dead of winter. Water still moves beneath and you can hear a freedom of rushing water beneath the frozen cascades.

At Rendleman's Grave: Giant City State Park was inspired by a story of a child who lived through the Civil War. "Sleeping Periwinkles cover this site (his grave) to come forth in spring." Zola has captured a solitary stillness that then breaks into the continuation of life as it moves from one form to the next. Promise of Spring follows rather appropriately as the death of winter gives way to new life and a heaven of flowers bursting into bloom. There is a sadness of saying goodbye to winter, and a bittersweet welcoming of spring. Zola completes the mood with Vivaldi's Winter: Largo from Concerto in F minor. Her interpretation is dreamily romantic and the perfect ending to a magnificent CD filled with emotion, wonder and pure musical genius.

I am amazed by the profound way Zola captures emotions and scenic vistas. It makes the heart want to escape to this beautiful area in Southern Illinois were she is inspired and lives. I lived in Illinois as a child and part of me remembers the beauty of deep snow and the atmosphere and scents of winter. The variety in this particular CD is stunning. I have rarely heard music this beautiful and heart capturing. Paint the Forest Winter would enhance any walk out in nature, especially if snow is covering the ground.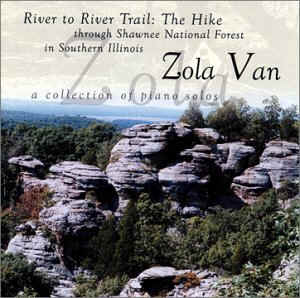 River to River Trail: The Hike
The Beauty of the Shawnee National Forest Captured in Music, July 18, 2004

Reviewer: The Rebecca Review from Washington State
Zola Van is known for capturing the majestic beauty of nature in her piano solos. Each solo seems to be the outer expression of the inner joy she feels as she is walking through the Shawnee National Forest in Southern Illinois.
In River to River Trail: The Hike, you will experience the rushing of a river, the tumbling of water over rocks, the swirling of water along the edges of the Ohio river and many other imaginative moments where water seems to play a central role. The Battery Rock Creek solo also captures the anticipation Zola Van feels as she walks along the trail towards a wilderness area between the Ohio River and the Mississippi river.
Heartbeat at High Knob feels more restful in its meandering lullaby quality. Zola was also inspired by migrating Monarch butterflies and you can almost see them fluttering towards the sky and then landing again as she plays.
Angel's Dance at Garden of the Gods is inspired by what she calls "wondrous beauty." I see angels in a ballet because the notes are delicate and have a flight of fancy element interspersed with an ethereal echoing quality.
Broken Wing at Lusk Creek has a definite melancholy pace and contemplative awe throughout the solo inspired by an area called Indian Kitchen where nothing man-made can be seen. As she walks on to an ancient Indian Village she sees a Thunderbird take flight. Flight of the Thunderbird at Mill Stone Bluff is mysterious and almost breathless in its pace.
Rain at Ghost Dance Canyon Trail: Dixon Springs is inspired by giant boulders, pools, waterfalls and rain dancing on leaves and wildflowers. Walk by Here: Ferne Clyffe almost has a sorrowful ending, it is as if Zola wants to stay and enjoy an area many visitors never see.
Zola's music is filled with a reverence for nature and in a moment of deep solitude she is inspired by a barred owl resting in a pine tree. As she plays Barred Owl at Panthers' Den, you can see the owl watching this mysterious visitor and then he descends into the tangled branches and disappears as Zola's playing tapers off gently.
Trail Magic at Rocky Comfort tells of magical experiences and stories long distance hikers enjoyed telling their friends. Shooting Stars on Trillium Trail: Giant City was inspired by a rare wildflower now known as French's Shooting Star.
Mighty River: Tower Rock is best described by Zola when she says: "Conflicting emotions swirl through me, as the water swirls through the sand along the shore: relief that my journey is over but also sadness for it and joy at my accomplishment." You can feel her emotions and this solo sends shivers through me.
Richard McNeill then sings about the entire journey and how it relates to life and finding your destiny. Trails Never End: Devil's Backbone is poetry set to music and I love the lines:
I gaze into the night.
A million stars I see,
And I have come to be
Part of this mystery.
Zola Van's music inspires moments of relaxation or you may even want to listen to her music as you walk along a trail near your own home. This collection of piano solos will awaken your aesthetic appreciation for nature and make even a casual walk by a river an awe-inspiring journey. Since I was born in Illinois and now live by a river, I thought it was finally time to review one of my favorite Zola Van CDs.
If you enjoy this CD, I think you will love: Paint the Forest Winter and Carol: A Christmas Journey.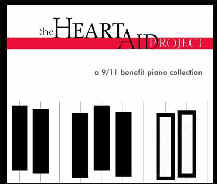 Zola Van's music is also featured on this CD!
If you love music by Zola Van, I'm confident you will
love piano solos by Jeff Bjork. His Pure Piano Portraits
is such a reflection of heart and natural outdoor beauty. I think Zola
and Jeff are both very inspired by outdoor environments. In fact,
they both almost seem to think in music.
Winter Moods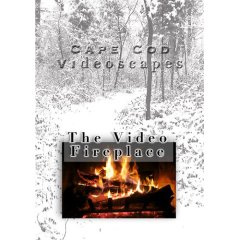 Cape Cod Beach House Fireplace, January 9, 2007

The Video Fireplace is a very simple fireplace that remains consistent as there is no decoration, scene variations, "pans and zooms" or music to select. Once you put in the DVD, all you do is press play. That makes this DVD interesting if you don't want to spend time selecting various moods and simply want a fireplace. I did notice that the speed of the flames seems to have been enhanced, although I only notice this when I look at the TV.

Mostly, I just have this on while reading and it creates a warm glow in the room. If you love having a fire, but don't want to deal with cleaning out a fireplace, then this is a perfect solution. I've tried out a variety of fireplace DVDs and this one is the most practical. The birch logs crackle and pop and make you feel like there really is a real fire burning. 5 stars for the crackling of the aged birch logs. I've given most of my other fireplace DVDs away, but I think this is the one I'll keep.

The only thing I wish is that they had filmed the fire from a greater distance instead of retaining a close-up shot of the logs. The logs could also be more artistically arranged in the fireplace. Looping would be nice, but I do enjoy seeing a fire from start to finish instead of just a fireplace repeating the same scenes.

~The Rebecca Review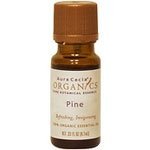 Scotch Pine/Pinus Sylvestris, January 9, 2007

"Pine was used by the American Indians...it was used to treat pneumonia and lung infections and was even added to baths to revitalize people suffering from...emotional fatigue..." ~ Connie and Alan Higley

Aura Cacia's "Pine" and "Balsam Fir Needle" essential oils refresh winter wreaths and can create a forest mood. After trying a variety of "Christmas tree" sprays this past year, I think in the future, the essential oils will be my first choice.

The essential oils are impressive alone, but combined become magical. I've been putting 4-6 drops of each oil on my winter wreath and the scent infuses the room and every time I walk past the wreath, I'm in a forest. These oils also work well with a spa mister or diffuser.

The essential oil of pine creates moods, but can also be used to relieve anxiety, revitalize the body and can be kept in a first aid kit for a variety of uses.

This blends well with Cedarwood, Eucalyptus, Juniper and Rosemary. I like blending this with the Aura Cacia's Balsam Fir Needle essential oil.

~The Rebecca Review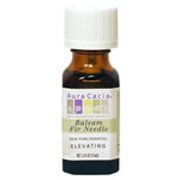 Balsam Fir Needle Essential Oil
Winter Forests, January 9, 2007

"Fir creates the symbolic effect of the umbrella protecting the earth and brining energy in from the universe. At night the animals in the wild lie down under the tree for protection, recharging, and rejuvenation the trees bring them." ~ Connie and Alan Higley

Aura Cacia's Pine and Balsam Fir Needle refresh winter wreaths and can create a forest mood. After trying a variety of "Christmas tree" sprays this past year, I think in the future, the essential oils will be my first choice.

The essential oils are impressive alone, but combined become magical. I've been putting 4-6 drops of each oil on my winter wreath and the scent infuses the room and every time I walk past the wreath, I'm in a forest. These oils also work well with a spa mister or diffuser.

Fir Needle oil can be used to create a sense of comfort or a feeling of grounding or empowerment. This blends well with Cedarwood, Lavender or Frankincense. I like blending this with the Aura Cacia's Pine essential oil.

~The Rebecca Review