Barbecue Pits by Klose has been featured in television commercials, and fine news papers & magazines nationwide, like Texas Monthly, The Dallas Morning News,

Food & Wine Magazine, The American Culinary Review Magazine, The Austin Homes

& Gardens food Magazine, The Austin Statesman Newspapers, Yippy Yi Yeah Rodeo

Magazine, The Boston Globe, Arlington Star-Telegram, The Austin American Statesman,

The Pits Barbecue Newspaper, USA Smoke Newspapers, The Kansas city Barbecue News, The electronic Gourmet Guide (EGG), and many more of the National Food Magazines and

Barbecue Newspapers.

Barbecue Pits by Klose was founded in 1986 with the principal of maintaining an integrity

of the Old Western Trail Drive style of cooking in mind. A purveyor of custom barbecue

grills, smokers, cook-off and ca

tering trailers, sizes range anywhere between a $69.00 drum grill to a $200,000.00 enclosed mobile kitchen.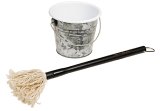 Steven Raichlen Sauce Mop and Bucket Set


All barbecue pits are made by hand, with no machinery involved in the manufacturing process except a welding machine, in the spirit of the old style iron foundries. One welder

to one pit, from the beginning to the end. Handmade, all the way.

There are hundreds of sizes and styles in stock all the time, including wood, charcoal, and gas-fired grills & smokers. Custom cookers include Chuck-Wagons, Pistol Smokers, Trains on real Railroad Tracks, even pits made out of Automobiles, & Semi Rigs.

Even The World's Largest Transportable Smoker.