Excellent Resource, February 28, 2010
I've been building my website for almost ten years and have learned quite a bit just by being online. So some of the information in this book wasn't new to me but I still found quite a few new ideas that will get more visitors to my site. I have followed some of the ideas in this book and noticed a change in my site rank. One of the most helpful ideas is how to use unique keywords on each page of your site. This book also emphasizes the importance of incoming links to get a higher rank.

This is truly an essential guide for webmasters and business owners. Some of the topics this book covers include:

Designing Your Site to Be Search Engine Friendly
How to Encourage Repeat Visits
Search Engine Ranking Criteria
Effective E-mail Messages
Newsgroups
Publicly Accessible Mailing Lists
Affiliate Programs
How to Write a News Release
Viral Marketing Techniques

What I especially liked about this book was all the warnings about spamming and spamdexing. The ideas about permission marketing are very helpful and will give you new ideas for how to collect emails the right way. The section on email netiquette could save your company from getting a bad name.

This book is also filled with information on useful websites. One of the most fun websites is all about link popularity. I found out some very interesting things about my site and about who is linking in to my site. Sure, a few links are now dead or direct you to other sites but for the most part I found them helpful.

~The Rebecca Review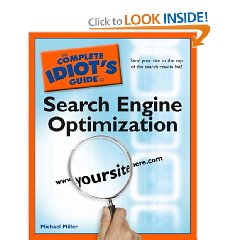 Comprehensive!, February 22, 2010
"The more pages that link to a page, the higher that page's PageRank - and the higher it will appear in the search results." ~ pg. 11

If you are looking for one book on Search Engine Optimization (SEO), make it this one! This is the most comprehensive book on the subject I've ever read. Michael Miller knows what he is talking about and he answers the following questions:

What are search engines looking for?
How do you improve your search ranking?
Is your site ready for the mobile search revolution?
What will decrease my site ranking?

Before reading this excellent book I had no idea that website page titles were so important. I also didn't realize how unimportant some meta tags can be to Google. So Michael Miller really helps you decide what is ultimately the most important improvement you can make to your website. He gives you the best information possible to help your site reach new heights.

This is truly an informative and exciting read. I learned so much about site building and I've been a webmaster for ten years. I learned that you should use your main keywords at the top of your site pages and that heading tags are really important.

Since the Web contains more than 150 million websites how are people going to find yours? Michael Miller gives great advice on how to create buzz about your site and how to become an authority on any topic in order to drive visitors to your site.

I completely enjoyed reading "The Complete Idiot's Guide to Search Engine Optimization." There seemed to be something new to learn on every page and I plan on implementing various ideas in the near future. Already I've seen some great changes in my site ranking just from following a few tips in this book. If you want a higher site ranking this is the book to buy!

"The better your site's content, the higher your site will rank." ~ pg. 48

~The Rebecca Review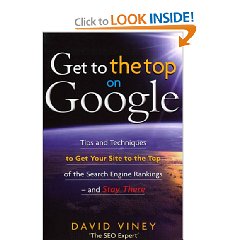 Search Engine Optimization

,

September 13, 2009

If you have been a webmaster or webmistress for almost ten years then a lot of the information in this book will be familiar to you. You will have probably picked up ideas about search engine optimization just from building your site and from being online. At least that has been the case for me. If however you have never heard of meta tags or thought about keywords and descriptions then this book has a lot to offer. It was interesting to learn that 33% of all searches are for two-word combinations. You may not have ever thought of pluralizing your keywords so there are many good ideas.

I'd say the best part of the book is about keywords and how to find the best ones for your site. Throughout the book there are URLs of helpful sites although the three I was interested in were no longer valid and produced error pages. Since things can change online from day to day I'd suggest you go to David Viney's site for updates. You can sign up to be a member and it is free for six months. In that way you can participate in his forum or ask questions pertaining to your website. As far as I can tell his blog seems to be free so that might be of interest to you.

I know the ideas in this book work because I've proved them in my own website. By having great keywords I've seen some of my pages listed on the first page of a Google search. Try looking up "caramel éclairs" at yahoo or Google. The page I created is listed first in yahoo and is on the first page when I look it up on Google. Other people found my recipe and copied and pasted it to other sites that are also at the top. One actually gave me credit for the recipe with a link to my site.

So basically I'd recommend this book to new webmasters and webmistresses who know a little about HTML and where to put the meta tags. They should be placed between your <head> and <head> tags at the top of each website page.

They look like this:

<meta name="keywords" content="cooking, recipes, printable recipes.">

<meta name="description" content="Seasoned with Love focuses on cooking and has
links to the best cooking sites on the web.">

Just replace the words "cooking, recipes, printable recipes" with your own keywords.
Same with the description. Replace "Seasoned with Love focuses on cooking and has links to the best cooking sites on the web" with your own description. It is really that easy. This book will explain how to obtain the best keywords so I'd recommend it highly for that aspect alone.

~The Rebecca Review

Useful Websites:





Link Popularity - Find out who is linking to your site.



Netmechanic - Tools for checking for dead links.

Postmaster Direct - Email lists.

Netpress - Helpful advice for dealing with the media.

World Submit - A service for submitting websites to search engines.