The Sacred Connection, October 27, 2004

"God is omniscient, omnipotent; we must never limit Him. The darkest hours may bring the brightest blessings." ~Mom, April 4, 1968

While reading my mother's diary from the first year of my life, I noticed that she was not only writing notes about me, she was writing notes about God. She would describe her joys, her experiences and her love for God. Between all these notes, my first year appears. What a beautiful gift!

When you stop to think about it, how many individuals experience God in exactly the same way? Finally, I've realized that God is not limited to our ideas of who he is and at times he can surprise us by appearing while we are exercising or making us feel loved as we are falling asleep. In fact, I think God is mostly found outside of Church because he wants us to worship him in mind, body and soul.

This might mean that you worship God while exercising, while studying or even while reviewing. Where are you the happiest? God can meet you there. You can find God while laughing with your best friends, while reading a book, while listening to music. The experience of God can be similar to being in love. I feel it as radiant energy (like the sun) glowing in my body. As if I'm being warmed by the sun or by love.

You feel nurtured, protected and renewed. It gives you a sense that you are in fact in control of your destiny and that God wants the best for your life.

In this fascinating journey through the minds of 40 Well-Known Seekers, we find 10 main questions. The answers range from casual observations to deeply poetic descriptions.

The Main Chapters include:

How I Encounter God
What God Feels Like
Diving into the Divine
How I Pray or Meditate
What Cuts Me Off From God?
Helpful Beliefs I Have
What Does God Want?
Finding God in Daily Life
In Search of the Miraculous
My Spiritual Advice Is
Paths to God

Contributors: Lynn Andrews, Marilyn Atteberry, Pat Boone, Joan Borysenko, LeVar Burton, Mantak Chia, Deepak Chopra, Alan Cohen, Stan Dale, Ram Dass, Bruce Davis, Wayne Dyer, Warren Farrell, Willis Harman, Richard Hatch, Louise L. Hay, Jerry Jampolsky, Gurucharan Singh Khalsa, The Dalai Lama, Kenny Loggins, Emmett Miller, Dan Millman, Edgar Mitchell, Pam Oslie, M. Scott Peck, Peter Russell, Bernie Siegel, Marsha Sinetar, Ron Smotherman, Brother David Steindl-Rast, Charles Tart, Mother Teresa Marianne Williamson, Mark DeFriest, Meredith L. Young Sowers, Jim Nissley, Robert Fulghum, John White, Doreen Virtue and Jonathan Robinson.

Through this book you can learn about why negative emotions separate you from your experience with God, why it is good to understand and eradicate fear, how living in a state of appreciation for life itself allows you to love God.

While reading Pam Oslie's description of how she cleans the house and talks to God, I had a moment where I enjoyed a good laugh. Finally even Jesus is there to help with the housework. I mean, you could even talk to God while you are cleaning the tub.

With a minimum of spiritual terminology, God becomes very accessible. Jonathan Robinson has created a beautiful gift about how wonderful the experience of God can be. I think when you truly start to see God as a God of Love, life becomes less of a conflict and much more of a comforting journey. Why should we only have peace in the next life, when this life awaits?

~The Rebecca Review

P.S. Also look for "Giving Love Away," A CD for healing in the world. The message on that CD made me think of my life in a completely different way.

Physical, Mental and Spiritual Yoga, October 27, 2004

"Yoga is a method, a system of physical, mental and spiritual development." ~Indra Devi

Indra Devi's book about yoga helped me to understand yoga in a deeper way than I could ever understand this practice through exercise videos. I truly feel that I knew very little about yoga before reading this book, even though I've practiced yoga for many years.

Indra Devi introduced me to Bhakti Yoga: achieving union with God through devotion and selfless love so you can become a channel of God's grace. I'm sure you could incorporate various principles into your life without having to leave society altogether. In fact, I think yoga helps you to live more peacefully with other people.

I also enjoy Jnana Yoga - Knowledge and study. Who knew that there were 10 Rules for a Yoga Code of Morality or that there were so many branches of yoga.

I also learned that Dharana is mind control and that Samadhi is the ultimate state of bliss. Asana or "postures" are just the beginning. While most workout videos do not introduce you to a spiritual dimension of yoga, I found that Indra Devi's way of exploring this aspect of yoga is not at all threatening to anyone practicing any religion. You don't have to change your religion to increase your flexibility, develop clear thinking or live a more healthy life.

What I'm finding lately is that to live a more fulfilling life, you almost have to look at various cultures and traditions and start to incorporate beautiful knowledge into your life. Life is a huge smorgasbord of experience and I hate to limit myself to living in one little box. I want to find out what secrets are hiding in many beautiful presents.

Yoga is one of those presents. Not only does it help you become more "present," it presents an experience that leads to a place of total relaxation you cannot get by doing almost anything else. I have never experienced places of peace like I have with yoga.

Indra Devi explains why you should not keep plants in your bedroom, how you can get rid of a toxic headache and why you should not rush out of bed in the morning. She explains various cleansing diets and helps you understand the core causes of illness. She explains why you should eat natural honey and why water is best at room temperature.

While it is interesting to read about the various poses, I must say it is almost easier to learn yoga through a video/DVD. You may want to try the exercises in the Yoga Journal's Yoga Step By Step DVDs as you are reading this book. You will find instruction for:

Cleansing Breaths
Walking Breathing Exercises
Postures - Cobra, Lotus, Swan, Churning, Angular Balance, Mountain, Bending Forward, Reverse and many more...
Understanding the Chakras
A Healthy Diet
A Reducing Diet
Making Healthy Meals - recipes included

This is one of the Yoga Classics. If you are interested in yoga and want to move towards "Samadhi," then this book will show you how to balance your mind, body and spirit. Until you can control your breathing, take control of your mind and move your body into a state of relaxation, nirvana might seem impossible. After doing yoga for years, you will start to realize that it is possible, if only for moments at a time. Those moments are quite beautiful and healing. I look forward to "corpse" pose when you just relax as the earth holds you.

~The Rebecca Review
30 Days to Spiritual Well-Being
Renew Your Spirit, October 27, 2004

I've lost 150 pounds and kept it off for over 15 years with God's help and total commitment to diet, exercise and a full life. ~Norris J. Chumley

Norris J. Chumley was once 400 pounds. The pictures on his website show how he has not only been able to lose the weight, but in his new picture his face is just radiant. This is a true success story. In his workout DVD, he also radiates a healing energy that I found to be very comforting. Finally, someone really seemed to care about my inner being, not just my exercise routine. Norris J. Chumley presents a gentle and playful program that not only helps you lose weight, you feel totally loved. I've found that when you feel loved, your body can heal.

When I first found this DVD, I had not idea what to expect. What happened next is truly worth telling. I spent hours on a Saturday connecting with my spiritual self in ways I had not done in years. I chanted, meditated in a more spiritual way, danced, walked, prayed, breathed more deeply and sang to my creator.

Normally when I exercise, I put in a workout video or get on my treadmill and there is a total lack of spiritual practice 90% of the time. Through this DVD, I realized that the addition of spiritual elements can make you feel good for days and days afterwards. In fact, it could change the way you view exercise.

There are many ways you can incorporate these exercises and spiritual practices into your life. You can select individual activities or choose from over 30 days of combined activities. The activities are filmed in a church filled with candles and some scenes are filmed outside in pastoral settings. The main sections include:

Yoga - Triangle, Tree of Life, Forward Bow, Cobra and Bow of Praise. These poses and exercises are perfect for anyone just starting a yoga practice.

Praise Dances - You may feel a little silly at first (wake-up wiggle made me laugh), but then you feel a sense of freedom as you dance before your creator. Make up any dancing you want and flow with the music. Beautiful pipe organ music is a treat and rare to find in a workout. You could also just walk during this time. I'm learning that to grow spiritually, you have to be open to new things, like praise dancing.

Stretching-This is a combination of mild aerobics with movements that make you feel great. You can walk slow or fast, but you definitely move your arms and get your circulation going.

Meditation- Beautiful contemplations near water

Prayers - Asking God to heal and help you, giving your problems to God. Norris recites Psalm 23 which is very healing.

Eating Well - An introduction to becoming more aware of what you are eating.

Breathing - Ancient breathing techniques like Pranayam

Chants - Soul soothing chanting.

This DVD is filled with practical ways to incorporate spiritual practices into your workout routine. Now you can worship God while you are losing weight. You don't have to be sitting still to pray, you can enjoy a prayer walk out in nature. Suddenly God becomes more alive because you are moving and flowing with the energy of the universe.

A sample day:

Day 15

Stretching
Breathing
Chant
Yoga
Eating Well
Praise Dance

Each activity is different and combined in a unique way. You may want to chant for minutes at a time or do all the yoga workouts at once. It is really up to you.

Norris J. Chumley has wonderful gifts to give the world and I hope he continues to create wonderful workouts that incorporate love, healing and meditation as movement. This is highly accessible spirituality. I went through the entire 150 minutes in one day and felt immensely grateful to Norris for creating a healing space where I could renew my spirit.

~The Rebecca Review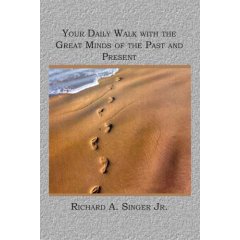 Your Daily Walk - Quotes, Thoughts & Journal
Beautiful Concept with Practical Applications, June 5, 2006

Quote for June 5: "Every burden is a blessing." ~Robert Shuller

Spiritual growth seems more accessible with a place to record insights and relax into thoughts of a transforming nature. Richard A. Singer Jr. has collected a world of quotes and combined them with his thoughts on the subjects presented.

Meditation: "Life is crammed with adversity of all intensities and kinds. These trying times are parts of life when we truly grow and illuminate the unborn spirit within us. Take a step back and be grateful for these opportunities to truly evolve into who you are..."

There is also a place where you can write personal insights in a "personal journal section" on each page.

Personal Journaling: "How will you begin to truly embrace and realize the meaning and worthwhile experience available in every challenge in your life?"

About one third of the page has lines where you can write your thoughts. The topics cover everything from success to the beauty of silence. Quotes range from the words of spiritual teachers like Dr. Wayne Dyer to the thoughts of financial gurus like Donald Trump.

Your Daily Walk with the Great Minds of the Past and Present is a perfect gift any time of the year. Whether you are buying this for yourself or for someone you wish to inspire, Richard A. Singer's book presents intellectual and spiritual considerations for an entire year of personal growth.

Richard A. Singer Jr. is a psychotherapist living in the Cayman Islands and his writing has also been included in "Chicken Soup for the Recovering Soul." He enjoys spending time at the beach writing beautiful thoughts and wrote this book based on his own experiences and challenges.

~The Rebecca Review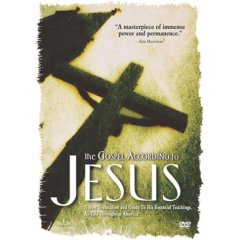 Skeptics & Sages, February 20, 2007

The Gospel According to Jesus is presented by Norris J. Chumley. He takes Stephen Mitchell's book around American for comment and consideration. The September 1995 edition appears frequently throughout. While this is an intriguing way to market a book, the DVD turns out to be profoundly beautiful, humorous or revealing.

Christ's powerful words are read by people across America in situations that seem to give a visual reference. At times this enhances the words and at other times gives one pause.

A woman speaking of grief, sweeps away a tear. A family quotes passages about sowing and reaping while images from a farm are presented. People read passages while vacuuming, while writing, painting, sewing, working, swinging on a swing and even while their children laugh and dance for the camera. I think Jesus likes those sections especially well, to hear his words being read while children were present.

There are quite a few unbelievers who are willing to go along with reading from the book and this may cause some concern to anyone who considers Christ's words to be sacred. For some reason, I felt this was not a hindrance to Christ's message, although the author's exclusion of the resurrection seems a more serious decision. Ideas like "the Christ Consciousness" are discussed briefly.

Famous faces that appear include Maya Angelou, Deepak Chopra, Ram Dass, Erica Jong, Norman Lear, Susan Sarandon and Tim Robbins. Their voices intermingle with a young girl who claims to be an atheist, a homeless woman on the street and a truck driver sitting in his truck with "JESUS" on a license plate in the front window.

The first section contains mostly people reading the word's of Christ and then in the second section many of the participants give their ideas about what Christ's teachings and life means to them. This crosses all cultural, religious and social boundaries.

The truth is, this seems to make Christ's words more accessible for the modern reader and it made me want to read the book. In the brief time I have walked this earth, I've noticed references to Jesus turning up in the most unlikely places - certain movies, books.

Jesus' wisdom, love and beautiful spirit lives from generation to generation in the heart's of anyone who is willing to look for his message. I think that even with the author's intention to dissolve parts of Christ's life story in his book, the people who believe in his resurrection share this idea on the DVD.

The idea of eternal life through a belief in Christ is not swept away in the mists of time; instead it again gives believers hope and unbelievers something to think about. I found the almost two hours of contemplation to be healing and comforting.

You may also enjoy:

30 Days to Spiritual Well-Being with Norris J. Chumley
The Soul in Love by Deepak Chopra
God's Blogs by Lanny Donoho
The Experience of God by Jonathan Robinson
Your Daily Walk with the Great Minds of the Past and Present by Richard A. Singer, Jr.

~The Rebecca Review