1 1/4 pounds large uncooked and unpeeled shrimp (21-30 count per pound)
1/2 cup butter
2 Serrano chiles, seeded and chopped - optional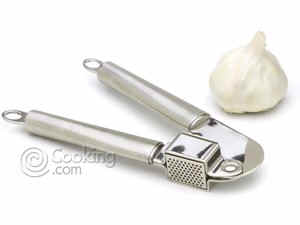 4 - 8 garlic cloves, crushed in a garlic press from Cook's Tools
1 tablespoon fresh chopped parsley
Pinch ground coriander seeds
Pinch chili powder
Pinch Spanish saffron powder
Pinch Fleur de Sel or sea salt
Pinch freshly ground Tellicherry peppercorns
1 lime , sliced
Fresh parsley for garnish
1. Check shrimp for veins and remove if found.
2. Melt butter in 13-inch nonstick griddle or 5 quart sauté pan
over low heat. Butter should not darken. Add chiles, garlic,
parsley. Stir in shrimp. Keep on low heat and add a
sprinkling of coriander and chili powder. Add saffron, a
sprinkling of Fleur de Sel and a few grinds of the pepper mill.
3. Slice lime and squeeze the two small ends into the shrimp.
Arrange parsley and rest of lime slices on one side of serving
platter to make a pretty garnish.
4. Increase heat to medium high and fry just until all shrimp
shells turn pink and the shrimp curl up. Remove from heat.
5. Arrange shrimp on serving platter. Enjoy while warm.
Serves 4-6 along with other appetizers or two for dinner.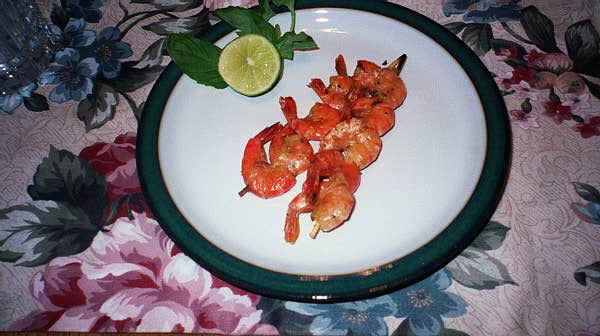 Garlic Butter Grilled Shrimp Variation: Put the butter in a 3-quart
saucepan, (omit chiles), 4 garlic cloves, parsley, coriander, chili powder,
saffron, salt and pepper. Toss the shrimp in the butter and then skewer
on wooden skewers. Grill for a few minutes on each side or just until
the shrimp have curled up and are cooked as you like them. We could
not stop eating these! It has to be the garlic butter! You can also baste
them a few times while grilling. You can either peel the shrimp before
tossing them in the butter, or let your guest peel them after grilling.