Cookie Dough
3/4 cup butter, softened
1 cup granulated sugar
2 large eggs
1 teaspoon vanilla extract
2 1/2 cups all-purpose flour
1 teaspoon baking soda
1/2 teaspoon cream of tartar
1 teaspoon salt
Raspberry Cream Filling
1/2 cup butter, softened
2 cups confectioners' sugar
1/2 teaspoon almond extract
2 tablespoons raspberry jam
1 teaspoon whole milk
Party sugar or multi-colored sugar crystals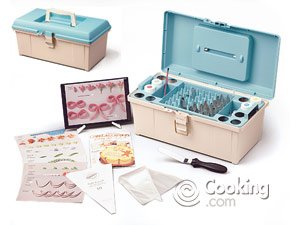 1. Cookie dough: In large bowl, use mixer to beat butter and sugar until fluffy;
beat in eggs and vanilla.
2. Sift flour, baking soda, cream of tartar and salt over
creamed butter; beat on low speed just until a dough forms.
3. Place dough in freezer for 15 minutes to firm enough to roll.
4. Preheat oven to 350 degrees.
5. Roll 1/2 of the dough at a time out on a well-floured
breadboard. The dough may be between 1/8 and 1/4 of an
inch thick. Cut out shapes with a 1-inch size flower cookie
cutter. Place the bits of cut dough back into the freezer to
cool. Cut a hole in the middle of half the cookies with the
small end of a 807 piping tip. Set on 4 parchment lined
baking trays. Bake each sheet for 7-10 minutes depending on
how thin the dough was rolled. Set cookies on cooling racks.
6. Icing: Using clean beaters, cream butter; add confectioners'
sugar on low speed. Add almond extract, raspberry jam and
milk. Continue to beat until fluffy. Fit a piping bag with a
number 12 piping tip. Fill bag with icing.
7. When cookies are completely cooled, pipe a generous amount
of icing onto the top of cookie without the cutout center.
Then gently top with cookie with cutout center. Press down
slightly. Immediately sprinkle with party sugar. Shake off
excess and set on a silver or doily lined tray.
Hint: For Valentines, cut out heart shapes and then cut a
smaller heart shape in half the cookies so the icing will show
through the top.
Makes 2-3 dozen depending on size of cookie cutter.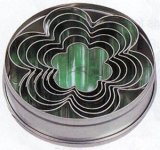 Graduated Daisy Cookie Cutter Set
Raspberry Cream Wafers in Flower shapes :), September 28, 2000

I love the fact that you can use the largest cookie cutter and the smallest cookie cutter to make cream filled wafers. You can also use the suggested piping tip, but the small flower cutter makes a nice presentation. Metal cutters are top because they are sharp and last a long time. Just remember to dry them out in the oven after washing them. This prevents rusting
Click here for a printable version