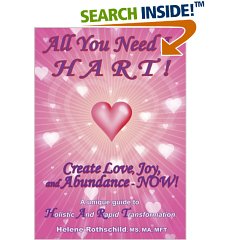 Heal Your Heart - Heal Your Life, January 26, 2007

"Are you ready to be happier, healthier, and more successful in every area of your life?"
~Helene Rothschild

Reading "All You Need Is HART!" is similar to wrapping yourself in the most beautiful, warm, loving blanket of understanding you can imagine. Within the pages of this book, Helene Rothschild offers insight into beliefs and fears we need to address in order to balance our lives. By allowing the clearing out of negative emotions, we can embrace new positive beliefs that invite success into our lives.

This book will help you to:

Overcome Phobias
Heal serious physical problems by removing negative emotions
Understand the 20 fears that are blocking you from prosperity
Comfort yourself in times of conflict
Enhance your Self-Esteem
Overcome Addictions
Lose Weight
Create more financial success
Understand how to move from fear to love
Balance your physical, emotional, mental and spiritual life goals

Helene Rothschild's transformational approach to life allows powerful positive thoughts to create a new reality. This goes beyond thinking positively and addresses specific areas of personal growth. A notebook or journal is helpful. Jotting down specific areas of conflict will encourage you to refocus on those areas in order to overcome fears and conflicts that may stem from childhood experiences.

"Addictions are what we do to the extreme in order to run away from our emotional pain caused by our negative decision. They are usually the symptoms and not the causes of our problems." ~Helene Rothschild

I have recently been thinking about how much of our adult life is spent overcoming our childhood. Are you stuck in a pattern of negative thoughts and actions? What is holding you back from success?

Fun questionnaires, visualizations, insightful commentary, examples from real life and a thoughtful approach to conflict resolution makes this book essential reading. Some of the things you may find yourself doing while reading this book include:

1. Writing down lists of things you want to change in your life to encourage more success.

2. Encountering moments of enlightenment about what is really holding you back from success. I wrote down 12 things I need to change in the next year. I had a startling revelation on page 85 when I realized how something my father said to me as a teenager is still affecting how I think about my life today.

3. Writing down goals for the next year! This book is excellent in this regard and it can help you plan out goals for an area of your life. This may include your career, relationships, sexuality, weight issues and health.

The affirmations in this book are especially healing. There is also a stunningly beautiful 8-page love letter that expresses the deepest heart desires anyone could ever feel or try to express. Rewriting the letter while including some of the topics of high concern could create one of the best love letters you ever give someone.

"All You Need Is HART (Holistic And Rapid Transformation)" is truly based on accepting yourself and being brave enough to love who you truly are as a soul. Helene Rothschild gives guidance and presents a safe, comforting place of acceptance where you can grow, change and become more successful in every area of your life. I found this book to be a highly empowering read and I believe this book will change your life in dramatic and healing ways.

~The Rebecca Review
Secrets to Success Through Planning Your Personal Goals
"Positive thinking gathers more energy, combining and bringing more positive
power to the person. On the other hand, negative thinking accumulates negative
energies that will eventually create a rolling snowball of negativity that destroys
focus and leads to dramatic confusion and a lack of concentration.
The universe is fair - it simply replies in the same way we
play the game." ~ Aiman A. Al-Maimani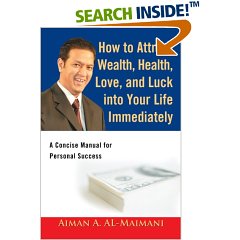 Inspiration for New Year's Resolutions, January 26, 2007

Aiman A. Al-Maimani presents an excellent collection of success wisdom in his "personal success manual." The beauty of this book is that it takes no time at all to read and you can quickly organize your thoughts about your future goals and dreams.

"The best way to make a major achievement is to expand your experience and knowledge base." ~ Aiman A. Al-Maimani

The truth about this book is that there is something magical happening here. The minute this book arrived, I started to exercise more, received a cookbook I had wanted as a gift and felt very inspired to reach some of my bigger writing goals.

Some of the excellent chapters in this book include;

The Law of Quantum Physics
Positive Thinking Power
Universal Laws
The Law of Attraction
Activating the Law of Attraction
Control Your Own Life with NLP
Be a Moving Success on the Globe
Additional Tools to Enhance Your Success

So, while reading this book, I wrote down my five most important goals, wrote down dates that I would reach for and wrote out a vision of my future. In the past this has been very effective and you may also find that this book helps you to plan out a step-by-step program for your success.

Sometimes it is a matter of trying again and again until you can get things to work and then suddenly things click. With this book, you can master your reality with a shift in positive thinking in order to make your dreams a reality.

"Set one hour aside every week to see if you are really doing what you like in your life. This might reflect in enhancing your goals or even replacing them with more important goals for your true happiness." ~Aiman A. Al-Maimani

The ideas in this book helped me to double my momentum and achieve more than I thought possible in a short amount of time. I think I'll keep this book to read in January each year so I can keep myself organized and meet my goals. I just sent a copy of this book to a friend. It will be interesting to compare notes over the next year and see how this book changes our lives for the better.

~The Rebecca Review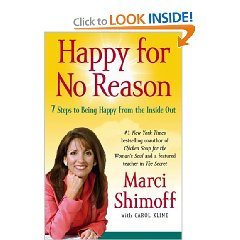 Achieve a Lasting Happiness with Happiness Habits

,

May 31, 2009

Becoming happy doesn't happen overnight so reading a book about happiness isn't a guarantee that you will instantly be happier. The principles in this book will help you discover a happier outlook. By thinking more positively, being more grateful and developing stronger relationships you can increase your joy and decrease depression.

This book is however not a substitute for prescription medication due to a chemical imbalance. If you are seriously depressed this book has some good ideas but might not give you immediate results.

If you are however tired of fear, anxiety and stress then this book has some tips you can put into practice. I've read quite a few books on happiness and this one is one of the best. I guess I didn't feel compelled to read all the stories so this book was actually a very quick read.

To write this book, Marcia Shimoff interviewed 100 "deeply happy" people. I found that her descriptions of these happy people were very accurate and they resonated with me.

While Marcia Shimoff talks briefly about spirituality I think some of the happiest people have a deep belief in the afterlife and believe they are going to heaven. This has been proven by the changed life of people who have had positive near-death experiences. Personally I believe you will have a happier life if you also follow the teachings of Jesus Christ. There is something to the whole idea of submitting your life to God. It is difficult to explain why this works but knowing you are going to live forever puts this humble existence on planet earth in perspective.