An Understanding Beyond Words, January 25, 2005

We are the living
and the living
must love the world

A Night Without Armor is an intricately crafted collection of honest expression and spontaneous revelation. Jewel Kilcher is not only a singer and songwriter, she is a truly gifted poet. Her love for the poems of Shakespeare, Dylan Thomas, Rumi, Yeats and Pablo Neruda flows through her poems in a mingling of mysterious longings and vision.

I spent an entire afternoon reading "a night without armor" and Jewel's intuitive understanding of life and descriptions of loneliness in the midst of popularity left me in a state of extended contemplation about beautiful moments and the cravings of the soul.

Jewel paints unforgettable scenes in vivid imagery. In "Communion" she shows a deep understanding of intimacy and her artistic descriptions capture environments in sensual words that slip over the pages in beautiful streams of inspired imaginings.



I have cast my heart
like a purpled fruit
toward the violent earth,
far from the Heaven
of your arms

Her words will at times take you by surprise and I found myself retracing my steps to understand the unique poetic forms and deeper meanings woven within complexity. I found myself reading "Wild Horse" three times before I could turn the page. "Still Life" and "Lost" are also equally interesting in form.

"Gold Fish" was a sweet innocent and playful surprise and her witty interpretation of life in Spivey Leaks made me laugh. "You Are Not" is a revealing look at belief that sharply contrasts with action.

Many of Jewel's poems are saturated in deep heart longing and many are resting in delicate moments of peaceful childhood memories from Alaska. There is a profound poem about her brother Shane and many poems about her childhood and family life in Alaska. "The Slow Migration of Glaciers" is a love poem to Alaska and explores Jewel's longings for home.

Struggling to hold back
the dawn
open-hearted lovers
cling to the sweet fruits
of last-minute kisses
so eager
to lose themselves
in the honey-thick gravity
of love so new

Jewel's love poems are unique and she delves into dreams, experience, loss, passion, trust, betrayal, fear, disappointment, uncertainty, longing, infatuation and kisses.

These poems are alive with emotion; they capture the beauty of Jewel's soul and make the world feel a little less lonely. Anyone who says this book of poems is anything but beautiful has never lived a life of love or loss. In all the years of reviewing, I've rarely found such an amazing book of inspired poems. I hope she publishes more poems soon!

Thank you Jewel! You have inspired me and I will publish my poems this year because you were brave enough to reveal your deepest heart in all its honest beauty.

~The Rebecca Review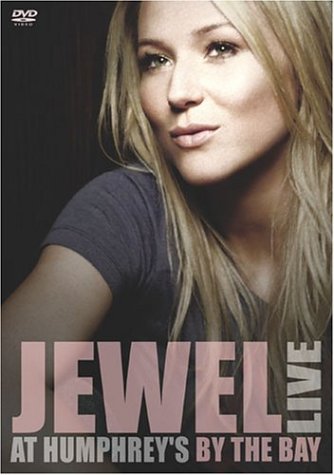 Jewel Live at Humphrey's By the Bay
A Heart on Display, March 5, 2005

Please don't say I love you,
Those words touch me much too deeply.
They make my core tremble.
Don't think you realize the effect you have over me.
And please don't look at me like that,
It just makes me want to make you near me always.

Jewel's music, her poems and her concerts all show a heart on display. In her first concert disc, there is an overwhelming feeling of intimacy and connection.

So break me
Take me
Just let me
Feel your arms again
Break me
Make me
Just let me
Feel your love again

The intellectual dances with the child as Jewel's heart opens to the world. She is in touch with the pulse of humanity and even her political statements show an intuitive understanding of society.

Welcome to the new wild west
Each man for himself
A nation of civilized steeples
And lonely people
Welcome to the new wild west

"The New Wild West" is stunning in content and such a contrast to her love songs. Some of her songs had me in tears and a few left me stunned because her lyrics were potent and intellectually pleasurable.

Songs:

Per la Gloria d'Adorarvi
Near You Always
Kiss the Flame
Rosy and Mick
Everything Breaks Sometimes
Sometimes It Be That Way
Grey Matter
Break Me
The New Wild West
You Were Meant for Me
Hands
Everybody Needs Someone Sometime
Who Will Save Your Soul

Bonus Performances:

Love Me Just Leave Me Alone
Do You Want to Play?
Jesus Loves You

I loved the part where she invites a girl up on the stage to whisper the words as she sings. It is amusing, although we can't imagine she would really forget the words. She plays along nicely and the audience is amused to no end.

At times she is sassy as she dances before singing, but she continually connects with the audience in a way I've rarely seen. There is an interesting change as she goes from playing and singing with her guitar, to playing with her band. There is a change from intimacy to a more professional formality. While I noticed this change, she still remains authentic throughout the performance.

Extras: A short interview with Jewel and a photo gallery.

~The Rebecca Review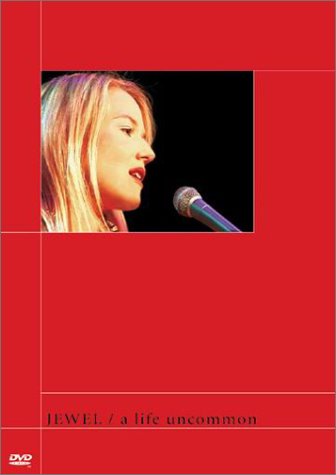 Rare Footage, July 6, 2005

If you lean towards being slightly more eclectic, this might surprise and delight you. The variety of interviews and stage performances show Jewel's rich singing tradition. She can yodel in her car or perform her music in any setting. When she sings, she becomes the music and there are moments where it feels as if music is as natural as breathing.

Jewel's wild vulnerability, the soft pink lights radiating through her hair, the mixture of woman and child all make this DVD especially entertaining and meaningful. If you have ever wondered how a music CD is created, there is insight into the creative brainstorming and you get to see the photo shoot for the cover of the Spirit album.

This is ten times more interesting than an unauthorized DVD. Jewel is actually singing and performing on stage. We find her on the tour bus, reading quietly while being filmed, singing in London under a chandelier, standing outside the Inner Change Coffee House where she was discovered. Jewel's brothers also make an appearance and Lenedra Carroll (Jewel's mother) talks about singing to her children and how Jewel grew up in a very artistic and musical family.

What fascinating me more than anything is how Jewel adapts a song for the stage and for the audience environment in a smaller intimate setting. This alone shows how she connects with various audiences and how her music truly does appeal to the heart. I loved seeing how she tried to connect with a European audience and how she gradually won them over. This has Benefit Concert footage and you can see Jewel enjoying her trip to London.

If you are a Jewel fan researching her history, then you won't want to miss this rare footage.

Bonus Songs include: What's Simple Is True, Down So Long and Who Will Save Your Soul.

~The Rebecca Review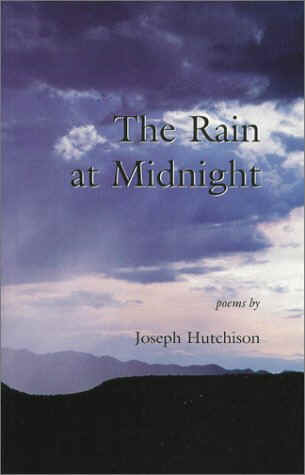 = Love, Wounds and Failures

Reviewer: The Rebecca Review from Washington State

"Icy water races past your racing heart,
under raised arms that ache to balance
whatever you carry, what you must (you
suddenly understand) be willing to let go.
Chin-deep. Perched on a slippery stone
that shifts with each shivering breath.
no choice but to take the next step-
deeper into the black river"
~Black River
"The Rain at Midnight" is a collection of poems that so aptly describe the male perspective. Joseph Hutchison delves into a variety of situations ranging from the observations he makes in nature to the inner experiences he weaves into poems. Each poem is an adventure into the reality of existence. At times his words are playful, profound or show a focus on presence.
I loved how he talks about tidal pools photographing his face or how the sun is like "apricot fire dripping." He uses such vivid images and often sexuality is never far below the surface of his thoughts. I like the unbridled words in "Internal Combustion." It seems anger is sparked and it burns or sinks down inside him writhing like a demon.
Joseph Hutchison explores everything from the awakening jolt of youthful discovery to the slow passionate ritual of languishing in love. He also explores the tragedy of a failed relationship.
"Brightness and Shadow" reveals the romantic nature of love, while other poems touch briefly on the tragedy of broken promises. I love "Brightness and Shadow" and would recommend the book for just this one poem alone. Here, he is remembering a night of love while he finds various items all over the room. It is loving and sexy and quite exquisite.
There is a sad, yet sweet acceptance in "An Amusing Anecdote" as he sits with his ex-wife after their divorce is final and "perhaps" an analysis of decisions leading to the situation, in "Good."
"I might have denied myself your kiss, your caress.
I might have sneered, "What's happiness worth?"
I might have let my duties define my desires.
I might have hurt no one. I might have been good."
How could a man living at this depth of awareness be satisfied with less than a downpour of love? Yet, his heart makes choices and leads him to love and wounds, failures and bitter struggles that keep the peace at bay.
In the first poem, he showers while trying not to wake his family and in the last poem, he pretends to sleep while listening to the rain at midnight as the rain drops become the chattering voices of three beautiful sisters.
"or maybe they'd simply blend back
into rain, a dark rain, the lull of it,
the sweet nothing noise and the kiss of it,
the tears and the healing sleep of it at last."
Joseph Hutchison knows how to transform even the most casual observation into pictures where rivers of words tumble over slippery stones and you can imagine yourself lost in the river, stumbling near a shore of "ink-black" pines where "feverish stars have risen" and there is a cold comfort in the "bone-white moon."
It seems life gives us choices and then at times, it throws us into a dark river where we have no choice but to swim deeper into life itself.
These poems are about surviving life and appreciating beauty along the way. Even in the cold, black river, you can look up and see the stars.
You might also enjoy Poems by Ronald Wallace: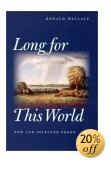 The Scent of Oranges Mingling with Kisses, August 18, 2004


There are moments in your life when poetry is the only way you can feel safe in a world that hurries past all you want to enjoy and observe. Long for This World by Ronald Wallace allowed me to slow down, access a wide range of subjects and enjoy some stunning moments that are reflections of his appreciation for beauty. I found his memories of women to be especially stunning.

Not only does Ronald Wallace display a keen sense of observation, he weaves a subtle thread of memory through some poems and then presents a surprise ending. I loved "Oranges" because in this story he tells of how he eats an orange, how it tastes, what he thinks about in regards to how the world appears and then ends the poem with an exotic image of sensory bliss. I was so delighted with this poem I had to read it to a friend, who appreciates poetry. I think I've peeled the zest from so many oranges, that the poem was filled with the scent of orange oil in my own memory. While I thought this might be the most interesting poem in the book, I was to be surprised again and again.

The Nude Gardener will be an absolutely amusing poem to anyone with a good sense of humor and a bit of insight into the world of men's minds. The ending is again almost an abandonment of all the former observations. Some of the last few lines of his poems change the entire tone and awaken a deep appreciation for life itself. They are almost a submission to the inevitability of feelings.

I was not prepared for Fresh Oysters & Beer and it struck me as being especially humorous. There is a line in this poem that is silly, but quite amusing. Ronald Wallace breaks free from melancholy mediocrity during a situation that might be trying to some parents and sees the humor and there is so much love in this poem for his daughter who is at this time still trying to find herself in a world of conflict about survival.

While I will never rummage through an attic, because I've moved too many times, I truly enjoy reading about people who have attics filled with memories. Here, Ronald Wallace finds notes his father wrote in college and has his own contemplations about imagination.

Maybe imagination is just
a form of memory after all, locked
deep in the double helix of eternity.

Ronald Wallace once said that he wanted to make something beautiful that didn't exist before and in this book, he creates worlds I didn't know men experienced. I will never think of oranges in the same way again.

This book is a collection of poems from a career spanning two decades and it took three years to complete the selection process. Wallace is the Felix Pollak Professor of Poetry at the University of Wisconsin-Madison and codirects the creative writing program. He also spends time at his forty-acre farm in Bear Valley, Wisconsin. You may also enjoy additional collections of poetry, including: The Makings of Happiness, Time's Fancy and The Uses of Adversity.

~The Rebecca Review