Orange Butter

1/2 cup butter, softened
1 tablespoon clover honey
2 teaspoons frozen orange concentrate
1 teaspoon orange zest, chopped
1/4 cup confectioners' sugar
Dipping Batter

3 large eggs
1 cup fat-free or reduced fat (2%) milk
1/3 cup orange juice
1 1/2 teaspoons dark brown sugar
1/8 teaspoon vanilla extract
1/8 teaspoon ground nutmeg
1/8 teaspoon ground cinnamon
Pinch salt
9 thin slices day-old French bread
2 teaspoons butter for frying
Confectioners' sugar
1. Orange butter: In medium bowl with a wooden spoon, mix
butter, honey, frozen concentrate, orange zest and
confectioners' sugar.

2. Batter: In large bowl, whisk eggs, milk, orange juice, brown
sugar, vanilla, nutmeg, cinnamon and salt until well blended.

3. Heat a griddle or frying pan and melt 1 teaspoon butter at a time. Dip
bread quickly into egg mixture on both sides being careful not
to let bread soak, then fry until lightly browned on each side.

4. Serve with orange butter and a dusting of sugar.

Hint: Slice the orange and serve with kiwi slices as an edible
garnish on each plate. When lemons and oranges have had the
zest removed they may also be sliced and frozen for use in
drinks and punch.
The orange butter is also excellent with rolls.

Makes 9 slices.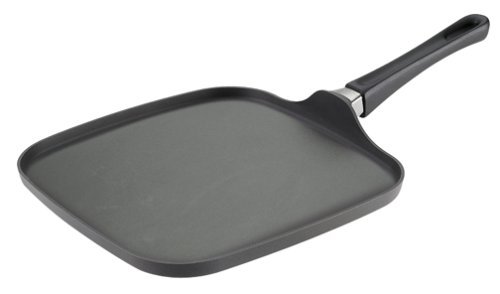 Click here for a printable version
Freshly Grated Nutmeg, December 22, 2006

Mr. Dudley's Nutmeg Grinder is surprisingly easy to use and looks beautiful on your countertop. Two packages of nutmeg can be stored in this grinder. One whole nutmeg goes in the center, where a spring-loaded press keeps the nutmeg close to the stainless steel plate at the base. The handle on the top is especially comfortable. Now you can add the delicious aroma and flavor of nutmeg to drinks (eggnog coffee, tea, cocoa), deserts (anything with whipped cream) and recipes.

Legend has it that if you keep whole nutmeg in your kitchen, your marriage will last. Would keeping 10 whole nutmeg seeds work even better? I'm willing to give it a try, although I think Nutmeg creates warm comforting aromas and adding nutmeg to your baking is sure to make your cooking seem more nurturing.
The main advantage of this grinder is that you can store eight or more nutmegs in the container. I've wanted one of these for years and finally decided to take a chance on this one. I must say I'm very happy with the purchase and a bag of nutmeg was included as a nice surprise.

~The Rebecca Review