The Heart and Soul of Oprah Winfrey, September 21, 2007
The fascinating story of Oprah's rise to power in the talk show world is brought to life on six DVDs. On the first DVD there are three sections. In the "Beginning" segment Oprah reads from her journal, explains footage from her first show and talks about former jobs. The story begins with an interview in her office and then Oprah remembers guests she interviewed that she will never forget. "Heartprints" brings a new understanding of the human condition as Oprah brings attention to anorexia, breast cancer and sexual abuse. "The Stars, Act 1" follows with interviews with Julia Roberts, Goldie Hawn, Mel Gibson, Nicole Kidman, Tom Hanks and Jerry Sienfeld.

While I was intrigued with the first DVD, the second has an extremely emotional start. Once you start watching be prepared to be swept away into a rollercoaster of emotions. Oprah explains the beginning of reality TV, uncovers shocking and horrifying crimes and unveils so much pain in our society. She faces subjects that are difficult to talk about and Dr. Phil gives relationship advice. The surprise section is especially fun with weddings and proposals. After a private tour of Oprah's home Kirsty Alley's kitchen is completely renovated. Oprah interviews the cast of Friends, gives Madonna time to explain the kiss and flirts with Will Smith as he shares advice about long term relationships.

The third DVD begins with horrifying memories of the holocaust and then delves into Nelson Mandela's battle for dignity. While the start is a revealing look at human suffering, the mood lightens with a captivating interview with Lisa Marie Presley. Oprah then faces a number of challenges. She goes onstage with Tina Turner, runs a marathon and interviews Lance Armstrong while biking. I loved Oprah's music video and the hilarious moments while she is working at McDonalds. Just when you think you've seen it all, Oprah goes back in time while keeping her sense of humor. This DVD has Brad Pitt's first interview and a radiant Gwyneth Paltrow talks about the birth of her daughter.

DVD four is as shocking as it is revealing. Oprah seeks to understand prejudice and brings a new awareness to AIDS and racism. Then she takes on the topic of murder. Quite frankly she shows extreme bravery and tries to maintain her composure. During her stay in Texas she looks rather cute in a cowboy hat as she takes on Free Speech. She then delves into heart-gripping stories of personal pain as 9/11 unfolds and as Nate survives the Tsunami in 2005. The second part is easier to watch as Oprah analyzes her fashion sense and there are some pretty amazing makeovers. The last segment is either frightening or comical and you never know which will come next. Brooke Sheilds talks about Postpartum Depression while Bono talks about America as an idea. Hugh Grant is especially honest and Jim Carrey takes over the stage. Robin Williams has Oprah in hysterics and the audience can hardly contain themselves.

The fifth DVD is much less of a rollercoaster ride and focuses mainly on three areas of interest. In the first segment Oprah talks about her struggle with weight loss. The incredible body makeovers are truly inspiring. Then Oprah talks about her Book Club and why she loves to read and discuss books. If you have ever wondered how the Angel Network was started, this DVD has the answers. As Oprah encourages viewers to make the world a better place, money pours in as people donate their change. In the Stars segment Renee Zellweger, Richard Gere and Paul McCartney make their appearance.

Tragedy and extravagance are themes on the sixth DVD. The first segment is a birthday bash hosted by John Travolta and Gayle King. Friends, relatives and celebrities celebrate Oprah's 50th birthday. The second segment is about Oprah's trip to South Africa where she gives children a Christmas party complete with presents for everyone. You can really see how Oprah uses her power for good in the world. In the third segment a day in the life of Oprah unfolds in all its complexity. With all the responsibilities to keep a show going, Oprah still has time to play practical jokes.

While watching all of the DVDs the thing that stood out the most is Oprah's heart for the world. She is truly a beautiful soul who uses her power for good. While watching the DVDs over a week's time I found myself looking forward to each new experience. To me watching the 20th Anniversary Collection was truly an inspirational journey.

~The Rebecca Review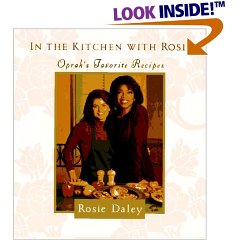 Two Days Four Recipes

,

July 13, 2008

After reading the all the reviews for this book I decided to take the chance and see how wonderful or bad this cookbook could be. To be honest, I had mixed results although I'd make three of the recipes again with modifications.

The recipes I tried include:

Spiced Bran Muffins
Vegetable Barley Stew with Lentils
Penne with Sun-Dried Tomatoes and Chicken
Chocolate Tofu Cake

Some of the reviewers commented on the amount of ginger in the Bran Muffins. I have to agree, ¼ to ½ of a teaspoon would be preferable. I tried them with the full amount and thought they were a bit spicy. The texture was good and they are very low in fat so they would work on a low-fat-high-fiber diet. I'll definitely make them again.

The Vegetable Stew was interesting but I'd advise you to leave out the lentils because they take so long to cook. There is a lot of barley in the recipe and tons of delicious vegetables. It is very healthy but you might need to use an entire bottle of V8 juice and an additional 3 cups of water because there are so many vegetables it needs more liquid. I added two teaspoons of garlic salt for flavor.

The Penne with Sun-Dried Tomatoes and Chicken was my favorite recipe but I adapted it so the sauce was a little richer in flavor. To adapt the recipe just use 2 tablespoons butter in place of the cooking spray and use an additional tablespoon flour. I also added 1 teaspoon of garlic salt for flavor and used whole milk in place of the evaporated milk. I didn't use the pepper flakes because I didn't want it to be too spicy. My husband also liked this recipe the most and it freezes well (I'm cooking for two not four so I freeze leftovers).

The Chocolate Tofu Cake is more like a cheesecake and was my least favorite recipe. The cake only turns out to be about ¼ of an inch thick. So if you are on a diet this might be a good option if you like tofu. I'd recommend serving it with a rich chocolate sauce to add a little more chocolate flavor.

I'm of the opinion that if you find one recipe in a cookbook it is worth the price. I found three and I'm sure I'll try more in the coming months. I wouldn't recommend this to new cooks as some of the recipes do take quite some time to put together (also, lots of dishes to wash) unless you adapt them - like the Vegetable Soup "without" the lentils would be much quicker to make.

~The Rebecca Review

7/23/2008 - I made the "Un-Fried" chicken and it was delicious. I left out the cayenne pepper and creole seasoning and used poultry seasoning in place of the herbs. After dipping the chicken in yogurt and then in the seasoned bread crumbs I placed a teaspoon of butter on each piece of chicken before putting them in the oven. The entire house had a warm buttery savory scent. My husband couldn't wait for dinner.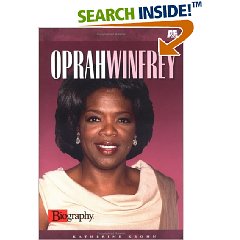 An Essential Oprah Biography

,

June 23, 2008

I've read quite a few Oprah Biographies and this is one of my favorites. It focuses on all the main events that made Oprah who she is today and gives interesting details about her childhood. I especially enjoyed reading about how she spoke in churches at a very young age and how she managed to convince her mother to buy her new glasses. He antics were quite humorous and definitely got her mom's attention.

As you read this book you can truly get a sense of what it was like for Oprah to make it through a difficult childhood. In a way she was given ever-increasing challenges to develop her character as an adult. At one point she had to take three buses just to get to school.

This book also explains how she met her lifelong friend Gayle King and it addresses her struggle with her weight. What is amazing is how Oprah dreamed her life into existence. When she decided she wanted to be an actress doors opened for her in unique ways. She took all the right jobs and lived her life with passion. This book shows a side of Oprah that we can all truly admire.

~The Rebecca Review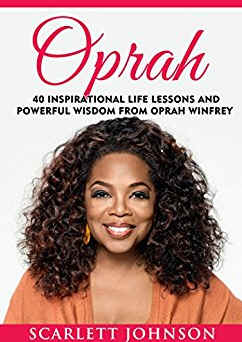 Scarlett Johnson seems to know Oprah's history, desires and beliefs pretty well and she is able to write with an intuitive understanding about who Oprah really is. Many books on Oprah are merely quotes and you have to figure out the pieces of the story yourself. This book goes many steps further and incorporates Oprah's life and meaningful quotes in a way that is easy to understand.

One of the main things I got from reading this book was that people want to be validated. Until recently I did not realize I was doing that each time I spend time with a book and reviewed it. Authors would say they either laughed with joy or cried from happiness. But Oprah, who started me reviewing back in 2000 finally explained the validation idea and I think it is true.

Scarlett Johnson also gives the impression that Oprah believes we are all divine. My only thought on that is that the world is in such chaos so much of the time if we are God why are we not doing something about the mess we are making on this planet.

While that goes beyond the purpose of this lovely book, I wish people would instead see that the world is in trouble and that we need to help, not just tell ourselves we are divine.

Otherwise this was a beautiful book with lots of insight and meaning. One of the best books on Oprah I've read recently.

~The Rebecca Review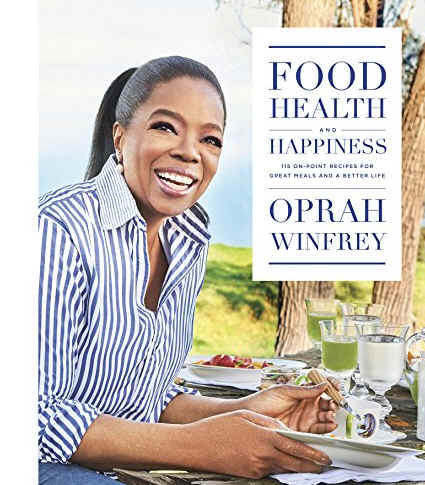 Review for Oprah's New Cookbook