New ForestŪ T'ai Chi
& Relaxing Meditation
A 15-minute CD is included with the Book, December 28, 2005

"One of the most important secrets of New Forest meditation is the New Forest itself. Imagining yourself meditating in a beautiful natural setting has a profoundly nourishing effect on your entire bodymind and spirit." ." ~John Bright Fey

The New Forest Tai Chi DVD for Beginners was my introduction to master teacher John Bright-Fey's world of imaginative teaching styles. Now his books and CDs also present short routines to calm the bodymind.

Through this CD, you will enter a world where John Bright Fey's soothing voice leads you through enjoyable visualizations that will leave you with a comforting happy feeling of deep peace. If you have been feeling stressed, tired, depressed or even just can't think clearly, then meditation can give you an escape and encourage you to retune your body like a musical instrument. The benefits include a new clarity of thought and an enhanced immune system.

The first time you experience this morning cup of meditation, you may want to follow along in the book. You can either stand, lie on your back, sit in a chair or sit on the floor in a cross-legged position.

I found myself sitting for Internal Adjustments1-6, relaxing on my back for 7-9 and then sitting again for the deep breathing in section 10. You can also do this before you fall asleep at night.

There is also a routine at a glance page you can put on your refrigerator to remind you to meditate. The exercises help to generate energy that is comforting, grounding, nourishing, strengthening, outflowing, connecting, uplifting, balancing, protecting and intuitive.

I find meditation to be easier when I've exercised first and also enjoy having a cup of tea nearby to sip on because it warms the body in the morning. This allows me to relax into meditation and I truly enjoy imagining the different scenes or becoming a glowing flower. The flower in my mind glows with pink sparkles and spins, but you can imagine candle flames or a light bulb during section 9 in which you imagine energy shining through you.

It is quite amazing how the pictures you imagine make you feel more alive or more relaxed. You can truly control your energy, not unlike when you are doing Yoga.

Of all the meditation CDs I've tried in the past few years, this one is the most enjoyable and one I want to return to week after week. Once I complete the 15 minutes of relaxing visualizations, the colors in the room seem brighter, I have more energy and tension seems to have dissolved. This CD and book opens the door to a feeling of joy and contentment that can nurture your entire being. In my mind's eye, I had first imagined a forest, but the background when I started was somewhat pale and like a forest before the sunrise. When I was finished with my morning cup of meditation, it was like the sun was rising and brilliant colors filled my imagination.

Not only will you feel the healing results right after the meditation, you may experience new levels of happiness for days after a 15-minute session. Like a good cup of herbal tea, this book and CD will nourish and heal you and leave you refreshed.

~The Rebecca Review
Calligraphy in Motion, December 4, 2004
John Bright-Fey is a natural teacher who takes simplicity to new levels of brilliance. When you learn other styles of T'ai Chi, you have to be so concerned about each movement and you can almost feel your inner perfectionist becoming frustrated.

With New Forest T'ai Chi, you are freed from perfectionism and finally you can express your creativity and personalize the flowing sequence of healing motion. To me, learning New Forest T'ai Chi was like learning how to paint imaginary calligraphy with my hands.

Not only is this form of T'ai Chi easy to remember, it heats the body, gives you an excellent workout and calms the nervous system. You also don't have to buy any special equipment. Some of the benefits I noticed almost immediately was more flexibility. The warm-up section was fun and playful and allowed you to move into the sequence of movements with more confidence.

Because of the way you are moving through the exercises you will develop excellent balance. While there are a few special instructions for exercise modifications, this is truly as easy as walking. In fact, you are moving at a slower pace than any exercise you have ever done before so you may consider this to be a very low impact routine.

Grandmaster John Bright-Fey takes you through a series of progressively more challenging exercises. At first you are stepping forwards and back and only drawing numbers with your hands and then he teaches you how to place your feet (heel first/toe first) and how to wave like wind and water. Finally, you put all you have learned into one routine and then you can take this routine anywhere you want to exercise.

I'd like to say this was "one, two, three" T'ai Chi. However, I think it is much more like calligraphy in motion. You paint numbers with your hands and this makes the movements super easy to remember. Highly recommended for all ages. This gets you moving and it is truly a fun routine that you will never forget. The spiritual elements come from your own experience while doing the exercises and your peace of mind will last long after the routine has been completed. I felt happier, as if I had let my creative child out to play.

A book to look for to enhance your workout experience: "A Morning Cup of T'ai Chi" by John A. Bright-Fey. An audio CD is included and each exercise is shown in detailed pictures. John Bright-Fey also covers topics like breathing, traditional Chinese medicine and has even translated four chapters from The Tao Te Ching. After reading the book, your workout will have a new depth of creativity.
~The Rebecca Review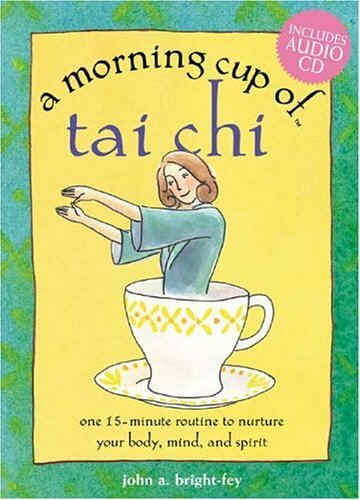 A 15-minute audio CD is included, January 23, 2005

If a person wants to be at their best
then they should pattern themselves after water
~Selection from the Tao Te Ching

John Bright-Fey is a natural teacher who takes simplicity to new levels of brilliance. When you learn other styles of T'ai Chi, you have to be so concerned about each movement and you can almost feel your inner perfectionist becoming frustrated.

With New Forest T'ai Chi, you are freed from perfectionism and finally you can express your creativity and personalize the flowing sequence of healing motion. To me, learning New Forest T'ai Chi was like learning how to paint imaginary calligraphy with my hands.

Not only is this form of T'ai Chi easy to remember, it heats the body, gives you an excellent workout and calms the nervous system. You also don't have to buy any special equipment. Some of the benefits I noticed almost immediately was more flexibility.

Grandmaster John Bright-Fey takes you through a series of exercises on the CD and all the exercises are featured in whimsical drawings with additional instruction and notes. He also covers topics like breathing, traditional Chinese medicine and has even translated four chapters from The Tao Te Ching. After reading the book, your workout will have a new depth of creativity.

I'd like to say this was "one, two, three" T'ai Chi. However, I think it is much more like calligraphy in motion. You paint numbers with your hands and this makes the movements super easy to remember.

Highly recommended for all ages. This gets you moving and it is truly a fun routine that you will never forget. The spiritual elements come from your own experience while doing the exercises and your peace of mind will last long after the routine has been completed. I felt happier, as if I had let my creative child out to play. I'm looking forward to reading all of John A. Bright-Fey's creative and healing books.

Also look for John A. Bright-Fey's video or DVD. I think this book is a beautiful companion to the DVD or Video.

~The Rebecca Review