Lobster is a bit expensive these days, about $7 a tail, so to make it go further, serve lobster in a sauce over mini-soufflés still in their baking dishes. The Swiss Gruyère cheese I found was about $10 because it was imported, but it was so worth the flavor. So, each dish will cost around $4 by the time you have finished making them.
This is a dish you want to make for a special occasion like a Mother's Day breakfast or for out-of-town guests. Well, you might like it enough to make it more than once a year! I made it for the first time today just on a whim. It is my cheese soufflé recipe with a twist and a sauce. Fleur de Sel is a wonderful salt I use in many dishes.
Planning this is key to your success because you can't wait too long to serve the soufflé or it will deflate.
1 package bacon
Soufflé
Butter for baking dishes
All-purpose flour for baking dishes
1/4 cup butter
1/4 cup all-purpose flour
1 cup whole milk
2 tablespoons whipping cream
5 egg yolks
1 1/4 cups shredded Imported Swiss Le Gruyère cheese
Pinch salt
Pinch ground nutmeg
5 egg whites

Creamy Lobster Sauce
2 (4-ounce) lobster tails
2 tablespoons butter
2 tablespoons flour
1 cup whole milk
Dash white pepper
Pinch Fleur de Sel
Dash Paprika
1 tablespoon butter
3 tablespoons whole milk
1. Preheat oven to 350 degrees.
2. Use a scissors to cut bacon fat off bacon. Snip pieces of bacon meat so you
have lots of small pieces. Fry in a frying pan until browned and crispy. Drain
on paper towels. This is really easy and will make this dish so delicious.
3. Soufflé: Butter and flour 6 mini-baking dishes (if you can just fill them with 2 cups of
water they are the right size). You could also use six 16-ounce baking cups.
4. Melt butter in a 3-quart saucepan; whisk in flour, then milk, cream and egg yolks.
When thickened, stir in cheese, salt and nutmeg. Pour into a large bowl
and set aside to cool.
5. In a deep medium bowl, beat egg whites to stiff peaks. Fold the whites into the sauce,
then pour evenly into the 6 baking dishes. Bake for 20-25 minutes or until lightly
browned. The filling might still seem quite moist because of the cheese.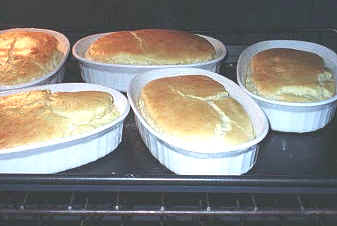 6. Creamy Lobster Sauce: While soufflés are cooking, make this delicious
sauce to pour over them. Cook 2 lobster tails in boiling water. Remove and cut them
open with a scissors. Cut the cooked meat into 1/2-inch pieces with scissors.
Set aside.
7. In a sauté pan, melt the butter and whisk in the flour. Immediately whisk in
the milk, then pepper, paprika and fleur de sel. Add the lobster and cook just until
heated. Stir in the butter and milk and cook just until heated again.
8. Serve the sauce over soufflés while they are still in their baking dishes. A bit of bacon
sprinkled over each soufflé makes this a gourmet breakfast treat. You will feel like a
French chef, I sure did! Sometimes a few expensive ingredients in an ordinary recipe
make it so gourmet!
Hint: If you are feeling lazy, you can use bacon bits, but use the real ones! They taste
pretty good if you stir them into the sauce. Then, just sprinkle the sauce with a bit
more paprika. You could also use shrimp in this dish.
Variation: Omit the lobster and fry up small shrimp (70ct a pound) in the same
pan as you fried the bacon. Just drain out the oil first. then sprinkle with a bit of
paprika and seasoning salt. We also added about 1/3 cup shredded sharp cheddar
to the sauce and omitted the extra milk and used freshly ground black pepper. To
serve, we poured on the cheese sauce, topped with shrimp and then some more
shredded sharp cheddar cheese.
My dad declared this the best gourmet breakfast he has ever had.
Well, we also made fruit cups with passion fruit sauce and put little
pieces of ginger cut out in the heart shapes.
To make the fruit sauce, just buy cans of passion fruit/granadilla
from Protea Imports and then strain them. The sauce you get is amazing
and you don't have to do anything but add a bit of vanilla syrup and fruit.
We used mango, oranges, apples, bananas, strawberries and kiwi fruit.
Top each cup with a swirl of orange zest (that is what you use the other
larger "hook" part of the zester for!).
Makes 6 soufflés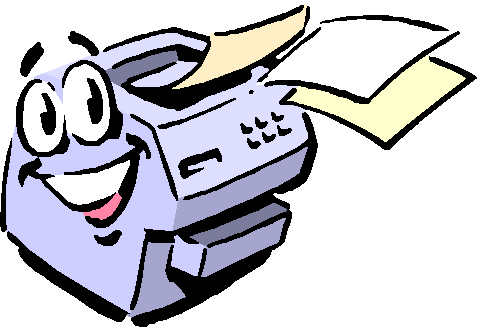 Click here for a printable version