These are the items you want on a shelf close to where you are making food. The scoop colander
is great for use as a sifter. This grater is ergonomic and sturdy for grating cheese or carrots, etc.
We all know we have to strain the pasta, this one has holes which are quite small so the pasta
stays in the colander. An egg slicer will make quick work of mushrooms for pizza.
Kitchen Tested and Approved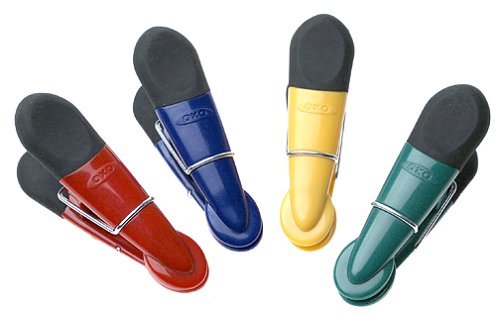 Colorful & Helpful too..., May 11, 2003

I have a few "chip bag type clips" and they really are not as good as these new OXO Good Grips clips. I love them. They can be used to keep any bag closed or even to hang notes on the fridge.

Want to keep a page open in a cookbook? They will hang out on your cookbook to help you out. The soft grip makes them easy to use and the ribbed teeth grip bags securely. They don't slip off like those "other" bag clips. You know the ones.

For bags of chips and everything else. Also keeps the bags of frozen veggies from spilling in the freezer!