What is hiding in your kitchen drawer? Here is what every cook needs as the basic
tools for peeling vegetables, opening bottles, opening cans, slicing cheese, removing
lemon zest (peel), pounding chicken breast, making melon balls for fruit salad,
grating ginger for Thai and Indian foods, keeping the sides of bowls scraped
down while beating a batter, and slicing a homemade pizza.
Of all the ice cream scoops I have ever purchased, the Tupperware one is the best.
The head is shaped so that the point really digs right into the coldest ice cream.
Of course you can heat the zinc core up in boiling water and then it will even be easier.
I think it is the weight of the scoop that really helps. It is quite heavy and
the design is very professional. Will last for a long, long time!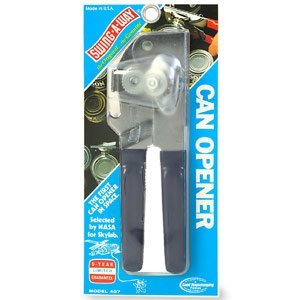 If you have pets, you might want to buy two. One for cat/dog food and one for cooking. Never should the two be confused. :) Now, this can opener is gear driven so you do have to work harder than if you purchased a automatic can opener. I just don't have room for one, so I prefer how easily these store in the drawer. You can easily remove lids from any size can. The handles are comfortable and the precision-crafted stainless steel will last a long time.

Very Effective

,

May 19, 2009

When I'm home by myself and I have a bottle that needs to be opened I used to run the lid under hot water. Sometimes it was effective and at other times I still couldn't get the bottle open. Things like maple syrup are a real challenge because they almost glue the cap to the bottle. Now when my husband isn't home to open bottles for me this jar opener works every time. It will open everything from a small water bottle cap to a large pickle jar lid. I'm very happy with this purchase and wouldn't want to live without this very effective jar opener. The reason it works so well is because it has a serrated edge that will dig into plastic and metal lids. Once it grips the lid the jar has no other option but to open. There is also a plastic base pad you put under the jar that holds it against the counter while you turn the opener. Highly Recommended!

~The Rebecca Review

Worth the price...

,

January 14, 2009

It seems that over the past few years garlic cloves have been getting larger. They are really difficult to fit into a regular size garlic press. This Zyliss jumbo garlic press is just what is needed to do the job on large garlic cloves or even several small to medium size cloves when you find them. This garlic press is easy to operate and you don't even need to peel the garlic before pressing. A cleaning tool is also included. Highly Recommended!

~The Rebecca Review


Skewers