Essential if you want to make an eBook with Mobipocket
"Writing basic HTML code for the Kindle is not rocket science." ~ Judith Tramayne

If you want to make an eBook with Mobipocket this is one of the best books I've read on the subject. This book works best if you first go to www.agoodread.com and download the eBook macro and then view the four free videos (one which shows you how to download a text editor called Crimson Editor and how to add the macro) available at the site.

You will need to give your name and email address to get access to the videos. They are completely worth watching. I haven't taken the seventy dollar course (four videos are free but you have to pay for the rest) and thought maybe reading this book would be sufficient.

I will say some of the things in this book are a little complex. I'd recommend reading the book one time to get a feel for the entire situation. Then read the book again while you follow all the steps. You will basically be learning how to write HTML code. If you have a book in Word or Open Office you can copy and paste the entire document into Crimson Editor and then add the HTML which is fairly easy once you get a handle on it.

Sure it is mind boggling at first but if you watch the free videos you will see it is actually quite easy after all. So what will this book exactly teach you how to do. First it will teach you how to write clean HTML. This is essential if you want to upload your ebook to Amazon's DTP program. What this book will do is take you from step one all the way to the final steps of uploading your document. There is a lot to learn and I think this book is essential if you are going to first create a file in Crimson Editor and then put your book together in Mobipocket.

This book will also explain how you can see what your book will look like before you upload your eBook to Amazon. This is essential! With this book and the free videos and programs you will really be writing code and feel so accomplished.

So get this book but also realize that it will be much easier to understand if you check out the author's website for step-by-step video instructions. I may take the course eventually but so far I've been able to survive with this book and the free videos.

~The Rebecca Review

P.S. I took the Kindle eBook Course and absolutely loved it. I now have a .prc file that I can upload to amazon. You can take the course in about two days, read your book on your Kindle to check the formatting and then publish easily. Judith explains everything you need to know and guides you each step of the way.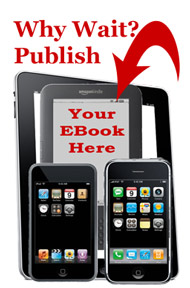 CLICK HERE: TAKE A KINDLE EBOOK COURSE
Judith Tramayne is an angel! She has created an absolutely wonderful eBook course that shows you exactly how to produce a Kindle book in a matter of days. It took me about four days to learn to write HTML code, to use Mobipocket and to understand how to upload my book to amazon. I inserted all the HTML codes in my book in about two days and then completed the course and produced the essential .prc file that amazon loves.
If you are a visual learner like I am you will love this course. Juidith Tramayne provides a wealth of information that is very accessible in her professionally produced videos. When I first thought of producing a Kindle book I was completely overwhelmed. I searched the Internet for advice and finally went to youtube to look for some educational videos. Well that is where I found Judith Tramayne's free videos. That led me to her site where I watched four more free videos and ended up dowloading a macro (which makes writing HTML a breeze - all the instructions for installing this are included in free videos) and a text editor called Crimson Editor. Once you have these two tools in place writing your book is very easy. You will be amazed at how fast you learn to write HTML code. It is so simple! You can literally copy and paste any book you have already written into the text editor and away you go.
I highly recommend taking this course to learn how to write clean HTML. It is much easier than having to sort through programs that create HTML code. Amazon loves clean code and it is essential for you to understand how to write it so when you upload your book to amazon's DTP program you get the desired result. Otherwise you may end up with many formatting issues and spend lots of time trying to fix your documents. With the eBook course you do everything right the first time so there are much less headaches.

While I was finding out about HTML I also read Judith Tramayne's book which is excellent as it shows you exactly how to use Mobipocket. A wonderful program once you know how to use it. She also explains how to use Mobipocket in the eBook course. And I am talking about step-by-step detailed instructions. You can simply pause the video at any point...go work in Mobipocket...and come back for more information and instructions. I had tried Mobipocket once before I took the course and I can say that I really needed to learn how to use it properly. First you have to create an HTML file then a toc.html file which is all explained in the videos. Once you have your picture and the HTML files the Mobipocket puts your book all together. It is really like a dream!
Here is what you will be doing if you take the course or even start with the free videos:

1. Go to www.agoodread.com and sign up to recieve a free macro. You will receive an email with a link to the macro. Simply download it and then watch the four free videos included in the offer. The free videos will show you how to download a text editor and how to install the macro. If you decide this course is for you do the following:

2. Sign up for the eBook course. You will receive a zipped file which is easily unzipped by right clicking on the folder and clicking on "extract all" and
extract. It is really that easy.
3. Then all you have to do is watch each video while following along on your computer at YOUR pace. There is no need to rush. Be patient with yourself and if you have any questions (which I found rare) then read the PDF files that come with the course.
What I really love about the macro is how easy it is to use. You simply choose items from a drop down menu or you can use the hot keys to instantly write HTML. Some of the things you will learn to do is to insert paragraph codes, page breaks, block quotes and anchor tags. You will also learn how to make text bold and italicized.
It is recommended but I found making the toc.ncx file was optional. It is a way to add navigation location points to your Kindle book. This was perhaps the most complex part of the entire course. I ended up not using the file and opted to go with a much simpler book.
Now I have to tell you that creating a table of contents was one of the most exciting parts of this course. Once you build your book you will really enjoy seeing how you can link to all your chapters from the table of contents page. You don't even need to write the code for the file, it is all written for you, you just follow the instructions in the videos to open an example file. Then you modify it to make it your own. Simply too much fun!
Once you have created all the files you need you then learn to use Mobipocket. Which after you learn about it the first time you can create lots of books in an insanely short amount of time. I edited my HTML file numerous times during my entire book publishing process and made quite a few books that I then viewed on my Kindle in a matter of minutes. Judith will show you how you can transfer your .prc file right to the Kindle. It is like magic. It is totally satisfying to see all your work come together.
After you have created your book in Mobipocket, the videos show you how to upload the book to amazon. There are almost 15 minutes of instruction that covers every detail of the process. You will learn how to create a DTP account and how to upload a book image.
Last but not least this course has a "Productivity and Marketing Tips" PDF.
I could not have produced a Kindle book without Judith's books or videos. It was essential to my learning process. I highly recommend that you sign up for her course. It is cheaper than having someone produce your book for you. Once you learn all the details it is then easy to create additional books!
I will have to also say this. Judith answers her email! If you have a question she is ready to help. I felt completely taken care of and felt my time was well spent. So are you excited to produce a Kindle book? Don't wait any longer to be published. It is so easy!
CLICK HERE: TAKE A KINDLE EBOOK COURSE
I make no money by telling you about this course.