Eases Shoulder and Neck Tension, November 24, 2005

This long-lasting aromatherapy hot/cold pack will literally last for 10 years or more. The investment in your health and comfort level is well worth the price. The polar fleece cover makes this warm and cozy, while the black cloth on the other side makes this pack radiate cold better when the pack is put in the freezer. So, you can use this in the winter or summer or anytime heat/cold is needed.

To heat, put in the microwave for 2 to 3 minutes. To cool, keep in freezer until needed. You may want to put this in a plastic bag first if storing in the freezer.

Over the years, the aromatic spices and herbs seem to retain their scent and the rice never seems to dry out, which is quite amazing.

Ingredients: Rice, cinnamon, cloves, allspice and black pepper.

This truly will relax tense shoulders when heated in the microwave. Can also be used on lower back if you are laying in bed on your side because of the shape of the product.

~The Rebecca Review

Kitten Spa & Comforting Warmth, March 26, 2006

This long-lasting aromatherapy hot/cold pack will literally last for 10 years or more. The investment in your health and comfort level is well worth the price. The polar fleece cover makes this warm and cozy, while the black cloth on the other side makes this pack radiate cold better when the pack is put in the freezer. So, you can use this in the winter or summer or anytime heat/cold is needed.

To heat, put in the microwave for 2 to 3 minutes. To cool, keep in freezer until needed. You may want to put this in a plastic bag first if storing in the freezer.

Over the years, the aromatic spices and herbs seem to retain their scent and the rice never seems to dry out, which is quite amazing.

This truly will relax tense shoulders when heated in the microwave. Can also be used on lower back if you are in bed on your side because of the shape of the product and how it will conform to your body.

Can also be used to create what we call a "kitten spa." We heat this and put it under blankets for our cats. It makes them especially happy and must be very comforting since they will sleep for hours. So, if you have pets who need to be put down for a nap - due to being high strung or just having an annoying day - this works very well and can also give you a much needed break from pet parenting duties.

Would also be wonderful for older pets with aches
and pains.

~The Rebecca Review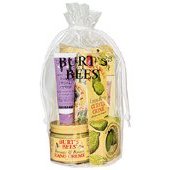 Comfort Essential, November 24, 2005


This long-lasting aromatherapy hot/cold pack will literally last for 10 years or more. The investment in your health and comfort level is well worth the price. The polar fleece cover makes this warm and cozy, while the black cloth on the other side makes this pack radiate cold better when the pack is put in the freezer. So, you can use this in the winter or summer or anytime heat/cold is needed.

To heat, put in the microwave for 2 to 3 minutes. To cool, keep in freezer until needed. You may want to put this in a plastic bag first if storing in the freezer.

Over the years, the aromatic spices and herbs seem to retain their scent and the rice never seems to dry out, which is quite amazing.

Ingredients: rice, allspice, mustard seeds, juniper berries, black pepper, ginger and cloves.

Uses beyond home comfort include, taking this with me in the car when I go out to do grocery shopping in the winter. I won't leave home without it! It works well to warm your feet on a cold night and can be placed inside pillows for added comfort in the winter.

If you get a lot of headaches, you can keep this in the freezer. Fold in half and then
put it behind your head (like a pillow behind your neck) to get rid of a migraine faster.

~The Rebecca Review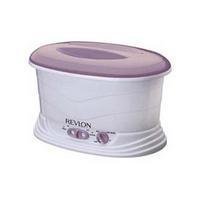 Revlon MoistureStay Fast Heat Paraffin Bath
Hand Mitt - Great for use
along with a Parrafin Treatment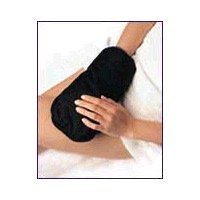 This long-lasting aromatherapy hand mitt will literally last for over10 years. The investment in your health and comfort level is well worth the price. The polar fleece cover makes this warm and cozy. To heat, put in the microwave for 2 to 3 minutes. Over the years, the aromatic spices and herbs seem to retain their scent and the rice never seems to dry out, which is quite amazing. If you enjoy paraffin treatments, this can enhance the healing benefits. Place your hands in paraffin, then in plastic bags and then keep your hands warm in two healing mitts. I recommend two because it is so calming and you save time.

~The Rebecca Review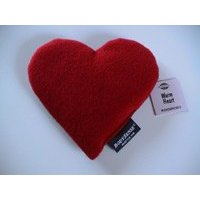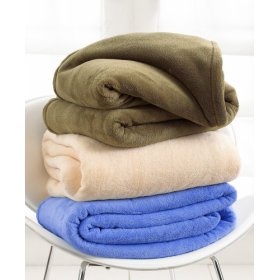 Wamsutta "Super Soft Fleece" Blanket
Luxurious Super Soft Plush Blanket, November 30, 2006

The word "soft" and "cozy" only make an attempt to describe the luxurious comfort this blanket provides. My two cats fell in love with this blanket almost instantly and have been taking turns sleeping on the bed, couch or anywhere this blanket happens to be at any given time. It is perfect for the couch, for the bed or even for your reading chair. The light weight of this blanket make it perfect for all seasons. This colorfast blanket is an easy care item, just wash and dry. I'm not sure anyone makes a softer blanket, but this one is undeniably comforting.

~The Rebecca Review

When I found this blanket I just had to have it. I've never felt any blanket as soft as this one. It is also heavy enough that it makes a good throw blanket in the winter. I've been using this blanket when I watch movies and it really keeps the chill off. My cats think they are going to steal this blanket but I'm determined to keep it for myself. I fold it up and hide it behind the couch pillows so the cats won't find it. You have to know that my cats have stolen every blanket I've ever bought for myself. So if you are looking for Christmas presents this would be an excellent choice for someone you really want to spoil. This is sort of a dark cranberry color that is almost burgundy. I love this blanket and I know you will too.

~The Rebecca Review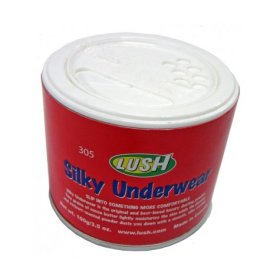 Silky Powder - Also for Sheets
Silky sheets too..., February 13, 2007

The Silky Underwear powder has many uses. I am tempted to stop reviewing and to climb back into bed because I've put this all over my sheets and it really makes you just want to sleep in late.

While using this product from the container, you may experience a little frustration because the lid has 7 larger holes (like a spice bottle) and a lot of powder comes out all at once. I'd advise using this with a powder puff or (I figured it out a few minutes ago) with a clean white fluffy sock over your hand. Just pour a little powder onto the sock and use it like a mitt to smooth the powder all over. It really works. No need to wash the socks yet, wear them while working out. A washcloth or a powder puff will also keep this product from being wasted.

The texture is very fine. I just feel the cocoa butter as a smooth velvety moisture within the powdery texture.

Products that go very well with this jasmine scented powder:

Flying Fox temple balm
Flying Fox shower gel
FEVER massage bar
Godiva shampoo bar
Youki-Hi - creates a gorgeous bath with sparkles

I for one will be ordering this again, especially to smooth all over my sheets. It is very luxurious and it makes your skin super soft and warmly perfumed with jasmine and vertivert oil. After trying this powder last night and figuring out how to use it better today, I'll be looking for more powders from Lush...they are heavenly. My husband is happy I finally bought my own body powder and told me to stop using up all his. I was addicted to his Woods of Windsor powder because it reminded me of him and it has Lemon, Orange, Bergamot, Cinnamon, Nutmeg, Clove and Neroli. I'd love if LUSH made a powder for guys, then I could annoy my husband by stealing it from him.

~The Rebecca Review

P.S. Try this all over before working out and you will radiate a warm
lovely fragrance the entire time.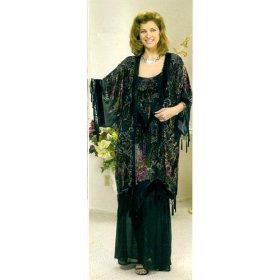 Velvet Silk Duster with Lavish Beadwork