1 (7 ounce) package Lady Fingers (you will need 16 cookies) or 1 (3 ounce)
package Fresh Lady Fingers which you might find in the frozen food section
of your local grocery store or you can call 1-800-755-9890 for more information.

The ones by Specialty Bakers, Inc. are the best ones I have tasted.
Coffee Liquid
1/4 cup fat free milk
1 teaspoon instant coffee granules
1 tablespoon rum or apple juice
2 tablespoons granulated sugar
1/4 teaspoon imitation rum extract
Creamy Banana Filling
1 (8 ounce) container Fresh Mascarpone
1/2 cup mashed banana (1 medium banana)
Cannot be over ripe!
Will make cheese look curdled.
1/4 teaspoon vanilla extract
1/2 cup confectioners' sugar
1 tablespoon meringue powder (select ingredients, click M, then #82260 is the item number. Chefmaster is the brand.)This is what I use in place of the eggs.
Toppings
Dutch processed cocoa powder
1 ounce white or semisweet chocolate, shredded
Chocolate Syrup
1 banana, sliced
Whipped Cream
1. Place the the Lady Fingers in a square baking dish.
2. In a small bowl, mix milk, coffee granules, rum or apple juice, granulated sugar
and rum extract. Stir until the sugar has completely dissolved.
Sprinkle this mixture over the Lady Fingers. Leave to soak.
3. In a medium bowl, use a mixer on medium speed to cream the
mascarpone cheese until smooth. Add in the mashed banana,
banana flavoring, vanilla, confectioners' sugar and meringue powder.
Beat the mixture until thickened and
creamy or about 1 minute.
Beat one more minute until light and fluffy.
4. Pour the banana filling into a piping bag or use a large plastic bag
and snip off one of the corners when ready to use.
5. Place half the soaked Lady Fingers side by side in the middle of a
serving tray. Pipe half the banana filling over the cookies, then use
a small sifter to lightly dust a layer of Dutch cocoa powder over the
filling. You could also substitute grated semisweet chocolate.
6. Top carefully with the rest of the Lady Fingers and then top with
remaining filling. Sprinkle with more cocoa powder, then top with
grated white chocolate. Refrigerate 1/2 an hour to an hour.
7. Just before serving, decorate with bananas and chocolate syrup. The
chocolate syrup looks pretty drizzled from one side the to the other
in stripes across the tiramisu. This is heavenly!

Hint: You can double the recipe sponge cake if you prefer.
You could slice a sponge cake in half and use the cheese as a filling and
icing. Then, top the cake with fresh berries and sprinkle with sugar. You could
also split a sponge cake into three slices, use the cheese as a filling, then top
the entire cake with melted semi-sweet chocolate and decorate around
the edges with Amaretti: small round cookies with an almond flavor.
Serves 2 when using fresh cookies, or 4 when using dry cookies.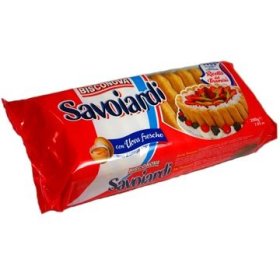 Lady Finger Recipe Craig Miyamoto's Tiramisu Site
Panettone Holiday Cakes Desserts Cookies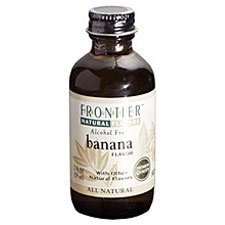 Enhances Banana Flavor in Bakery Items and Smoothies, December 14, 2006

This banana flavoring can be used to enhance any desert or drink where the flavor of banana will be emphasized. This will enhance the flavor of bananas in banana bread and is also delicious when added to fruit shakes. You can mix it into chocolate sauces or add a few drops to pancakes.

The latest way I've been using this is in fruit smoothies. You can put an orange, apple and banana in a blender and add just enough orange juice to make two smoothies. Then add in vanilla, this banana flavoring and your choice of sweetener. Stevia works well, but a floral honey will also add new dimensions of flavor. Blend this with a tablespoon of Soy protein powder and you have a delicious shake. Add in some ice cream and you have something even creamier. Add in some vitamin powder, like the All-One powders and you have a healthy, nutritious, energy shake.

Freezing some of the fruit before making the shake helps to keep the shake fresh and cold without the need for ice. This shake idea is also delicious with kiwi, mango and pineapple. I first started using this to enhance a banana tiramisu and now use it mostly in smoothies and baked items like banana bread.

~The Rebecca Review

Click here for a printable version