You can rent this at Netflix if Amazon doesn't have it.
Beautiful Nature Scenes, February 6, 2016
"Tranquility" is a DVD that creates in you a sense of peace and is an awe inspiring experience. This can be watched all at once or enjoyed in sections.

The first section (Higher Self) is 16:24 minutes long and is what I recommend you watch for its originality and beauty. You will see a waterfall, rainbows, clouds and a forest, butterflies. a babbling brook, sand dunes, canyons, snow falling on a frozen river, dew drops on flowers, rain falling in a magical forest, autumn leaves, misty scenes, reflective lakes and more. This highly enjoyable visual experience is accompanied by piano music. I have to admit that I've seen quite a few nature DVDs and this one is one of the best I've ever seen.

The second section is called The Restless Sea and is filled with orange sunsets, canyons, forests shrouded in mist, exotic shorelines, fish swimming in slow motion amongst coral reefs.

The third section is called Calm in the Storm and is rather intense at the start. You will see a lot of lightening and then see rainbows and butterflies, shimmering lakes, waterfalls, rain forests with light filtering onto ferns. You may also enjoy soaring above the clouds.

The fourth section is called Life and is mostly misty lakes, forgotten forests and one stunning moment of lavender blooms on a forest floor.

The fifth section is titled Spirit and you will see glassy lakes, misty forests, orange fall leaves on black rocks, forest streams, deserts, sand dunes with wind blowing sand and some swans in a snowy lake scene.

The sixth moment in time involves coral reefs with beautiful slow moving fish. It almost looks like a painting in motion. You will see deserted beaches, surging waves, monoliths, seagulls and sunsets.

Seventh up is filled with butterflies, mossy trees, waterfalls, snow falling on daffodils, beach palm trees and a yellow moon above a pastel blue mountain.

Alpha Ocean Waves is the eight section with coral reefs, slow motion fish, monoliths and seagulls. Yes some repeated scenes.

Ninth is Life Waves with placid blue lakes, misty forest and ferns.

Tenth is Star Rise which is so short I can only imagine it was just meant as a conclusion and not really a full experience. There is a human voice, stars, falling stars and the earth. It is very short like just a few minutes.

So I'd say Higher Self is the most original and beautiful of all the videos and I watched it twice.

This was relaxing and meditative. Definitely a good escape from stress.

~The Rebecca Review
Great for Insomnia - I watch this at night before
bed if I can't get to sleep and always feel sleepy...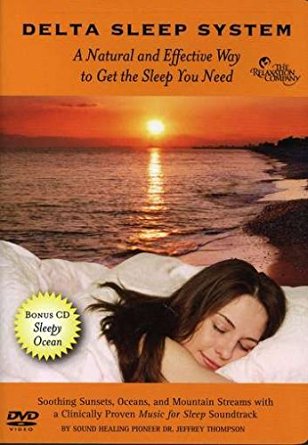 Delta Sleep System - Relaxing DVD for Night Viewing
Deeply Relaxing Nature Scenes and Music, October 29, 2015
The Delta Sleep System is very effective. This DVD contains over an hour of peaceful images paired with flute music and sometimes piano. The music and images are very relaxing. I enjoyed the nature scenes of fuchsia flowers, flowing streams, crashing waves, mossy rocks, lush ferns and sunsets. There are also some scenes of majestic mountains with snow and rapidly flowing waterfalls. The fall foliage was also nice this time of year and the clouds reflected on wet beach sand was artistic.

My experience with this DVD was that it took me from being stressed out to nearly asleep. I was watching it on the couch and about halfway through I lay down on the couch instead of sitting because I was getting sleepy. It felt like the music on the DVD helped to lower my blood pressure and took all thoughts out of my mind.

So this is good for helping you fall asleep but it can also put you in a meditative trance. You will find yourself taking deeper breaths as you relax further.

This also has a CD of ocean wave sounds which knocks me out when I listen to it at night in bed. Helps me sleep!

This would make a very nice gift, I'm going to recommend it to some friends for their wives.

~The Rebecca Review