= Comprehensive Guide to Movie Mania

Reviewer: The Rebecca Review.com

"In Hollywood, anything can happen. Anything at all." ~Raymond Chandler

If you are looking for a one-volume source containing the information about movies and the people who produce them, this is an excellent reference manual. If information makes you high, this book will make you feel slightly heady. There is information on everything from film history to the biographies of major players. I enjoyed the hundreds of photos, quotes and factoids.

This desk reference is divided into five main sections:

1. Movie History – Take a journey from 1830-2002, decade by decade.

2. Movie Basics – An outline of who, what, when and where. This includes information on studios, creative people, how to break into the movies, buzzwords and coveted salaries.

3. Movie Crafts – The hands-on aspects of movie making. Producing, directing, writing, acting, cinematography, production design, costumes, makeup, hair, special effects, sound and music, editing, distribution and critiquing films.

4. People in Film – Profiles of historical and contemporary film-industry producers and players.

5. Films – Dream lists for the movie lover in you! See if you agree with the AFI's 100 Funniest movie list or read about the top 50 all-time box office hits. The movies are listed, then listed again with additional information. You can also read about the movies again in various parts of the book and page numbers are given for easy reference. Like "Some Like it Hot" is listed in AFI's Top 100 American Movies and while it is listed under AFI's 100 Funniest American Movies, they save space by referring you to pg. 383 for the detailed information.

This section also has a collection of "movie quotations" like: "I'd love to kiss you, but I just washed my hair." ~Bette Davis (Madge), Cabin in the Cotton (1932)

If you enjoy watching Foreign Films, this chapter has information about films around the globe. There are lists of films from Argentina, Australia, Brazil, Canada, China, Czech Republic, Denmark, Egypt, France, Germany, Hong Kong, Greece, India, Iran, Italy, Japan, Mexico, Russia, Senegal, Spain, Sweden and the United Kingdom.

Sources – Addresses, phone numbers and websites for every facet of the film world. If you want to know about film projects in development, there are places you can find this information online.

You can find out information on:

-What you have to do to sell your screenplay to Hollywood.
-Where you can rent cameras if you wanted to make a film.
-Why films get chosen for the Cannes Film Festival.
-How the Oscar got its name.
-The stars names found on the Holly wood Walk of Fame.

The main features in this book include: Lists of movies, essays, articles giving information about who's who, detailed cinema history, fascinating anecdotes, gossip, trivia and quotes from film personalities in side columns. Information on "screenplay formats and terminology" is a real bonus. It is pretty amazing to find all this information in one book! If there is another book out there that can compete, I haven't seen it.

Essential reading for any film critic and movie lover. If you are looking for movies to add to your must-see list, this book will have you adding hundreds of movies to your list. The Index is very helpful for finding movie information super fast (although I think they should consider expanding the index even further in future editions) and the AFI has gone out of their way to make this book a dream to read.

The perfect gift for anyone who loves movies.

NOTE: Please use your own discretion to select movies to watch. Some movies do contain objectionable material.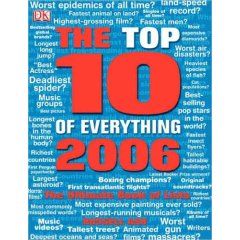 Cutting-edge Trends and Top Ten Lists, October 7, 2005

If you have an interest in the best or worst, smallest or largest, the most or least, the fastest, the most popular, the top 10 of anything, it is in this book. This is the 17th edition and Russell Ash draws from a huge variety of sources to create a valuable and collectable resource.

Topics include:

The Universe & The Earth - The 10 Most Recent Observations of Halley's Comet and the top 10 oceans and top 10 most active volcanoes (good to know when you are planning to move). If you are trying to avoid dangerous places, there is some helpful information in this section.

Life on Earth - If you are afraid of sharks, you may want to take a look at "the 10 Places where most people are attacked by sharks." Children will especially enjoy this section filled with all sorts of data on the fastest animals, largest butterflies and of course, deadliest spiders. Cats make the top 10 list as the pet of choice with an estimated pet cat population in the US of 78,350,000 in 2003.

The Human World - If your are interested in world romance trends, then the information on marriage and divorce tells the story of the world's average age at first marriage, lowest marriage and divorce rates and highest marriage rates. Want to know the most popular names in the world. My last name made the top 10 last names in the US and the UK. If your surname is Smith, you top both lists. This section also includes:

Rulers and Leaders
Firsts - First to Climb Everest, First to reach the North Pole
Crime and Punishment
World War Facts
Religions

Town & Country - Interesting facts like that Canada is larger than the US and that India will be the most populated country in 2050 with China and the US coming in second and third.

Culture & Learning - Includes: Top 10 Universities, Top 10 Bestselling Books of All Time, Most Valuable Comics, Daily Newspapers, Most Stolen Paintings and Best-Attended Art Exhibitions.

Music - Everything you want to know about singles, most popular tracks, albums and music awards. The Top 10 movies with titles derived from song titles is a unique entry. Who has the most expensive guitar?

Stage & Screen - For Lovers of all things entertainment there is a ton of information in this chapter. Awards, highest grossing movies, top movie categories, movie budgets, Oscar winners and Top 10 movies of all time make this an entertaining chapter. If you lived in India, you might spend way more time going to movies than in Spain. The US ranks second in the Top 10 Movie-Going Countries list.

Commercial World - America consumes the most meat, while people eat more vegetables in Greece. Fun food facts about who consumes the most rice. What are the top 10 foods consumed in the US? Where do people drink the most coffee and tea? This chapter also includes info on which countries consume the most oil and emit the most carbon dioxide. You may find yourself looking through your Atlas to find some of these countries.

Transportation & Tourism - I was surprised to see a car I once had listed in the Top 10 Cars in the US, but it makes more sense when you see the list of Top 10 Motor Vehicle Manufacturers. Tourist destinations, theme parks and airports are also included. Where is the fastest roller coaster?

Sports - Everything from the Olympics to Skateboarding, Baseball Stars and Tennis.

You can also quickly look up topics of interest in the index to quickly find items or you may enjoy discovering new facts every time you open this book.

~TheRebeccaReview.com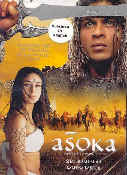 Thoughts on Movies and
Lists of Favorite Movie Finds